Photo Gallery: Vintage cars in a Mexico City museum
Has anyone heard of a Rio Flying Cloud? A Whippet? A Phaeton? They sound like the monikers of mysterious yet amusingly kitsch vessels that move through the air in old time superhero comic books. They conjure a weird parallel universe where history is a malleable substance and citizens go about their lives with no sense of incredulity that Superman walks among them, able to leap tall buildings at a single bound. Yet the Rio Flying Cloud is a car and – along with the other vehicular oddities just mentioned – occupies a museum space in Mexico City devoted to vintage wheels.
Humankind's love of the automobile cannot be underestimated. From the staid accountant to the flaming-haired artist, from the bespectacled espresso-drinking hipster to the hard-as-nails blue collar beer guzzler, it seems that just about everybody has some kind of love affair going on with cars. The car is, in many ways, the chief icon of modern America, evoking the spirits of freedom, power and coming of age so often associated with that country. Of course, Europe has been no slouch in weighing in with some beauties, too.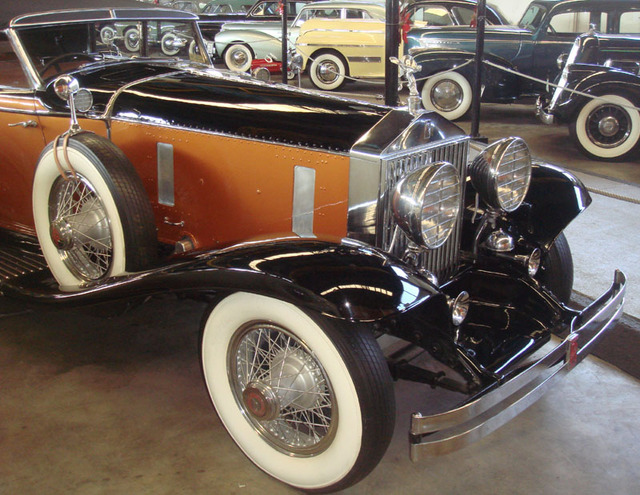 Here in Mexico City, with an estimated whopping four million vehicles zipping along the roads, it's obvious that we share the obsession. The downside of these internal combustion engine, fossil fuel-driven conveyances is that they pollute. And in a valley subject to thermal inversion (due to the many cloud-choked days of the wet season), this has proven to be a grave environmental problem. Of course, no one is about to stop driving cars – or traveling in buses, microbuses and taxis. Fortunately, a few of the new "green" models leading the environmental charge in fuel efficiency and reduced carbon footprints (or treads) are finding their way onto the road landscape, and all new vehicles sold today feature catalytic converters and other devices designed to reduce emissions.
Still, the futuristically compact, even squat visual design of some these eco-friendly vehicles does not spark much awe regarding their beauty, or personality. Now that an actual flying car is even making slow technological inroads, it would appear that a vision of a Jetsons-like bubble with wheels and wings will be the order of the day. But it's not likely to be called a Phaeton, aka the "shining one" – son of the sun god, Helios, who induced his father to allow him to drive the chariot of the sun across the heavens. (Admittedly, Volkswagen introduced a new luxury sedan called the Phaeton at the Geneva Motor Show in 2002, which only goes to show that vehicle names can be recycled – in this case, the original was a Cadillac from the 1930s).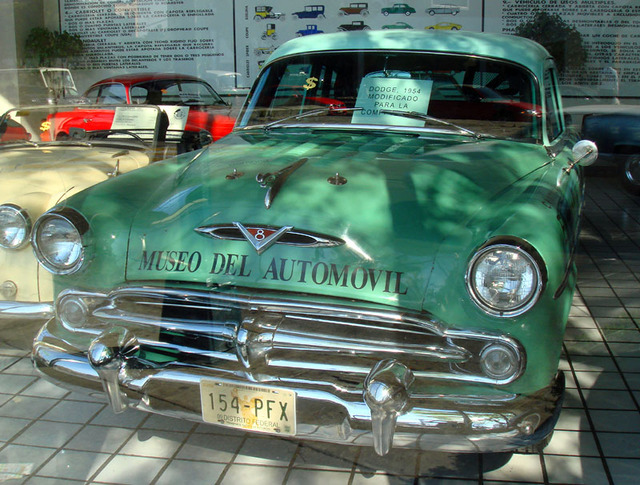 Like the myths themselves, we must look to the past to rediscover works of vehicular art. For true car aficionados – or simply the everyday lover of aesthetics and fine industrial design – a well-restored vintage car is a thing of beauty. Such vehicles hark back to an era of class and pride in workmanship – and when "going green" merely meant feeling rather ill. It's almost impossible these days to imagine a Cadillac Seville Convertible or a Borgward Coupe Isabella rolling off an assembly line, but that they certainly did. Perhaps it is in the multi-colored painting styles, the sleek lines, the steering wheels that resemble works of modern sculpture – the artistry and individuality of these cars which defies our knowledge that they were mass-produced in their time.
To return to our museum in the south of Mexico City, it is a little visited, solid concrete affair called (not surprisingly) El Museo del Automóvil. It houses more than a hundred painstakingly restored cars. In existence since 1991, the Museo del Automóvil is unique to Latin America and was the fruit of the labors of a group of vintage car lovers, who exhibit their treasures for the joy of it. While it is basically a permanent exhibition, around 30 cars are rotated every three months to allow other collectors to also display their wheels. All the cars are registered and in fine working order, and the engines are turned over once a month to keep them that way. Museum staff maintains the cars at their shining best.
Some of the magnificent vehicles on display include a dashing 1924 Model-T Ford, a flaming red 1956 Thunderbird, an aquamarine 1958 Ford Retractable Skyliner, and a jet black 1967 Mustang convertible. Not to mention a score of other old time classics with instantly recognizable names such as Buick, Alfa Romeo, Corvette, Hudson, Jaguar, MG, Lincoln, Mercedes Benz, Pierce Arrow, Porsche, Stingray, Studebaker and Triumph. There are also a few mannequins hard at work on their motors or readying for a spin.
The unique beauty of these cars is one thing, but what they really seem to offer us is a fantastic voyage into the past. As the years march ever onwards, they seem to transform themselves more and more into time machines. Perhaps in an ironic nod to this idea, there is also on display a black DeLorean DMC-12 – the sports car that was a time machine in the Back to the Future movie trilogy. As Dr. Emmet Brown (Christopher Lloyd) explained in choosing the DeLorean for his time travel: "The way I see it, if you're gonna build a time machine into a car, why not do it with some style?"
Style is eternal.
El Museo del Automovil is located on Division del Norte 3572 in San Pablo Tepetlapa (easily accessed from Tren Ligero station Nezahualpilli on Tlalpan, south of Metro Taxquena). Open Tuesdays to Sundays 10 a.m. to 6 p.m. Admission: 30 pesos
Published or Updated on: June 27, 2009