Bougainvillea, breadfruit and bromeliads
Three beautiful options for your tropical garden in Mexico are bougainvillea, breadfruit and bromeliads.
Bougainvillea (B. Scarlett O'Hara) (red)
Family: Nyctaginaceae
Alternate Name: Paper Flower
Use: Bougainvillea is an ornamental climber for covering fences and walls. It is also seen as a sprawling shrub. The paper flower can be grown in pots, or trimmed as border hedge. It has thorns, bright green heart-shaped leaves, and also comes in variegated varieties.
Flowers: Bougainvillea flowers bloom in exuberant clusters comprised of small white flowers surrounded by larger, papery, colorful bracts. The amount of sun they receive affects color, and the lighter varieties profit from some shade. Double-flowered types hold their blooms even after fading. Common colors include cerise, orange, white, pink, and mixtures of these.
Cultivation: Bougainvillea thrives in rich soil, and should be watered moderately during bloom period. It likes full sun, except for the white and yellow varieties. Prune the plant after flowering.
Propagation: By stem cuttings. Tie the shoots to sturdy support.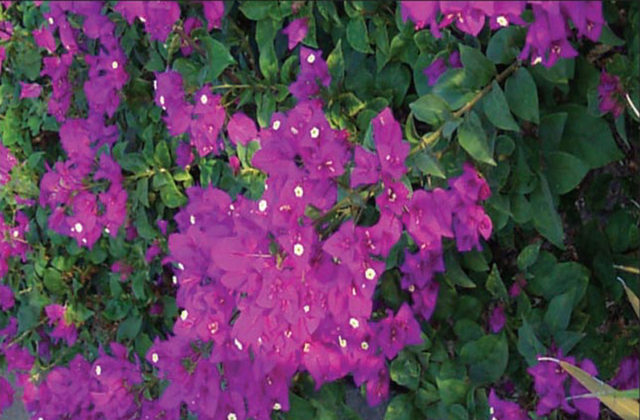 Breadfruit (Artocarpus altilis)
Family: Moraceae
Use: The breadfruit has been a mainstay of some tropical cultures, such as the Polynesian, where the wood is used for canoes, the bark beaten into cloth, and the sap from the gum used for everything from caulking to catching birds. Of course, the fruit is eaten baked, boiled, pickled, or pounded into a paste. The large, beautiful, deeply-lobed leaves make the tree a desirable landscape specimen. Leaves turn tan before falling, and hold their shape well for arrangements.
Flowers: Numerous and small, the male flowers appear in spikes, the female, in dense masses on the same tree. The fruit is rounded, green, and large. Some cultivars bear seedless fruit, but the most common has large seeds.
Cultivation: This large (up to 80 feet or more) tree grows in most wet tropical countries. It is found in full sun. It needs a hot climate, and fruits most prolifically in the rainy season.
Propagation: Breadfruit is propagated from cuttings, or from the shoots, which grow upward from the roots. It can also be started from seed.
Note: This is the fruit of Mutiny on the Bounty fame, which Captain Bligh thought would be appropriate food for the slaves. Caribbean cookbooks carry recipes that call for breadfruit today.
Bromeliads
Family: Bromeliaceae
Use: Only the pineapple is used for food, but several other of the 3000 bromeliad species are sources of fiber. They are widely used as ornamental plants, growing from sea level to an altitude of about 8000 feet. They are prized for their ease of cultivation, brilliant long-lasting flowers, and beautiful foliage. Some, like Aechmea trifasciata (upper right), produce berries.
Flowers: Bromeliad flowers appear at maturity and are seasonal by species. Ethylene gas seems to trigger the flowering. Many have inconspicuous true flowers surrounded by showy bracts.
Cultivation: Some are true epiphytes, or air plants, others are terrestrial. They grow on rocks, beaches, on other plants, or in the forest understory. They are found in temperate to tropical climates, and are widely grown indoors. All have a spiral rosette of leaves. Depending on species, they may require full sun to full shade, but all prefer free draining soils to avoid danger of rot.
Propagation: From pups or seed.
Published or Updated on: April 1, 2008