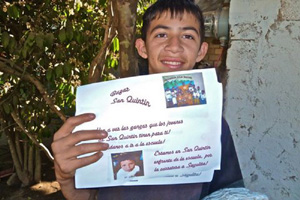 Here is a gift for you, good news, a mid-term report from my favorite little Mexican school.
Several years ago I told you about Edd Bissell, pharmacist from New Market, Tennessee, who retired to the high-rent district, Punta Pelicanos, in the town of La Cruz de Huanacaxtle, on the beautiful Bay of Banderas, in the state of Nayarit.
That spot may or may not be something like Heaven. Gentle breezes come and go. The Pacific lovingly laps the sandy shore. Sunsets through palm trees range from spectacular to unbelievable.
Quite by accident, Edd got involved in public education. San Quintin Escuela is a small neighborhood school, hard to find on a back road somewhere between the last range of the Sierra Madres and the ocean.
I remember it when: A rundown little building, one room, done up in drab cinderblock grey. One window was broken. And so were some chairs. It was in need of a scrubbing and several essentials.
This was the learning center for 10 or 12 students, grades one through six. Officials in Tepic had forgotten it was there. Parents passed it as they came and went without a first thought, much less a second glance. Children attended, now and then, until they gave up on school and went to work.
By pure luck or the grace of God, Luis Alberto Martinez Gomez, 19, appeared in Tepic as a candidate for a teaching job. He had been an illegal immigrant who finished high school in California and returned to Mexico with the idea of going to college. Good idea. No money.
Yes, he would accept entry-level employment, go anywhere, do anything requested. The Tepic district, short on prospects for the inconvenient outback, provided five days of instruction on how to be a teacher and assigned him to San Quintin. Somebody had to do it.
Again, by fate or grace, Edd met Luis and became the total support system. It really helped that the young teacher could speak English.
"My housekeeper had gone to school there," recalled Edd. "I saw a need and got involved."
Getting involved is one of the things he does. He chooses to be a real, live part of Mexico.
From this unlikely beginning has grown the Edd Bissell Scholarship Fund and Find-a-Way Foundation. It is not licensed, sanctioned or tax deductible. But it certainly is functional.
Edd gave and gave and brought and bought and later began soliciting gifts for the school from gringo friends. He is persistent. He invited relatives to visit his retirement mecca, rent free, if they would bring something of value for the children.
Eventually acquaintances could make reservations. With dining privileges, this was a really good deal. Sarah and I contributed a course in international geography, teaching tools, a flock of flash cards and a guide book for the instructor. Youngsters learned about everywhere from Moscow to Montreal. Luis learned where Tennessee is.
Other gifts went on up to winter jackets, sports equipment, computers and TV sets. Edd had a no-reject policy. When stuff started piling up, he introduced the concept of yard selling. He accepted donated pesos as if they were gold. He established a modest bank account with Jose Alonso Reynoso Meza as treasurer and assistant strategic planner.
Alonso, nicknamed Toto, is the husband of Patricia, Bissell's housekeeper. It is all in the family.
Toto recruited village fathers and oversaw school painting and repairs, installation of a tile floor, new desks and playground improvements. The transformation was amazing.
Teachers changed from year to year but the support system continued. The current teacher is working overtime, teaching older students during the morning shift and kindergarten through third grade after lunch. Bissell is funding an evening tutoring program for a boy who was far behind.
"We have one kid, Jesus, who missed three years of schooling while living elsewhere. I see potential and, what's more, he is one of my personal favorites. We are doing what we can to get him up to speed."
Luis, now a college student, returns to assist. He, too, is still learning.
Bissell encourages Luis to run faster and jump higher.
"He made A in three courses and C+ in the other. He must improve. Immediately. I tell him he put the pro in procrastination."
Luis, following a Bissell outline, is operating an informal guide service on the side. He is piloting Americans and Canadians through the maze of rules, regulations, documentation and legal gymnastics, from this office to that office, all papers in triplicate, properly stamp, stamp, stamped.
"He took one couple to do paperwork. They asked how much was his fee. He smiled and asked if 100 pesos would be OK. They paid him 400. Luis is smart."
Luis and others think good, old Uncle Edd is at least borderline genius. He converted yard sales into a business training course. He rented a vacant room and turned it into a second-hand store and after-school study hall. For the first time in community history, children do homework — with computer assistance.
"This is not perfect," said Bissell. "Our internet connection is dial-up slow. But, it is donated. It would really be good if somebody had a friend at HughesNet."
Three older students, with motherly assistance, operate the store. Some of the stuff that changes hands causes smiles.
A box of 42D bras triggered a rush. Finger-nail polish is a popular item, even half-bottles. Little bars of hotel soap move on out. A set of three hubcaps brought in 550 pesos.
Bissell remembers the TV set that was for sale.
"A man offered 500. A woman said she would pay 700 in installments. Our boy salesman took the 500 in cash. I was so proud. I told him how intelligent it was to go with the bird in hand versus birds in the bush."
After expenses, there is not great profit from the village business but children and adults are benefiting.
The money? It is going into education. The Bissell Scholarship Fund and Find-a-Way Foundation is paying student fees. It is paying transportation and uniform costs to encourage San Quintin graduates to go to middle and high school. Nothing like this has ever happened.
It is also helping a college student.
"Maria de Los Angeles is in her second year of architecture study in Guadalajara. She is very smart. Her parents and grandmother were doing the best they could to make it happen but we are now contributing. We gave them 1000 pesos two weeks ago."
Bissell associates, mostly Luis, repaired Maria's computer and purchased a mandatory program for her studies. They spotted an upgrade and got it. Closer to home, young Adolfo has set a record. He is in ninth grade. No boy from the village has ever gone so far.
Here is another first: His parents went to Bucerias for a meeting with his teacher and the principal. They asked about his grades. They asked about his friends. They asked that he be moved to a different group to improve his chances of success.
Bissell said: "This is a major development."
Back at San Quintin, Domitella has a 100 average in all subjects. It appears she is the sharpest student in the region. She gets to carry the Mexican flag at all ceremonial things involving schools.
Sayuri is smart and neat but lacks motivation. She should do better. Her father, as a fifth grader, was the brightest boy in his age group in the state of Nayarit. He went to Mexico City to meet the president. It was a big deal. The whole village went to Punta de Mita to see him on TV.
Luis told Sayuri the story. Instead of asking more about her dad, she wanted to know why San Quintin didn't have TV in the early 1990s.
From hundreds of miles away, the University of Tennessee is an influence in the community. Patti McPeters Smith, graphics guru, brought a stack of Big Orange shirts and Luis explained what great things happen in Knoxville.
He did not advocate illegal immigration unless one of the youngsters grows up to be a linebacker or running back.
Bissell has a mailbox there and a daughter who deposits checks and redirects all donations to the school fund. The address is
Edd Bissell
508 Union Ave., Unit 503
Knoxville, TN 37902.
A child will acknowledge a gift with a thank-you note — in elementary English.
Published or Updated on: December 17, 2011