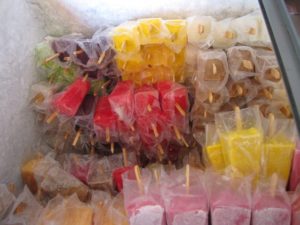 Paleterías – ice pop shops – have some of the most attractively displayed items in México: frozen pops, made from crushed fresh fruit. Lined up according to flavor, they present a spectrum of colors, from the creamy white of the guanabana to the bright pink of the watermelon. Use any tropical fruit available, and don't worry about removing seeds. I have used sugar substitute successfully in making fruit pops, making them a refreshing, low calorie summer treat.
Ingredients
1 ½ cups pureed fruit pulp
½ cup water
2 ½ tablespoons sugar, or to taste
1-2 tablespoons lime juice, or to taste

Mix all ingredients until sugar has dissolved. Taste and add more sugar or lime juice if desired.
Pour mixture into ice pop molds, leaving ¼ " head space. Place lids on molds, insert sticks and freeze until solid, about 2 hours.
To unmold, remove lids and squeeze sides of molds gently. Makes 8 pops.
Link to Source Articles
Exotic summer refreshment: a guide to Mexico's tropical fruit
Mexican frozen treats: Helados, nieves and paletas
Published or Updated on: June 30, 2007