Interactive Map of Chihuahua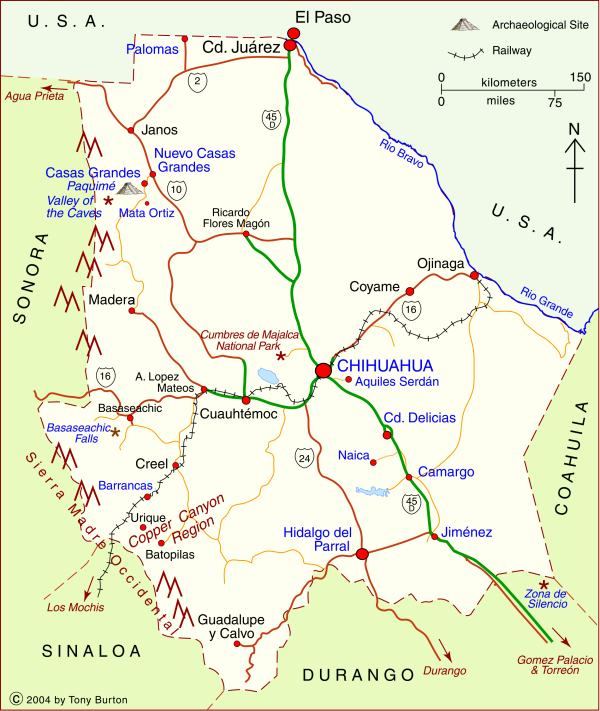 The map shows the state of Chihuahua in northern Mexico. The state capital is the city of Chihuahua (2020 population: 1,050,000). Chihuahua is the largest state in Mexico in area: 247,087 square kilometers  (95,401 square miles). The state's population is about 3,700,000.
Ciudad Juárez is the state's largest city and Mexico's 8th largest city with a population of about 1.5 million. In recent years, the city, across the border from the US city of El Paso, has gained considerable notoriety on account of its violence and high murder rate. It also faces air pollution issues.
The state of Chihuahua has several important tourist attractions, including:
the Copper Canyon region (narrower, deeper and longer than the US Grand Canyon) which is home to the Tarahumar Indians, an indigenous group with a particularly distinctive lifestyle. A world-famous tourist train traverses this region.
Mexico's two highest waterfalls, the Piedra Volada Falls, where the water tumbles 453 meters (1,486 feet) and the Basaseachic Falls, which are  246 meters  (807 feet) in height. The Piedra Volada Falls, which are seasonal, are not shown on this map, but are a short distance north of the Basaseachic Falls.
The Casas Grandes area with its important archaeological site.
Mennonite farming areas; their distinctive landscapes.
Many sites associated with famous revolutionary figure Pancho Villa, including his former 50-room mansion, now a museum, in the state capital.
The state of Chihuahua is in our Northern Mexico region, along with the states of Aguascalientes, Coahuila, Durango, Nuevo León, San Luis Potosí and Zacatecas.
Published or Updated on: January 1, 2004
by Tony Burton