Photo Gallery: Jerez, Zacatecas: a magical town
Though most of the town is lovely, it's the historic section, dating back to when the town was founded in 1536 and centered around the Rafael Paez Garden, that creates a feel of wandering back into time.
Rectangles of queso fresco, cheese made that morning from the milk of cows grazing on the ranches that surround Jerez, a Pueblo Mágico or magic town in the state of Zacatecas, are set before us at Hacienda Camino Real. We take warm corn tortillas, also just made, and places wedges of the cheese in the middle, topping it from one of the many bowls of salsas set before us. The warmth of the tortilla slightly softens the tangy fresh cheese mixing with the rich flavors of peppers, tomatoes and cilantro. It is a simple dish but oh so satisfying. And it is just one of many wonderful dishes that will be set in front of us in this charming restaurant on the outskirts of Jerez, southwest of the city of Zacatecas.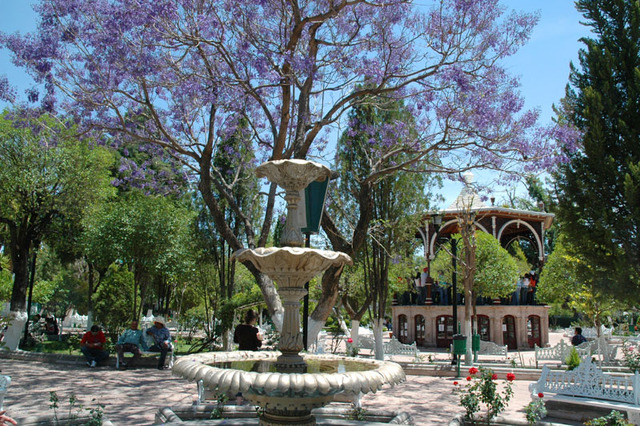 We fill our glasses from large pitchers of jamaica (hibiscus) flower tea and horchata, the rice water drink that is a special favorite of mine, and sample carne adobada, pozole rojo and fonduda – layers of the spicy Mexican sausage known as chorizo and queso asadero, a mild, easily melted cheese. Our table, made from a wooden door, sits under the shaded colonnade that runs the length of the enclosed garden. Surrounded by flowering rosebushes and avocado trees, it's a peaceful way to spend the late afternoon after exploring Jerez, a colonial town some 7,800 feet above sea level in the highlands of north central Mexico.
To get to Jerez, we had traveled south from Zacatecas to the millennium-old archaeological site, La Quemada, climbing up the steep rocky inclines to the ruins of what might have been a trading post on the turquoise trail that stretched all the way to the American Southwest. After our explorations, we clambered back into the van and looped around heading northwest, traveling through a long, seemingly endless flat valley filled with ranches where cattle grazed and cowboys rode their horses. It's an arid land, although there are groves of fruit trees including those bearing peaches, apricots and plums. Even more bountiful is the nopal cactus topped with bright pink and yellow blooms growing along the sides of the road and the prickly pear cactus whose fruit is used to make candy. In the distance, the greenish blue mountain range, Sierra de los Cardos, never seem to get closer, though our driver says that they really are just a few miles west of Jerez and wonderful for hiking, mountain biking and for those who like to climb mountains. I decide to take a pass on that.
Instead, we drive into Jerez, one of 35 hamlets selected as a Mexican Pueblo Mágico. The idea is that these Magic Towns must retain a sense of history, be near a major city, convey a feel of peace and beauty, and offer a sense of what makes Mexico so special — its traditions, fiestas, arts and wonderful cuisine.
Jerez, with its winding streets lined with candy colored buildings bedecked with decorative wrought iron baloneys, carved wooden doors and accented with white trim, is a perfect example of what makes a place magical. And though most of the town is lovely, it's the historic section, dating back to when the town was founded in 1536 and centered around the Rafael Paez Garden, that creates a feel of wandering back into time.
On this sunny day, with its intense heat, the gated garden is a little paradise — flowing fountains, orange trees burdened with fruit and a large Moorish style gazebo. The grass is emerald green and rosebushes, which seem to be a specialty here, burst with immense and vivid blooms. In the corners, underneath pink bougainvillea, tamboras — musicians garbed in elaborately decorate outfits — play their instruments. Old men play dominos, school kids talk and play cards while mothers with young children oversee their play while sitting on green wrought iron benches.
After enjoying the music of several bandas or bands, we leave the garden and walk to the Nuestra Señora de la Soledad Sanctuary or the Sanctuary of Our Lady of Soledad, built in 1805 and made of the lovely pink cantera stone mined nearby. The elaborate facade is a mixture of architectural styles, including Baroque, Gothic and Mudéjar. The later, a style attributed to the Moors from the time they lived in Spain, is known for its ornate carvings and horseshoe-shaped arches framing the entranceway and the niches that house statues of saints.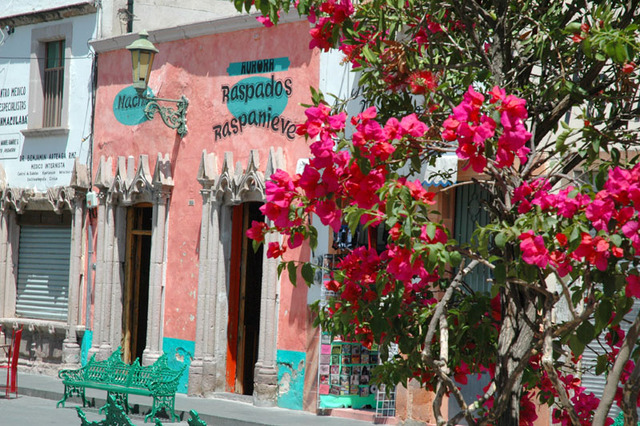 Besides the gazebo in the Rafael Paez Garden and the sanctuary, other examples of Mudéjar exist in Jerez. Across the street from the Nuestra Señora de la Soledad Sanctuary, Moorish influence can be found in the design of the La Torre Building, built in the late 1800s and once a school for girls. Now it houses the Cultural Center and Municipal Public Library, housing works of Ramón López Velarde, one of Mexico's premiere poets and a Jerez hometown boy. Velarde is probably best known for his poem "La Suave Patria" or Sweet Land, and his 19th century home is now a museum where his belongings — including family photographs and copies of manuscripts as well as furnishings and other artifacts like wall hangings, lanterns and books — are on display.
Just down the tree-lined street, past a farmacia (Jerez has an extraordinary amount of doctor and dentist offices as well as pharmacies, seemingly everyone must either be very healthy or very ill here), is the Teatro Hinojosa or Hinojosa Theater, which first opened in 1878. Antique lanterns accent the arched colonnade, and the entrance to the theater is through an immense carved wood door. Inside, the foyer opens up to a large auditorium with a second floor balcony. The white stone walls are cooling after the day's heat and the velvet chairs tucked into nooks on the second floor offer a sense of long ago style.
Across the street from the theater is another garden, one that is much quieter than the bustling Rafael Paez. After buying cold bottles of water at the pharmacy, we wander for a few minutes, picking oranges and sitting by the fountain, listening to the water as it cascades into the basin. It is important, I have read, to drink lots of water when visiting Jerez, as the high altitudes and the dry mountain air can be very dehydrating.
As the day lengthens, the shops, many of which had been closed in the early afternoon, reopen their brightly painted wood doors. Local artisans in Jerez specialize in such handicrafts as belts embroidered with cactus fiber (known as cuero pitiado), leather sandals and woven and embroidered clothing and linens. There are also woodcarvings, painted ceramics, colorful pottery, baskets and metalwork.
It's almost time to leave so we hurry thorough our list of must dos. We view the town's Municipal Palace, a Baroque edifice that was built between 1730 and 1745, and then we move on to the Temple of the Holy Conception and Tacuba Square.
It would be nice to linger at an outdoor café or sample gorditas, savory stuffed masa rounds, at one of the many restaurants that line the historic streets. Gorditas, I am told, originated in Jerez. They were first made in homes but, as the word of their taste got out, individuals known for their excellent gorditas opened restaurants bearing their name. I look longingly at the big clay bowls heaping with fillings and watch the gorditas sizzle on the grill. I will have to come back another time, hopefully soon.
Published or Updated on: December 1, 2008