Gallery: In memory of Don Pedro: Alebrije art from a master artist
Photo Gallery: In memory of Don Pedro: Alebrije art from a master artist
A constant fluttering, deafening whirlpool of claws, fangs, fins, tongues and horns bewilder the senses in a frenzied shuttlecock of figures. This is the Mexican art of crafting alebrijes, monsters lovingly formed out of ordinary cardboard. Their grotesque faces and body-parts are delicately sculpted and painted with intricate patterns in a profusion of vibrant colors. Even if the mind tries to identify sections, it is impossible to tell the origin of even one of these beasts, as they are created in the imaginations of the artists and no two are alike.
Crafting alebrijes is a relatively new art-form, but has its roots in pre-Hispanic times, with the native's penchant for color and love for the fantastic, even the macabre. Red carton demons called judas are still constructed and burned in Mexico on Holy Week in purification rituals. Don Pedro started as a skilled carton judas and figurine-maker for Diego Rivera. His own unique alebrijes came out of a dream, depicting his death and rebirth in a mountainous setting inhabited by these fierce creatures. With the paste of the judas running through his veins, Don Pedro gave life to his vision and the art of making alebrijes was born.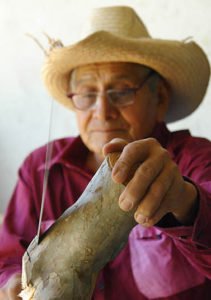 Soon Don Pedro was known as the best artisan in Mexico. Imitation being the greatest compliment, alebrijes artists popped up all over Mexico. These figures are prized here and in countries around the world. Rivera himself stated that no one else could have fashioned the strange figures he requested. Work done by Don Pedro for Diego Rivera is now displayed at the Anahuacalli Museum in Mexico City. Don Pedro received the National Arts and Science award in the Popular and Traditional Arts category, the highest decoration to artisans granted by the Mexican Government. In 1992, a year after receiving this coveted prize, Don Pedro, who had become a legend, died at the age of 86. Finally, Don Pedro went back to the magical world where he met the Alebrijes; but not without giving his 3 children and later his grandchildren a love for the craft keeping the Linares name synonymous with the refined art of cartonería.
One alebrije workshop is outstanding because of its female artist, Susana Buyo who comments, "Each alebrije is an adventure". She learned cartonería as an apprentice at the Linares' workshop. Her alebrijes are a departure from "classic" dragon-like figures, in that her designs include human contours with expressions that inspire more tenderness than terror.
Also, Buyo utilizes new materials such as feathers, fantasy stones and modern resins, which are incorporated with a goal of novelty and durability. "I don't know if my figures are Alebrijes, everybody calls them that and I accept the label, but above all I enjoy making them". All the children know Susana as "monster woman" on her street.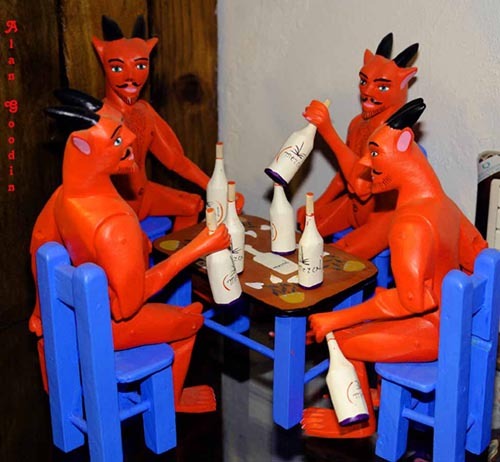 "I'm amazed how a craft so new has developed in so many nations. People everywhere identify with the alebrije. They are symbols in the so-called collective unconscious and are apparent in our dreams. We all keep them hidden deep within us. Mexico is proud of the version given to us 50 years ago at the hands of Don Pedro. Thanks to him, we are a world leader in the creation of these gross guardians of our homes."
Of course alebrijes continue to be produced by the Linares family and in other workshops across Mexico. They are exported to the most important galleries showing Mexican art, worldwide and are an excellent representation of Mexican talent.
The alebijes shown here are from the collection of Eleanor Coerr and were purchased in Ajijic at Mi Mexico.
This article appears courtesy The Chapala Review, a monthly Newspaper published in Ajijic, Jalisco, Mexico. The focus is the Lake Chapala area. The goal is to provide quality information about the area, its stories, events, history, culture and people.
Published or Updated on: January 1, 2000