In a country filled with wonderful beaches and resorts, what could possibly prompt someone to visit Playa Azul?
Perhaps because it's there – representing the only sizeable beach town along the 250km of Michoacán's coast. One must discount Lázaro Cárdenas, the sprawling industrial giant to the south, namely because it's not a town and because even its proximity to the ocean cannot enhance its appeal.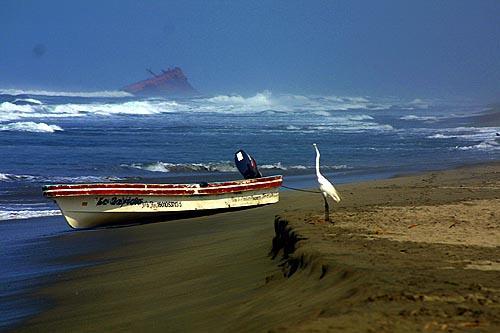 In February 2000, two friends (seasoned travelers both) came to visit us in Pátzcuaro. They arrived rather green around the gills after an endlessly long bus ride from Lázaro, the bus whipping around one precipitous curve after another on the old free road.
In February 2002, we deprived ourselves of such thrills and delights and took our van along the nearly finished toll road. For old times sake, you could still sample about 25 odd miles of curvas peligrosas in the desviacion or detour caused by the one remaining unopened bridge.
In June 2002, spurred on by visions of a pool and a TV for watching the quarterfinals of The World Cup, we went again. Actually, believing that Mexico would beat the U.S., we were planning to go to Puerto Vallarta to take advantage of the special hotel deals and to watch the final games with a crowd. But fate and McBride intervened.
So we decided to return to Playa Azul and showed up at the hotel that had taken our fancy on the previous trip. The manager promised us up, down and sideways that the hotel TV carried all the World Cup games live and in living color. His erroneous assurance actually did us a favor.
Of course, we didn't view it as such at the time. People who have been religiously setting the alarm for 12:30 and 5:30 AM since the beginning of June do not take too kindly when, freshly showered and wide awake, they find themselves looking at ads for foot powder instead of fút.
Our one-week visit to Playa Azul in February had in a mere few months grown to a stay of over fifteen days in the town's memory. one can only imagine what might happen to the retelling of the frantic 1:30 AM search by the gringos through the streets of Playa Azul for an establishment with Direct TV. Playa Azul will always be etched in our memory as the town with an incredibly sweet scent wafting about in the heavy air of the early morning hours. And the one place in Mexico since 1974 where we have been unable to watch the World Cup.
If indeed Brazil had appeared on the screen playing Inglaterra instead of magical potions and apparatus to enhance every part of your body and life in general, we would have again hung around Playa Azul for our full five-day weekend, alternating sleepily between swimming and the end of quarterfinals.
Instead, we took off for Caleta de Campos.
If Playa Azul is small, Caleta is perhaps not quite as big. At least in terms of tourists. People-wise, there probably are an equal amount but Caleta is built up and alongside a hill, which gives it a different look entirely.
Visitors seem to be mostly a rather international mix of young people drawn to the beach, cheap living, the respectable if not top notch waves of Nexpa and possibly cheap pot.
An owner of one of the few tourist shops in town feels the vaunted new highway will actually detract from tourism in the area. He feels most of the visitors not attached to surfboards are spin-offs from the tourism that is happening in Playa Azul. His opinion is that once the new highway is completed, it will be that much easier for people to drive to Zihuatanejo, and they'll just skip Playa Azul entirely.
Already the propaganda is noticeable. There's a sign in one of the travel agencies here in town stating that it's only a two and a half-hour run from Pátzcuaro to Ixtapa. It's undoubtedly wishful thinking, but the options one could find in hotel accommodations and restaurant choices, the range in prices and the variety of activities in the Zihua/Ixtapa area are far more in keeping with the game plan of most tourists. Maybe that's why we sort of like Playa Azul and the possibilities of Michoacán's coast. It all moves at our kind of speed. The promised 3-4 hour trip for us takes five hours if we're really pushing it.
Most people we've talked to put Playa Azul at the bottom of the list for beach towns. Or they actively hate it. Although I can understand their sentiments, the whole coast north of Lázaro has a certain degree of charm for us. In order to find that charm, however, you have to look to the intangibles of a place and not focus on standard attractions normally flaunted in guidebooks. For one, you won't find many beachfront hotels. Two, much of the food, is best left alone if you choose to order from the menus.
It's true, a friend recently told us, about a meal eaten in one of the myriad enramadas or palapas along the beach in Playa Azul that was worthy of having star billing in a fine Parisian restaurant. But then this is the same friend who swore by an easy shortcut to the border. The promised five-hour trip ended for us more than eleven grueling hours later.
Now all words of wisdom about Mexico, including these, should be taken with a grain of salt, which along with oil, make up the mainstays of the restaurant fare that we've encountered in Playa Azul.
The way around this dilemma is to describe how you would like the food prepared. The way to do this most efficiently is to speak Spanish.
Neither this sleepy little town nor the towns north along the coast have found much use for English to date since most tourists who fill the hotels, restaurants and beachfront enramadas are nationals. They tend to show up during the week between Christmas and New Years, Semana Santa and on family vacations during July and August. Most others seem to use the place as a way station from point A to point B.
It's true there really isn't much in the line of organized activities. Entertainment is where you find it. Not exactly what most would consider a hot time in the old town but most entertaining to us nevertheless.
Actually, it was a hot time. Hot and humid. But to me there is an enchantment to places like Playa Azul and Caleta. The fact that there is some tourism in the area prevents one from appearing a total freak. The size allows one to delve right in exploring people's stories without any of the preliminaries necessary in larger, more traditional and insular places. The people we met were open to visitors from outside and quite curious. when one is answering questions, it's not so hard to ask them. And let's face it, in a place like Playa Azul or Caleta, such a conversational diversion can be considered a pretty cool event.
If you're looking to share the amenities and the activities of a large resort with other English-speaking guests, you'll have to wait a while for it to happen along the Michoacán coast. In the meantime, you can console yourself with the pleasures found in the hot spots north in Colima and Jalisco and south in Guerrero.
If you choose to go, be conscious of the fact that a pool should be a high priority item if you want to swim. Even a strong swimmer can have difficulty fighting the unpredictable rip tides that occur with regularity in the area. To date, we've found good pools at the Hotel Maria Teresa Jerico, the Hotel Playa Azul, the Villa Dorada outside of Playa Calabazas and the Hotel Yuritzi in Caleta. For twenty pesos per person, the latter allows non-guests use of the pool. Some of these pools are on the small side but all are well maintained.
There could well be others. We still have some exploring to do. In the two weeks we've taken to barely scratch the surface of the Michoacán coast, some people have toured the length and breath of the republic. This explains succinctly why we like the area so well. Our traveling style jells perfectly with the natural rhythm of the region.
Just like there's a word to the wise about swimming in certain areas along this coast, I'd be very wary about buying property anywhere along the shore. It's true the territory is tempting in its pristine beauty. The history behind a number of dubious land sales, however, is anything but pristine. If you hear of a deal that's just too good to be true, it's because it isn't. Some of the most attractive terrenos have been sold three, four, five times over without possession of the land changing once. One imagines that an actual bonafide transaction could be accomplished, but absolute caution would be advised.
It seems easier to rent by the day, week or month. Hotels in Playa Azul nudge 500 pesos a double at the very top range with, of course, more economical, if less desirable, choices available. There are only two hotels in Caleta. Prices are 200-450 pesos for a double room for two people and can be negotiable. There are also rooms and houses available by the day or for longer periods. Villa Dorada has the highest price that we've found to date. Bungalows jumped to 300 pesos per person per night. This promotional rate includes breakfast. July and August are booked almost completely with time-share users.
The toll road still is unfinished. We paid 113 pesos one way plus the unofficial toll at Las Canas where the detour begins on the route east. If this stretch was wearisome last February, it is much worse now what with the rock slides brought on by the rainy season and the multitude of pot holes brought on by the heavy trucks that should but don't take the longer winding road to La Mira.
Although we had stocked the cooler to provide for culinary contingencies, such precautions were not essential in waylaying hunger pangs. By going on the offensive right from the start and not leaving anything to chance as far as menu choices, we managed to have rather good, albeit plain, meals this time around.
Internet has arrived in Playa Azul. Two sites have alternated between operational and closed since our last visit.
The one open during our stay charged ten pesos for a five or 60 minutes hour.
This excursion taught us how expectations that are not realized can put a certain damper on the tone of a trip. So if you need lots of action on your vacation, it would probably be best to by-pass this stretch. If, however, you can enjoy beach resorts like Puerto Vallarta for only a few days at a time, if that, you could feel right at home for a longer stay in any one of the beaches on Michoacán's coastline. It's not that these places provide you with a long list of stuff to do. Rather they provide myriad possibilities for things to experience.
Michoacán's undeveloped coastline still provides a view of Mexico away from the shadow of the condo. We're definitely going back. If you can find enjoyment in just a beach and a slice of rural Mexico, you should too.
Next time, I plan to find sea salt in chunk form. Lusmila, my neighbor, friend and kitchen guru tells me sal de grano from the coast is the absolute best.
Trips have been planned for less.
Published or Updated on: October 9, 2008