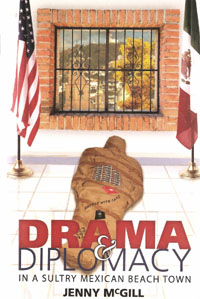 I like this book, but I don't like the title: Drama & Diplomacy in a Sultry Mexican Beach Town. The book is not about "drama & diplomacy." It's about one person's life in Puerto Vallarta, Mexico from the mid-seventies to the mid-nineties. And that life is a fascinating one. I think it might be better titled, Sex, Lies, and Lots of Fun in a Sultry Mexican Beach Town. That would be a book I would buy on impulse alone while in a coffee shop on Olas Altas in Vallarta.
Jenny McGill and her husband Howard moved to Vallarta in the early '70s, and Vallarta was their home until they moved to Talpa de Allende in the late '90s. These were good years to be in Vallarta, and during most of these years Jenny worked as a Consular Agent for the U.S. State Department. She was not involved in "diplomacy" but in the day to day grind, at a very human level, handling duties that were sometimes disgusting, sometimes heart-warming, sometimes even inspirational, often funny.
The book is arranged under topical headings, and this list of chapters will give you some idea of the variety:
1) Mexican Lovers
2) First Years
3) Early Days in the Consular Agency
4) Foreign Service Manuals
5) Destitutes
6) Bureaucraps
7) Dos Morticians
6) Dios' Medicine Men
9) Detentions
10) Dames on My Path
11) The Little Ones
12) Dirty Old Men
13) Pistol Packing
14) Gays in the Tropics
15) Disputes Re Property
16) Dope
17) Disappearances and
18) Red, White, and Blue
"Destitutes," for example, were Americans "Without resources. No money, no place to sleep, no food to eat, and sometimes no clean clothes either. No family back home, no friends who can help out. Nobody, except our U.S. Government." As a Consular Agent, one of Jenny's duties was to help them find "a way out of the mess" they had gotten themselves into in a foreign country. Sometimes those who were destitute had just had some really bad luck. "Armed bandits were notable all over Mexico in the '80s. Tour buses were the most popular target, and many people lost their cameras, jewelry, passports, tourist cards, credit cards, and cash in these hold-ups."
In "Two Morticians," Jenny recounts several incidents where, as Consular Agent, she had to become involved when Americans died or were killed in Mexico. One Easter morning, she received a call that "a man and his wife had been shot out on the golf course. The husband was in the hospital, but his wife was dead."
Jenny goes off to find the woman, and she discovers that the wife, Doreen, and her husband, a Des Moines dentist, had been in Vallarta on their honeymoon. The employees at the golf course told her the body had been taken to San Juan. As she drove off she realized there were several San Juans in the vicinity – San Juan de Abajo, San Juan de Valle, and San Juan de Los Angeles. With the help of the local "Mafioso boss," Jenny pulled up in a station wagon and describes what she found:
"Doreen was wrapped in a sheet, and lying at the end of the front porch to the shack used as the office of the district attorney. It was already a hot day in the tropics, and the flies were swarming the bloody sheet. I walked into the shack, and found the district attorney and his assistant eating a watermelon, and intensely watching a soccer match on a huge, color television."
Her duties also included visiting Americans who had violated Mexican law and had been arrested and tossed in jail. In some cases they were mentally ill. "…While I was working as the consular agent I saw more nudity than I care to remember." In one case, a pretty woman named Decia had drugged and kidnapped a teenage girl and taken her to Yelapa, where the teenager serviced the young Mexican men day and night. The teenager was rescued by Yelapa authorities. "The story is that Decia came running out of the house, clad in nothing but pink leotards and a full length white mouton coat, waving a dildo at the departing group, yelling 'She's mine! She's mine!'"
When that young girl had calmed down enough to make, with Jenny's help, a call to her mother in the states, Jenny expected the mother "to go into a rage or collapse into a sobbing mess." Instead, the mother calmly said, "Don't worry about it honey. I can't even give it away these days."
As a Consular Agent, from time to time Jenny was invited to attend the "Official Burn," where a "token amount of marijuana plants, supposedly from the tons that had been destroyed," were piled up and ceremonially burned. She adds that "I've heard that when these soldiers find a growing field of marijuana, usually hidden in the cornfield growing up the side of a mountain, they pull up a stalk," and "vigorously shake the plant over the freshly turned soil to distribute some of the seeds for re-growth."
Various celebrities came into her life as well… women like Queen Elizabeth and men like the film actor John Gavin who, being of Mexican descent and fluent in Spanish, had been appointed Ambassador to Mexico by President Ronald Reagan. The Mexican media was rough on Gavin, claiming he was "nothing but a movie actor." Gavin's response? "That's not true. I've got fifty-seven movies to prove I'm not an actor."
Now Jenny and her husband Howard live in the pine-covered mountains of Talpa de Allende, home to only a handful of Americans. Many readers of Mexico Connect have discovered Jenny's series, nine pieces so far – At Home in Talpa de Allende, Jalisco. Charming, sometimes informative, sometimes sad, often touching, these are stories about life in the little community she now calls her home… so very different from her Puerto Vallarta, the "Sultry Mexican Beach Town" that provided her with so many tales to entertain us, her fascinated readers.
Available from Amazon Books: Paperback
MexConnect is reader-supported. Purchases made via links on our site may, at no cost to you, earn us an affiliate commission.
Learn more.
Available from the author
Published or Updated on: October 6, 2007