Situated about 300 miles north of Mexico City at an elevation of 6,200 feet, San Luis San Luis Potosí doesn't suffer the high summer temperatures and humidity of coastal areas. Although it's out of the Colonial Circle of cities such as San Miguel de Allende, Guanajuato, Morelia, and Pátzcuro, SLP, too, is rich with colonial architecture and history.
In the 17th century, San Luis Potosí was the Capital of Northern New Spain, a territory that extended into Louisiana and Texas. In the 1863 and again in 1867, it served as the capital of Mexico and home to President Benito Juárez. (He signed the death sentence of Emperor Maximillian here). Francisco Madera's "Plan of San Luis" called for Mexicans to revolt against dictatorship and spurred Mexico's Civil War that began November 20, 1910.
During my off-season visit in May, I encountered only half a dozen English-speaking travelers. Most shopkeepers and waiters do not speak English, but those who did were eager to talk. Not yet jaded by tourism, people treated me curiously; they were friendly and welcoming.
I have no idea why José guided me to the top of the towers. How could he leave his post? Does he do this often? Should I have tipped him? If you want to go to the bell towers, contact him at home: José Ricardo Juárez, Calle Manuel J.Othon #416, Colonia Las Higuera Soledad de G. Sánchez, San Luis Potosí, Mexico.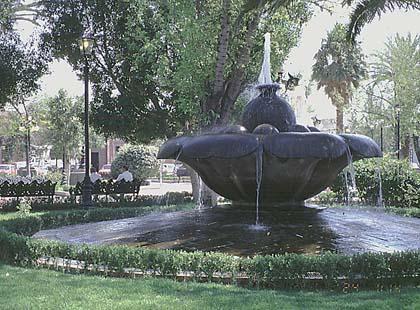 Sights
San Luis Potosi calls itself the La Ciudad de Los Jardines, (City of Gardens). It is full of parks with trees, fountains, flowers, and benches. Cathedrals, museums, and theaters also abound in the city.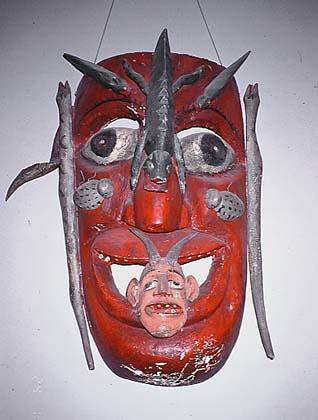 The National Museum of Masks reputedy has the most diverse collections of masks in Mexico. Across the street, the Teatro de la Paz is a combined theater/art gallery, with impressive two-story mozaic scenes. Don't miss Plaza San Francisco, a shaded jardín where you'll find the Casa de Artesanías with craft items from throughout Mexico for sale. The baroque-style Franciscan temple dating to early 18th century is the centerpiece of this park.
Mercado Hidalgo, a 14-block market zone closed to vehicles, is a wonderful place to walk and shop. Products range from practical household items to native handicrafts, such as rebozo shawls made in the nearby town of Santa María del Río.
At the north end, this marketplace turns into a typical Mexican food mart, filled with pungent smells of raw meat, the sounds of tortillas and spiced fillings sizzling on family grills, and scenes of bananas, mangos, limes, and avocados artistically arranged in colorful tiers.
Lodging
I stayed at Hotel Progesso, 115 Aldama, a renovated mansion in the central core. Rooms are clean and comfortable but not decorator perfect… about 70 pesos nightly for single. In the outskirts are more modern (and expensive) hotels, including a Holiday Inn.
Restaurants
In the city's Zona Rosa, along Av. Venustiano Carranza, you'll find restaurants and night clubs, ranging from rib and steak houses to sushi bars and a disco.
Try El México de Frida, 656 Valentin Gama (a side street). It's a charming café decorated with baskets, bird cages, carvings, and the eclectic paintings of Frida Kahlo (second wife of Diego Rivera). One of the owners, Enrique Torre Campbell, is the son of a woman from the States who married a Potosino 45 years ago and has been in San Luis ever since. He speaks good English. The food is excellent — from snacks to full meals. A chalkboard lists an inventory of rare wines.
Published or Updated on: August 1, 1997