Photo Gallery: A family trip to Mazatlán—Sinaloa's Pearl of the Pacific
La Perla del Pacífico-"The Pearl of the Pacific". That's what Mazatlán, Mexico, is called.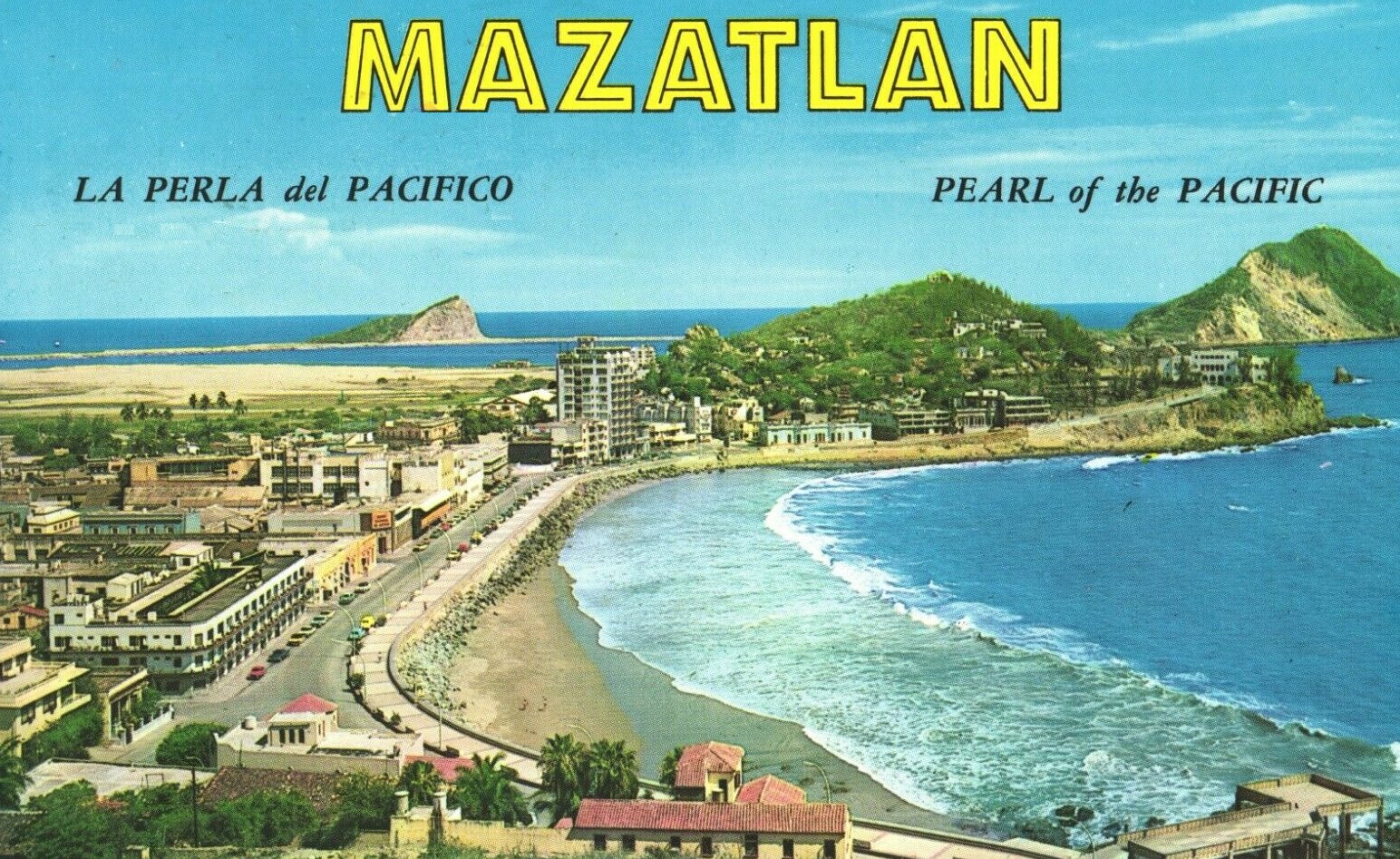 Mazatlán is located in the state of Sinaloa, on Mexico's Pacific coast, looking out across the water towards the tip of the Baja California peninsula. However, Mazatlán is not the only "Pearl of the Pacific." At least 9 Latin American coastal cities lay claim to being La Perla del Pacífico.
These cities are, from north to south:
Puntarenas, Costa Rica
Tumaco, Colombia
Guayaquil, Ecuador
La Bahía de Chimbote, Peru
Callao, Peru
Valparaíso, Chile
I don't doubt that all nine of these pearls of the Pacific are worth visiting, nor that each and every one could justly be referred to as a Pearl of the Pacific. But I've only been to one of them: Mazatlán. And I KNOW it qualifies.
Tourism, including the typical beach resort activities, is important in Mazatlán. But it's not all tourism. Mazatlán boasts a working harbor where cargo is shipped. It has a thriving commercial fishing industry. Moreover, it is a base for sports fishing excursions and a destination for cruise ships.
Islands off the coast and other distinctive features, including an impressively located lighthouse (Faro) are attractions giving Mazatlán its own combination of factors that make it a true Pearl of the Pacific.
Why we visited
For years, my wife Lilia and I had enjoyed visiting different parts of Mexico. When we visited an area, we tried to see what was unique about it. The addition of two sons to the family didn't change our traveling philosophy.
Rather than seeking "kid things" to do, though, we just continued visiting the same sorts of places we wanted to visit, simply expecting our young sons to appreciate them also. And they did!
When our sons David and Raphael were eleven and seven (going on eight), we visited Mazatlán. None of us had been there before. We arrived by bus, across the sierra, traveling through cold mountains in the night, then descending to the coastal plain and eventually to Mazatlán.
Our visit to Mazatlán had begun.
The four days
Our son David, then 11-years of age, had a unique way of summarizing our four-day Mazatlán visit, by naming each day for a prominent living creature (pelican, crab, jellyfish, iguana) encountered on that day. Here, utilizing David's naming system, is a summary of what we did each day:
Day One: Pelican Day
Upon arrival, we were soon installed in an economy hotel right along the beach. It was an inexpensive hotel right in front of the Pacific. I'm from the prairie and my wife is from the desert, so—whenever we go to the ocean—we want to be right by it! Our hotel room had an oceanside view, although we didn't spend much time there during daylight.
From our hotel we walked to the Acuario Mazatlán (the aquarium) and explored its displays. We also saw the sea lion show, the aviary and other animals.
After that the driver of a pulmonía gave us a tour of Mazatlán. Pulmonías (literally "pneumonias") are golf carts transformed into taxis. They have tops but are still open to the breeze.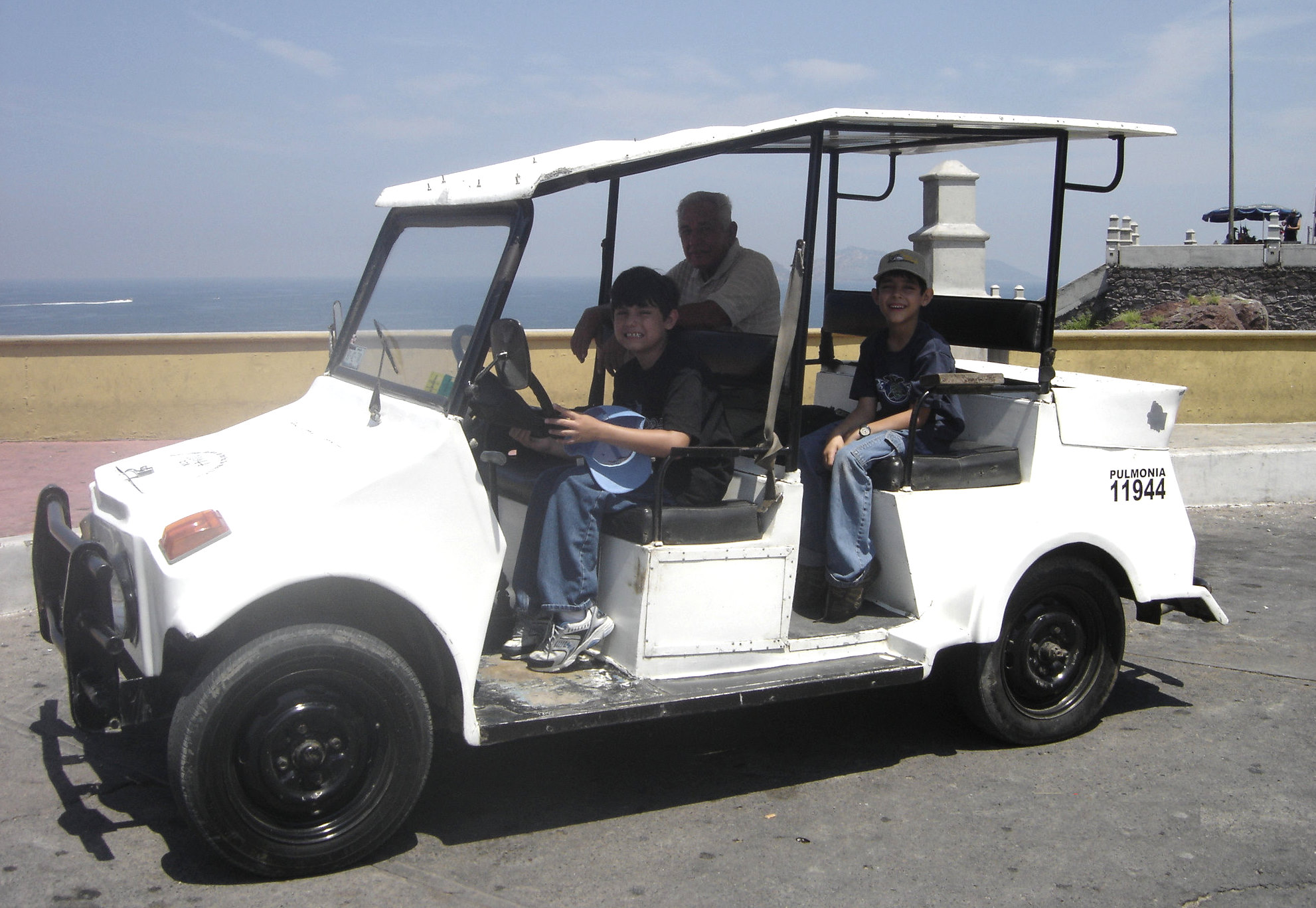 Day Two: Crab Day
We went downtown, where we visited the archaeological museum, cathedral and market. After that, in a different part of Mazatlán, we went to see "Sea Shell City." As the name indicates, it's a sea shell museum and store, said to be the first and only one of its type in the Western Hemisphere. You may have seen the bumper stickers.
We also explored a marina. Later, in the evening, we spent several delightful hours on the beach and in the water in front of our hotel. We had to take advantage of that ocean!
Day 3: Jellyfish Day
As sometimes occurs in these major resorts, we got roped into a sales pitch for a time-share condominium, so that's what we did in the morning. We got turned down, but then received a lesser offer. However, we decided it wasn't for us anyway. So, no deal!
In the evening we went on the Fiesta boat tour. An open bus picked us up and took us to the embarkation point. We boarded a "yate" (a double-decked boat), rode around the port and out into the ocean. We passed the Faro (more on that later), went through some big rocks and near some islands, and headed back.
On the return voyage each of us four took a turn piloting the vessel. We saw the sunset, returned to shore and were bused back to our hotel.
Day Four: Iguana Day
We spent about an hour in the ocean in front of our hotel before it was time to check out. However, though we checked out of the hotel, we weren't finished with Mazatlan. We left our luggage there, and set off to see more of the city.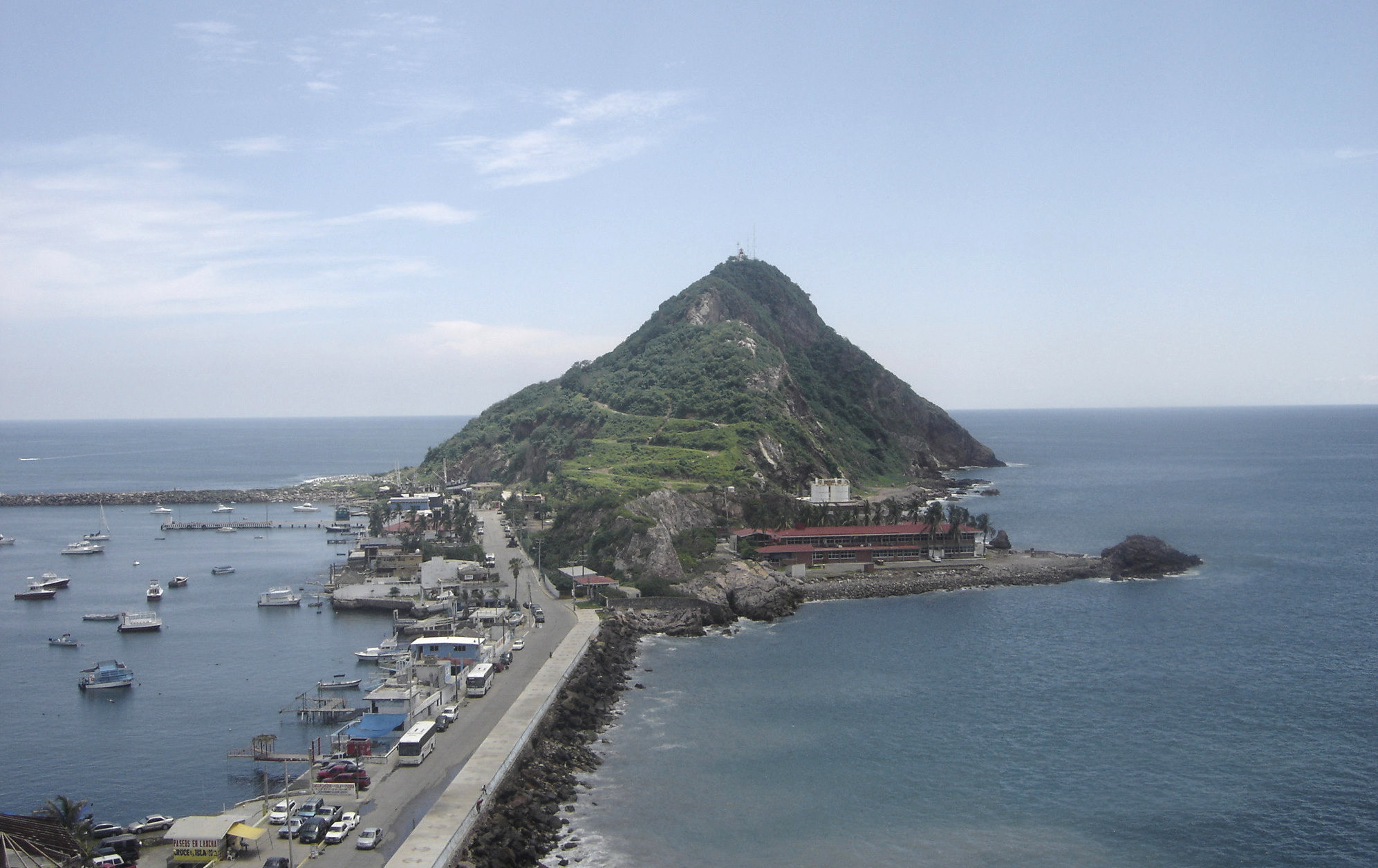 We traveled by pulmonía to the foot of the Faro (Lighthouse) and climbed to the top to visit the lighthouse. The Faro Mazatlán is located atop a high hill and promontory. In operation since 1879, it's one of the highest lighthouses in the world, can be seen for 30 nautical miles, and has sometimes been mistaken at a distance for a star. After making the trek to the top, we were able to chat with the lighthouse keeper.
After descending from the Faro we took a taxi to the Mirador restaurant, with its great views. From there we walked all the way back to our hotel, passing through a residential area, past the old customs house, and then along the malecón (oceanside promenade). After we retrieved our bags, we took a pulmonía to the bus station, and departed Mazatlán by bus.
Conclusion
Our family visit to Mazatlán, a true Pearl of the Pacific, was a great trip, made even more memorable when I was unexpectedly hailed by a former student, who had been in my English class in another city in Mexico. It's a small world!
Our boys enjoyed the visit. Raphael (then 7 going on 8) really liked the bus ride, the boat ride, the pulmonías and the Fiesta bus. Notice what they all have in common—they are vehicles. David, age 11, decided he would like to go sport fishing.
Mazatlán is indeed a Pearl of the Pacific, and my family and I had enjoyed it together. We hope to visit it again some day.
Other MexConnect articles about Mazatlán:
Published or Updated on: July 19, 2022