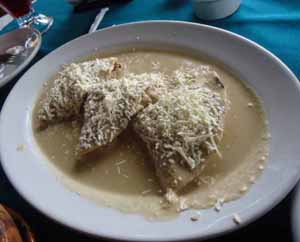 Dobladas means "folded," and these tortillas can be filled or not before folding into quarters, bathed in peanut sauce, and sprinkled with cheese.
Ingredients
For the dobladas:
Vegetable oil for soft frying tortillas
12 six- to eight-inch corn tortillas
½ pound of chicken or pork, cooked and shredded or an equal amount of shredded cheese, if filling the dobladas
Peanut sauce (recipe follows)
Grated queso añejo for the garnish
For the sauce:
2 tablespoons vegetable oil
3 ounces peanuts
3 chipotle chiles (dried, not canned) seeds and stems removed
3 roma tomatoes
1 clove garlic, unpeeled
¼ medium white onion
½ cup chicken broth
½ teaspoon ground cinnamon
Salt to taste
Soft fry the tortillas, turning once, until pliable. Drain on paper towels. Divide the filling, if using, equally among the tortillas, fold them in half, then in half again. Plate the dobladas and bathe them with the sauce. Garnish with the cheese. Makes 12 dobladas.
To make the sauce:
Heat the oil in a large pan over low heat, add the peanuts and fry for a few minutes, turning constantly to avoid burning them. Drain on paper towels and set aside.
In the same pan over low heat, fry the chiles just to the point of fragrance. Do not let them burn, as this will ruin the sauce.
On a dry comal or griddle, or in a large, dry skillet, roast the tomatoes, garlic and onion until charred. Peel garlic.
Place the peanuts, chiles, tomatoes, garlic, onion and broth in a blender and puree well.
Pour the pureed mixture into a saucepan coated with a little oil, add the cinnamon and salt to taste. Simmer for 10-15 minutes, stirring frequently. Add more broth if a thinner consistency is desired. Bathe the dobladas with the sauce.
Link to source article
Going locavore in the mountains of Veracruz
Published or Updated on: July 8, 2014