Photo Gallery: Las Paredes Hablan: Local Mexican film goes tripping through time
By its very nature, a film in which a house narrates the story and the story spans three separate historical periods over 300 years — a century apart — must be lauded, firstly, for its narrative ambition. Las Paredes Hablan, a new Mexican production, is that film. Its director, Antonio Zavala Kugler, acknowledges that the movie takes its fair share of risks while straddling a curious commercial tightrope of both art house sensibility and (hopefully) mainstream appeal. The title, then — "the walls speak" — refers not so much to a metaphorical situation as a literal interpretation of how the story unfolds.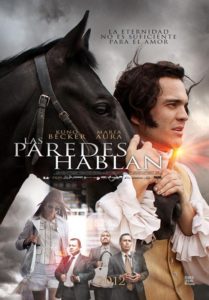 The time periods covered begin in 1810, shift to 1910, and end in 2010. If there is one obvious connection to be made, it is that these years correspond with sweeping, violent upheavals in Mexican history: the War of Independence, the Mexican Revolution, and, somewhat loosely, the War on Drugs. The film deals with these sanguinary episodes while exploring such perennial national themes (often lightly or ironically handled in local films) as the abuse of power, corruption, and the weirdly cyclical nature of violence in Mexican society.
"You have this coincidence of violent, armed conflict every 100 years," Zavala says. "The past is an echo of the present time."
The house is called Casa Espíritu, and through the alternating scenarios in which it exists, a "timeless" love story unfolds between the two romantic leads — played by Kuno Becker (La Cabeza de Buda) and María Aura (Conozca la Cabeza de Juan Pérez) — as their characters undergo incarnations through the past to the present. Aura's mother, the celebrated Mexican poet and novelist, Carmen Boullosa, penned the script, before going on to turn it into a novel of the same name (recently released by the Spanish publishers Siruela).
"The script has a narrator and a point of view: the house (Casa Espíritu)," according to Carmen Boullosa. "(It is the house's) memory crossing back and forth with the same random speed and directions as memory normally has. The house's voice is the 'rational' part of the narration — or should be."
(The story) is a kind of Mexican Romeo and Juliet," Boullosa adds. "Time is not linear for us Mexicans, by tradition it runs in circles. So the couple promise each other eternal love, and they keep their word: they come back to life every 100 years, same houses (they are neighbors), (and) in a way both have the same identity — though their centuries shape them differently."
For her part, Boullosa was seeking to engage a project in which she, her actress daughter, and her son, Juán Aura (another of the film's producers), could work together. The film also stars Mario Zaragoza (La Zona) Gerardo Taracena (Crónicas Chilangas) and Miguel Rodarte (Amar a Morir), as well as legendary film and stage actor Hector Bonilla. The film was shot at Estudios Churubusco in Mexico D.F. and at Molino de las Flores in Texcoco, and is set in the southern suburb of San Angel — an enclave as well established in its settled wealth today as it was hundreds of years ago.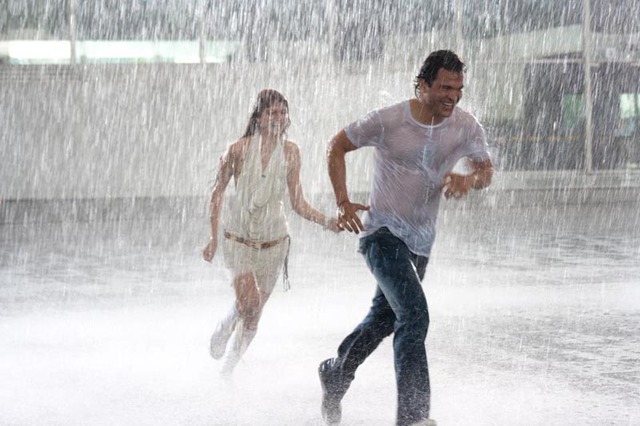 Antonio Zavala has had a long and varied career both behind the camera and in front of it, in a career that has included stints for Televisa and Altavista Films. The rest of the production team represents the cream of the crop in current Mexican filmmaking: including the famous local producer Anna Roth (Apocalypsis) and New York-based independent, Andrew Fierberg (Secretary); cinematographer Esteban de Llaca (La Perdición de los Hombres) helmed the visuals; production designers Salvador Parra and Rafael Mandujano (Sólo Quiero Caminar); costume designer Adela Cortázar (Desierto Adentro); and music supplied by Leoncio Lara (Rudo y Cursi) and Lino Nava, of the legendary rock band La Lupita (Km. 31). Another plus for culture lovers is that the film features prominent Mexican art works from the collection of Andrés Blaisten.
I recently met Antonio Zavala at the production facilities of New Art Sound in Colonia Del Valle, along with director of photography, Esteban de Llaca, post producer Edgar Estrella and colorist Miguel Villasana — all hard at work in the studio touching up the greenery of a tree here, lowering the shade on a wall there. Such minute attention to details is typical of the production values afforded to a big budget movie, and as a result of the varied financial support — funding came through private investment as well as La Fundación Harp Helú, Imcine, Conaculta and the D.F. government's Comisión Bi100 — Las Parades Hablan qualifies as a big budget movie, and there is a lot riding on the (anticipated) success of the film. Zavala concedes that many Mexican filmgoers can sometimes be put off by a Mexican movie, since so many of them have a tendency to stray towards a limited art house appeal.
"Due to the nature of government subsidies, plenty of opportunities exist for new films to be made and a lot of them are 'primer opera', that is, movies made by first time directors," Zavala says. "They all think they're Ingmar Bergman, which is a turn-off for audiences. Like the laurels on a movie poster (denoting awards won at obscure independent film festivals), the director thinks that will make people go see the movie, but in fact the opposite often occurs. People assume the movie will be boring and pretentious and they won't like it. So they don't see it. If you want to be onanistic about your art, go and do a painting or write a novel. Filmmaking is not like that: I have a responsibility to my actors and crew, the investors, and to the audience to deliver an entertaining movie."
Las Paredes Hablan will on premier December 3 at the Teatro de la Ciudad in Mexico D.F. It will then open in more than 150 cinemas across Mexico on December 7, a release which — although somewhat modest by Hollywood blockbuster standards — represents a big opening for a locally-produced film.
Published or Updated on: October 26, 2012