Coffee, swamp lily and heliconia
Three beautiful options for your tropical garden in Mexico are the coffee tree, swamp lily and heliconia.
Coffee (Coffea arabica)
Family: Rubiaceae
Use: The beans produce a beverage and stimulant used widely for at least 1000 years.
There are about 60 species in the wild, about 10 species under cultivation. The most valuable are arabica and robusta.
Flowers: Coffee flowers are small, white, star-shaped and fragrant. The flowers give way to red berries.
Cultivation: Coffee thrives in mineral-rich soil, volcanic or freshly-dug woodlands and hilly lands that are well-drained and well-irrigated with frequent rains. The plant prefers a wet-hot or hot-temperate climate and altitudes of 2,000 to 6,500 feet. Coffee plants are intermingled with other plants for shelter from excessive sun. Under cultivation, the plant rarely exceeds 7 feet in height, but robusta can exceed 30 feet. It requires frequent fertilization.
Propagation: Sow seeds from healthy, long-lived plants in a sheltered area, and transplant at six months, during the rainy season.
Crinum augustum
Family: Amaryllidaceae
Alternate names: Swamp Lily, Milk and Wine Lily
Use: This is an African tropical ornamental with over 130 varieties, and is used for borders and bedding, or as a water feature plant. According to folklore, some varieties have medicinal uses.
Flowers: Crinum augustum produces loose clusters of 20 to 30 large, lily-like flowers on long, strong stems. Flowers may be red, white, pink, or bicolor red and white, with thin petals.
Cultivation: This lovely plant flourishes in deep, well-drained to moist soil, in sun or partial shade. It may be grown near or in the water for some varieties. Fertilize it weekly during growth. The strappy leaves may reach nearly 5 feet in height under ideal conditions.
Propagation: The swamp lily grows from large bulbs. Increase it by division, lifting and dividing the entire clump. Or it can be grown from seed, which will take 3 to 4 years to flower.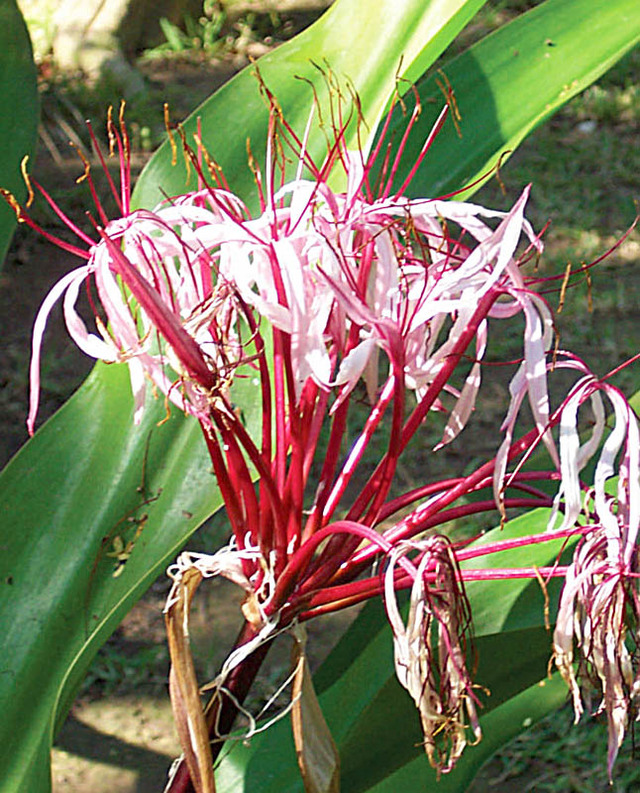 Heliconia (Heliconia caribeae)
Family: Musaceae
Alternate Names: Parrot Flower, Lobster Claw
Use: This is a spectacularly beautiful group of plants from the tropical family, which includes bananas, the travelers' palm, cannas, and bird of paradise. Its flowers are used in showy tropical arrangements. The plants are marvelous landscape showpieces in warm, humid climates. A few are grown for foliage. Heliconia reaches 8 feet in height.
Flowers: The tiny flowers are hidden inside dazzling colored bracts in green, yellow, pink, red, and orange, often combined. These showy bracts are over 12 inches long. Some varieties, such as the fishpole heliconia, have bract clusters that dangle. Others, like golden heliconia, are upright.
Cultivation: Heliconia is native to South and Central America, as well as some South Pacific islands. They are also are grown in warm greenhouses or conservatories further north. They thrive in rich compost with generous water and filtered sun. The plant is found in humid lowland tropics below 1,500 feet, and in rain forest habitats.
Propagation: Hummingbirds and nectar feeding bats are known pollinators.
Published or Updated on: October 1, 2008 
Contact