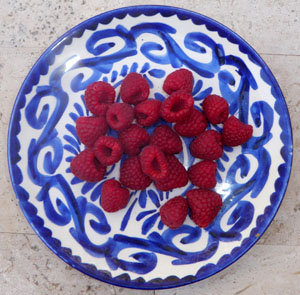 This can be used as a glaze or a barbeque sauce. Try serving it spooned over cream cheese as a dip or spread for crackers, or with small meatballs for hors d'oeuvres. It can be strained for use as a glaze, but for a dip with cream cheese it is better with some texture.
Ingredients
1 tablespoon light olive oil
1 small white onion, minced
2 cloves garlic, minced
2 chipotles in adobo, finely chopped, plus extra adobo sauce if desired
2 pints fresh raspberries, crushed
½ cup raspberry vinegar
¾ cup sugar
Salt to taste
Heat the oil in a saucepan over medium heat, add the onion and cook until soft. Add the garlic, cook another minute. Add the chipotle and the raspberries and cook, stirring, until the raspberries are soft. Add the vinegar, stirring to deglaze the pan.
Add the sugar and salt, lower heat, and simmer until reduced by half, stirring frequently. Allow the sauce to cool before using. Strain through a fine mesh strainer if desired. Makes about 1 ½ cups.
Link to source article
Mexico's berries: a spring awakening of flavor
Published or Updated on: March 10, 2010