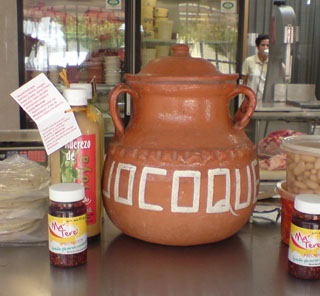 The name of this dish is derived from the Spanish word jocoque, which is sometimes translated as buttermilk, but is really a type of thick yogurt of Middle Eastern origin. In the city of Puebla, with its large Lebanese population, jocoque is sold in most supermarkets, but in rural areas it is homemade and truly delicious. If you can't find jocoque, a mixture of half sour cream and half regular plain yogurt is an acceptable substitute.
Ingredients:
4 chicken leg quarters, separated into thighs and drumsticks, seasoned with salt
2 tablespoons vegetable oil
6 guajillo chiles, seeded and deveined
6 ancho chiles, seeded and deveined
4 arbol chiles, seeds removed
1 ½ cups hot chicken broth
½ pound plum tomatoes
½ pound tomatillo (tomate verde), husked
4 cloves garlic, roasted on a comal or dry griddle, then peeled
½ medium white onion, roasted on a comal or dry griddle, then peeled
¼ teaspoon cumin seeds, lightly toasted
1 ½ cups jocoque, or use half sour cream and half plain yogurt
In a large skillet, brown the chicken on both sides in the vegetable oil. Set aside, but do not rinse skillet.
Soak the chiles in the broth until soft. Place the softened chiles, the broth, tomatoes, tomatillos, garlic, onion and cumin seeds in a blender and puree until smooth. Pour this mixture into the skillet in which the chicken was browned. Heat the puree, stirring, until it comes to a boil.
Return the chicken to the pan, lower the heat to medium, and cook, covered, until the chicken is cooked through. Remove the chicken and keep warm.
Add the jocoque to the sauce and stir to combine and heat through. Taste and add salt if desired. Serve the chicken, bathed in sauce, in shallow bowls. Accompany with warm corn tortillas. Serves 4.
Link to Source Articles
Culinary travel in the Mixteca Poblana: The avocado route
Yogurt: A healthy Mexican favorite
Published or Updated on: October 16, 2009