The Last Prince of the Mexican Empire by C. M. Mayo
Unbridled Press, May 5 (Cinco de Mayo) 2009
430 Pages
Available from Amazon here
MexConnect is reader-supported. Purchases made via links on our site may, at no cost to you, earn us an affiliate commission.
Learn more.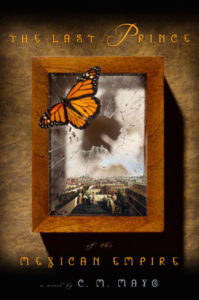 Wow! What a story! In 1864 the Archduke Maximilian von Habsburg, accompanied by his ambitious and beautiful wife Charlotte, arrives in Mexico City. Louis Napoleon had previously sent thousands of French troops to the financially and politically unstable country. Even though Mexico is ruled by a democratically elected president, Benito Juárez, Maximilian is installed as Emperor of Mexico. Juárez must go into hiding.
Maximilian was brother to the powerful Kaiser Franz Joseph (head of the house of Habsburg) and Maximilian's wife Charlotte was the daughter of the powerful King Leopold of the Belgians; she was also first cousin of Queen Victoria of England, and she was granddaughter of King Louis-Philippe of France. At "the hard, unripe age of twenty-three," Charlotte gloried in pomp. Even though Charlotte "was not his first love…he would trust his life to her." For her sake Maximilian accepted the throne of Mexico. Charlotte was also childless.
This is a true story.
Angelo de Iturbide was the son of Mexico's first emperor, Augustín de Iturbide. Augustín Iturbide, who had been a hero in the revolution from Spain, had, following that successful revolution, declared himself emperor. Forced to abdicate and to go into exile (in Europe, of course), he "very improvidently returned" shortly to find himself facing a Mexican firing squad). His son Angelo had been serving in Washington, D.C. as a Mexican diplomat, and Angelo decided the time was right to return to Mexico City, bringing with him his American wife Alice Green and their two-year old son, Prince Agustín de Iturbide, named after his grandfather, the first emperor.
What better choice as Heir Presumptive than this young prince who carried the blood of Mexico's first emperor. Almost immediately after Maximilian and his barren wife Charlotte took custody of the Prince, the boy's father and mother began to regret their complicity and began what became international efforts to regain their child.
C.M. Mayo, a name familiar to many readers of MexConnect, was invited some years ago to a lunch in Mexico City, and "There in the dining room was an unusually handsome antique portrait of a youth." The youth was Agustín de Iturbide y Green, "the prince of Mexico." A few months later Mayo was reading Jasper Ridley's Maximilian and Juárez when she came upon a chapter titled "Alice Iturbide." Mayo writes, "My surprise at finding my own countrywoman, long ago at the apex of this Mexican aristocracy – both antagonist and victim, motivated and blinded by who knew what medley of ambition, avarice, love, borrowed patriotism or naïveté – so intrigued me I knew at once I wanted to explore and expand the story into a novel, "getting the facts as straight as possible but also, and this was the most interesting to me, telling an emotional truth."
Then began her research in earnest, reading the main works on the period, discovering that "the rise and fall of the Second Empire, Carlota's descent into madness and Maximilian's last days and execution, have been told and retold in movies, TV series, documentaries, as well as plays, operas, epic poems, and novels – but never, apart from a couple of problematic articles, has the story of the little prince been told on its own. She also discovered original documents in historical archives in both Mexico and the United States, even including "several letters from Angel de Iturbide, anxiously requesting that he and his family be permitted to return to Mexico."
By the time Mayo had the cast (a large one) of characters in place, she also had dramatically deepened her understanding of the political and cultural history of Mexico, and broadened her knowledge of the details of daily life in mid-19th century Mexico, even such details as what was served at the lavish dinners in the homes of the Mexican aristocracy: "Cream white trout on a bed of pickled lime-skins, sweetly mild poblano chiles stuffed with sautéed walnuts and minced beef and sprinkled with pomegranate seeds, and duck, and goose, and quail, pheasant in butter-nutmeg sauce with crisp diced peppers."
I have read a few sweeping historical novels that have remain inside of me forever. Tolstoy's War and Peace is one of those, Dickens's A Tale of Two Cities is another, Pasternak's Doctor Zhivago is another, and now The Last Prince of the Mexican Empire is another.
Published or Updated on: May 22, 2009