Photo gallery: Arte plumaria: the feather art of Martha Lopez Luna
Martha López Luna gripped a fragment of hummingbird feather with tweezers and placed it delicately on her painting of the Isla de Janitzio rising over the lake. Pondering her arte plumaria — feather art — painting for a moment, she removed a small puff of raw umber feather from a jar and split the piece into tiny threads. She then changed her mind and inserted a tiny shred of peacock feather onto Lake Pátzcuaro for a reed. Meanwhile, her parrot Lorenzo had stepped crassly up to the window and now peeked inside as if to ask, "Have you used any of my feathers yet? Where did you use them? Let me see!"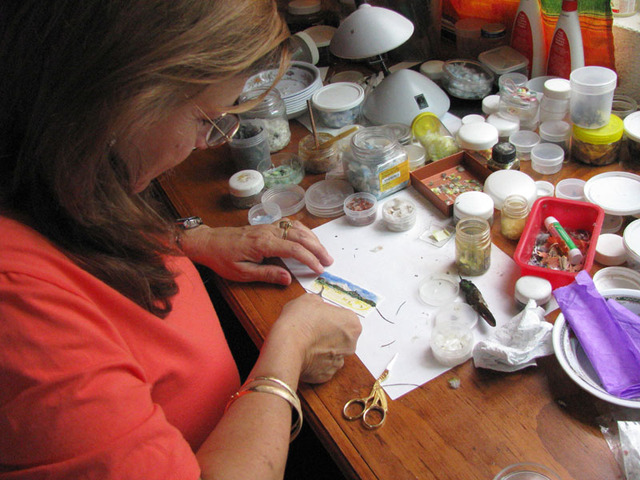 Martha, accustomed to his inquisitive stares, continued working in her home and workshop on the slope of Santa María in Morelia, where she has lived for 22 years. She precipitously composed the three-finger-sized scene of the island rising over Lake Pátzcuaro, complete with a canoe coasting past quivering reeds and placid waterfowl, fashioned from feathers discarded by Lorenzo and other birds. Many of them squawked from their tall cages beyond the large window in front of her desk.
"It's very simple, for me. It's not difficult at all," she said. Then, with radiant humor softening her voice, she added, "I think in another life I was a plumajera (person who makes feather art)."
The 52-year-old artisan and married mother of three sons only began working in arte plumaria in 1999, but she has already earned an impressive reputation for herself. A book featuring her work titled Mi Collar, Mi Pequeña Pluma (My Necklace, My Little Feather) contains photos of her images endowed with a calamitous beauty: a snowy mountain rising above a forest; an ancient church ascending against a fiery sunset; shrouded women sitting in silent prayer at gravesites covered with candles and zempasuchitl.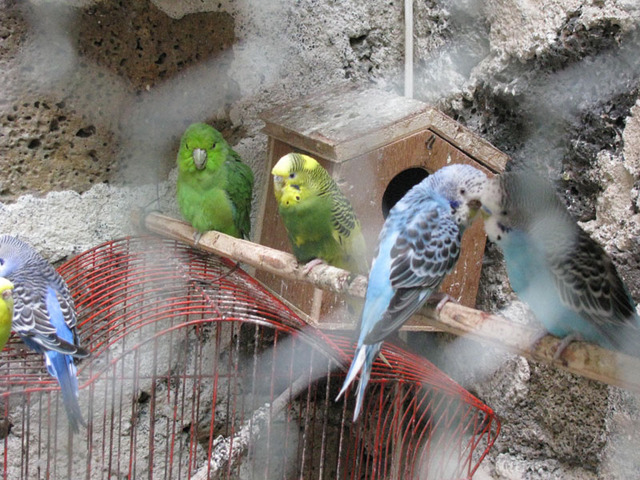 "It takes time to collect the feathers. The work of the feather art is a work of patience. I thought I was not patient, but I like this work so much that now I have patience."
Martha had already built a considerable artistic legacy for herself when she began doing arte plumaria. Evidence of her aesthetic explorations decorated her home: a blue-clad matador in acrylic confronting a monstrous black bull, the stone arches leading up to the Conservatorio de las Rosas painted in oils, and the color pencil image of a man teaching a boy the harmonica. She also had a watercolor of peaches hanging on a tree.
An ancient art
Martha and other local artisans are working to rescue arte plumaria, a pre-Hispanic technique, but reviving the tradition doesn't mean duplicating the process used by indigenous peoples before the Spaniards arrived. While pre-Columbian artisans used powder from orchids to make glue for securing the plumes to the painting, Martha and other contemporary crafts people use cera de Campeche — wax from Campeche. That substance is mixed with ground clove to act as a natural preservative.
"The wax is very useful to us because it doesn't dry immediately, so we can keep sticking the feathers. We can keep using it because it doesn't get dry for many days."
Until recently, Martha has had to divide her time between her art, her family, and her job as an accountant at a local university. She has now retired from her accounting job; this new liberation has granted her the privilege of following her artistic moods, allowing her art to flow according to its own nature, like the temperamental flooding of rivers when the skies send rain careening across a parched landscape.
"I have more time now, but the truth is that before, I was more organized and I worked more then. Now I need time. I can work two hours, or eight hours. Sometimes it just doesn't come. There are some times that I want to work, but I don't see anything that I like. Painters have, how can I say it, have to be inspired to work, because sometimes in that moment I am not inspired so it doesn't work. Sometimes I do things that I don't finish. There are two or three I didn't finish. I have to enjoy it to finish it. I need challenges to keep doing the work. When I am inspired, everything comes easy."
Her work appeared anything but easy as she toiled painfully at the painting of Janitzio Island. She picked up a sliver of red cardinal feather, rubbed the Lilliputian fragment in a wad of cera de Campeche on the lid of a jar, and installed it on the island. She pondered her next step for a moment, auburn hair falling away from her face in thick folds, a wave of brown curling around an arm of her gold-framed glasses. Plastic zip-lock bags of green and slate gray feathers lay scattered about her desk along with containers of pencils and brushes and scissors; jars of more feathers — yellow and pale aqua and light canary yellow with graceful splashes of diluted crimson — waited within easy reach.
Lorenzo, the only bird allowed to roam about the house at will, sat on a stick jutting from one of the cages where birds from throughout the world spat and screeched. Parakeets wrapped in feathers of bright yellow interwoven with glimmers of green and sky blue indulged themselves with impunity, cutting loose with a swirling, warbled racket like a frivolous little stream scrambling over rocks. Periodically, Lorenzo butted into the conversation with a raucous blast, like a grumpy old man making his presence known amid the cacophany of youthful and energetic laughter.
From the bay window, Morelia spread out in a breathtaking panorama, riddled with puddles of hesitant pale azure and bold cobalt blue crawling from splashes of burnt butterscotch, Venetian red, and light-hearted geranium pink. The pink cantera stone of the cathedral with its layered steps of columns and towers rushed across the city, barreled into the livingroom, and landed in the workshop where Martha's imagination could ply its wonders for inspiration.
The cathedral has played a prominent role in several of her paintings, including one of the blue-and-white tiled dome sitting on the light beige-feathered stone against a backdrop of blue sky and clouds and birds in the distance. "I work little by little. First I do the background, and I get closer and closer to create perspective."
The blue sky, she said, is always composed of Australian parakeet feathers. "It's a very common bird. You can see them in every house. It has so many different kinds of blue, and they can give you all the shades of the sky."
Published or Updated on: November 1, 2008