Medtogo: Mexico Health and Safety Travel Guides
Mexico books by Robert Page, MD and Curtis Page, MD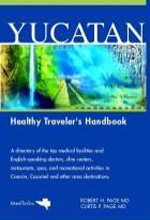 Available from Amazon Books:
Mexico: Paperback
and
Yucatan: Paperback
MexConnect is reader-supported. Purchases made via links on our site may, at no cost to you, earn us an affiliate commission.
Learn more.
One of the results, certainly to be of interest to many travelers to Mexico as well as to the large expatriate community, is the Mexico Health and Safety Travel Guide. In addition to its "Comprehensive Directory of the Best Hospitals and English-Speaking Doctors," this well-organized and highly detailed (some 640 pages) reference is filled with lots of other useful information.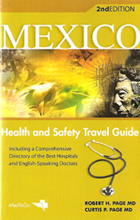 " Part One: Health Care in Mexico
Here we are introduced to "Mexico's Health-Care System in Plain English," including information about IMSS (the Mexican Social Security Institute), "The Private Sector," and "The Ministry of Health."
" Part Two: Preparation
Guidelines include a detailed discussion of various immunizations as well as a recommendation that at a minimum a traveler should have a hepatitis A vaccination. You will also find here a list of U.S. Departments of Health and Canadian Ministries of Health; detailed instructions on how to create your own "Travel Health Kit"; a detailed discussion of "Health Insurance and Air Evacuation" that includes four recommended travel health insurance providers (after researching fifteen of them incidentally); and also how to apply for IMSS, the Mexican Social Security Health Insurance.You are also informed that there isn't any U.S. Medicare in Mexico, although there are "over 65,000 U.S. pension beneficiaries and an even greater number of retirees currently residing in Mexico…." Furthermore, "The U.S. Consulate in Guadalajara reports that, contrary to rumors… Medicare coverage is not available anywhere in Mexico and that there are no immediate plans to make it available in the near future."This section also addresses such things as "Driving in Mexico," "Travel Safety for Women," "Travel Health Special Needs and Concerns" such as "Handicapped and Disabled Travel in Mexico," "Traveling with Heart Disease," and "Traveling Advice for Dialysis Patients."
" Part Three: Symptoms and Conditions
The first of the two sub-sections here is "Symptoms and Conditions," "to help you decide what the possible causes of a symptom might be and when a symptom is serious enough to warrant medical attention." The second section is a list of common "Medical Conditions" and "What to Do" or "Treatment."
" Part Four: Directory
This is 80% of the book. It is a very detailed listing of recommended hospitals and physicians (selected by a screening process outlined at the beginning of this section). This is organized into 10 regions:

Region 1: Northern Baja California
Region 2: Southern Baja California
Region 3: San Carlos/Guaymas
Region 4: Chihuahua State
Region 5: Northeast
Region 6: Central Highlands
Region 7: Central Pacific
Region 8: Mexico City & Outlying Areas
Region 9: Chiapas and Tabasco
Region 10: The Yucatán Peninsula

Each Region is then broken down further. For example, Region 7: Central Pacific, where I live, is broken down into sub-sections on Puerto Vallarta, Manzanillo, Guadalajara, Lago de Chapala, and Morelia. There is a general introduction to the region ("accounts for over 50,000 U.S. and Canadian expatriates") that includes locations and phone numbers of Consulates, of Emergency Information, of Communications Information. This is followed by the sub-sections, each of which begins with a fairly detailed map of the major metropolitan area in that sub-section. For me the sub-section is "Lago de Chapala," and the map includes the north shore from Ajijic to Chapala.

The recommended clinics – in this case Clinica Ajijic and Clinica Maskaras – are clearly identified on the initial map and in more detailed maps on the pages for the clinics. Four doctors are recommended. The first happens to our doctor, Dr. Alfredo Rodríguez, and his office hours are listed along with his address and phones. The description notes that he "speaks near fluent English, and is a genuinely sincere and friendly physician." (The "Standard fee" says $10 USD but in fact we pay $15 USD.)

At the back of Mexico Health and Safety Travel are two short sections:

Appendix 1: Pharmaceutical Guide
This is a list of common medications that includes many prescription medicines in the U.S. that are available over-the-counter in Mexico – such as Albuterol and Ciprofloxin. For each drug medication the authors generally tell us three things: "Use to relieve," "Children's use," and "Side effects and precautions."
Appendix 2: Health & Safety Translations – English to Spanish
This is a list of common medical situations and their equivalents in Spanish. For example, "I feel weak" is "Me siento débil" and "I need the morning-after pill" is "Necesito la la píldora del día siguiente."I personally would like to see an index added to subsequent editions, to make the book even easier to use.
Medical Tourism
Independent of this new edition of Mexico Health and Safety Travel Guide, MedToGo also offers "Medical Tourism in Mexico." MedToGo "arranges healthcare for willing participants who seek excellent, cost effective care in Mexico. We take patients from the inquiry state all the way through to completion and fulfillment of medical procedures and health related services in Mexico. We monitor your care with our network of Mexico's best Hospitals and English speaking doctors to ensure that you are treated with prudence and professionalism throughout your stay in Mexico."Some of the "top medical procedures now available through MedToGo" are:

" Gastric Bypass and LAP BAND
" Knee Replacement
" Hip Replacement
" Face Lift
" Tummy Tuck
" Cardiac Bypass
" Heart Valve Replacement
" Rhinoplasty (Nose Job)
" Breast Augmentation
" In Vitro Fertilization
MedToGo assures us that "Private hospitals in Guadalajara, Monterrey, and Mexico City offer some of the most advanced tertiary care centers in the world. Tertiary care is advanced care (i.e., cardiovascular evaluation and surgery, neurological evaluation and surgery, orthopedic surgery, hemodialysis, organ transplants, among others) that requires highly specialized skills, technology, and support services. Most of the doctors in these hospitals have had excellent Mexican medical education, and many have trained abroad in Europe or North America."
The cost? "Since we offer prices as low as 25% the cost for comparable services in the U.S., our patients experience an equivalent healthcare experience at tremendous savings."
Contact MedToGo:
Telephone: 1-480-785-2700
Toll Free: 1-866-MedToGo (1-866-633-8646)
[email protected]
medtogo.com
Yucatán Healthy Traveler's Handbook. MedToGo, in response to requests for "more compact information for short-term travelers," has begun a series of regional handbooks. The first is Yucatán Healthy Traveler's Handbook, which, in addition to medical information, lists "dive centers, restaurants, spas, and recreational activities in Cancún, Cozumel and other area destinations."
Well, with Yucatán Healthy Traveler's Handbook in hand, I guess I'll start planning a trip over to Cozumel. After a nice lunch at "Rock'n Java," which includes "vegetarian options and meals low in grease, sodium and cholesterol," I plan to head over to "Centro Holistico to watch Selene and her instructors teach Kundalini, Power and Ashtanga Yoga, Pilates, Tai Chi, Aikido and Capoeria. When I am totally exhausted with all that watching, I'll slip over to "Libreria del Parque" to take a look at "the best supply of English-language magazines, novels, travel guides and maps." Later you can find me at the beach bar at "Uvas," tipping a few long-necks of Modelo especial.

Published or Updated on: September 1, 2007