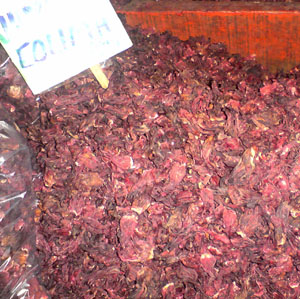 One of the most requested recipes from this column is agua de jamaica, a refreshing drink made with dried hibiscus flowers. This sorbet has the same clean taste and is perfect for the palate that may have been overwhelmed by rich food.
Ingredients:
3 cups water
3 tablespoons jamaica (dried hibiscus flowers)
3/4 cups sugar

Place the water and the jamaica in a medium saucepan, bring to a boil and lower heat. Cover and simmer for 5 minutes.
Remove the pan from the heat and let the mixture steep, covered, for 10 minutes.
Add the sugar, stirring until completely dissolved.
Strain the mixture into a bowl, chill in the refrigerator.
At this point, the mixture can be frozen using an ice cream maker, following manufacturer's directions, or poured into a freezer safe container, covered, and frozen at least four hours. If freezing longer, remove from freezer and stir from time to time to break up any ice crystals which may have formed.
Serve in dessert glasses, topped with fresh fruit if desired.
Makes 4 servings.
Link to source articles
Published or Updated on: January 1, 2006