It never ceases to amaze me the number of American tourists who visit Mexico every year with only a thick paperback mystery novel packed away to indulge in while sunbathing on a beach. Rather than titillate the spirit with murder and intrigue, why not take along a book that will help you navigate more smoothly through a very difficult culture.
Ninety percent of tourists see only ten percent of La Republica Mexicana. The remainder of the country stays under lock-and-key until a visitor finds a way to open the door and see Mexico for what it really is.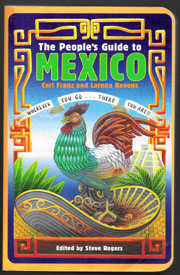 The keys to the lock can be found in The People's Guide to Mexico. If you read it and apply Carl and Lorena's vast storehouse of wit, knowledge and understanding to your own experiences in Mexico, the People's Guide method of mellow and adventurous travel will become automatic.
I am more relaxed and comfortable when I have the People's Guide along with me on a long road trip. When I tire of too-much-yellowtail, I refer to the books recipe on cooking frijoles to see if I can better my last batch!
I once lost a rubber bushing out of a suspension piece on my trusty old pickup. I had never learned the espanol word for this part, but a glance in the reference section on car parts took care of that.
What happens to my old PGTM books? Well, after they become dog-eared and taped beyond recognition, I give them to friends and travellers who seem to need the book just a bit more that I do (at the time). I gave my last edition away to a young lady who was petrified of bullfrogs bellowing in the middle of the night, in the middle of a palm oasis, in the middle of Mexico. The next morning I couldn't get her nose unstuck from the middle of the third chapter, even when I offered up a fresh cup of coffee.
"WHY DIDN'T SOMEONE TELL ME ABOUT THIS BOOK?" were her first words. Not, "Good Morning" or, "I slept well", but a plaintive wail.
Like Mexico itself, The People's Guide to Mexico awaits a great number of potential fans… if only they knew about it. As for moi, (he who has lived for months in Indian villages and ridden on the back of a donkey through the El Peten jungle), would I go to Mexico without my People's Guide? You've got to be kidding!
Available through: Amazon Books
Permission granted to quote the above from The Peoples Guide Travel Letter, Winter, 1995 #4 p21-22 and Carl Franz and Lorena Havens, The People's Guide Travel Letter, & People's Guide to Mexico,
PO Box 179, Acme, WA 98220.
email: [email protected],
Web Site: www.peoplesguide.com/mexico
Published or Updated on: January 1, 2006