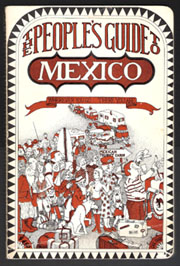 "Por favor (please) and gracias (thank you) are the most important words you'll use in Mexico."
If I could own only one guide about getting to know Mexico, it would be The People's Guide to Mexico, by Steve Rogers, Lorena Havens and Carl Franz. Oakland Tribune agrees with me: "It's the best guide to visiting and living in Mexico that has ever been published." I have a well-worn 3rd Edition, published in 1975, and I now have a new 13th Edition, published in 2006, by Carl Franz and Lorena Havens, and "Edited by Steve Rogers." It was Steve Rogers, incidentally, who provided the "shiny new Volvo sedan" for that first Mexican adventure in 1964 that took the young adventurers to "Tijuana, Guaymas, and Mazatlán, then south and east across the Sierra Madre to Mexico City, Puebla, Veracruz, Villahermosa and the Yucatán Peninsula."
The much expanded 13th Edition (600 pages compared to 380) still aims to teach the traveler "how to accept, as calmly as possible, the sights and experiences of a strange place." True to its beginning, it is still "…not about which hotels to stay in or the most interesting villages to visit. The purpose of this book is to teach you how to find out those things for yourself."
If you were seeking the advice of a few very down-to-earth people who had a lot of experience traveling in Mexico and they began writing down the answers to questions you had, and then they began filling in the answers to those questions you forgot to ask, and then they created reference sections for you, and along the way they threw in a lot of interesting stories about what happened to them, it might become something like The People's Guide to Mexico.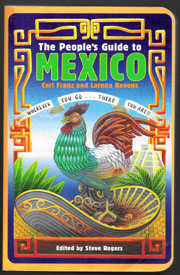 The "Recommended Reading" in the old pre-web 3rd Edition covers only two pages. In this latest edition, "For More Information, Websites and Book Reviews" covers 55 pages! The authors offer select books they think are useful and then offer, sometimes extended, comments on them. For example, in the sub-section, "Live or Retire in Mexico and Central America," the first book they list is Head for Mexico: The Renegade Guide by Don Adams, about which they write: "There are a number of retirement-in-Mexico books to choose from but this feisty and often humorous guide is my hands-down favorite." (A favorite of mine as well.)
Although they encourage exploring Mexico by car, they warn in the 3rd Edition: "By American standards, many Mexican drivers are not only wild and unpredictable, they are dangerous and a threat to personal safety." In the 13th Edition, we hear "The good news is that the average Mexican chofer (driver) is definitely getting better." And we discover that "Unleaded is now the only gas available in Mexico. It comes in two grades, Magna and Premium." Back in 1975 the gas also came in two grades, Nova and Extra, both leaded.
The People's Guide to Mexico is filled with endless practical tips on "Getting Around," "Driving," "Accommodations," "Camping, "Packing Up," "Staying Healthy, "Safety, "Red Tape and the Law," "Shopping," and so on. For example, the section on "Driving" requires 47 well-packed pages. There is a section on how to cook Mexican style, with "Our Favorite Mexican Recipes," and here we discover that "…corn tortillas are nutritionally far superior to wheat. Corn tortillas have half the fat of flour tortillas, fewer calories and more fiber, calcium, and zinc."
"Cantinas and Whorehouses" in the 3rd Edition has been replaced by "Booze and Cantinas," but we are still cautioned that "Women are not allowed in cantinas…. If women drink in a cantina, they're either prostitutes or don't give a damn if they're mistaken for one."
"Speaking Spanish," teaches us that " Por favor (please) and gracias (thank you) are the most important words you'll use in Mexico." We also learn some Mexican slang: "The best way to relax your Spanish is to use innocuous – but safe – phrases that you'll hear wherever you go. '¿De veras?' ('Really?') will do quite well instead of the more exciting '¡Hijo de la Gran Puta!' ('Son of the Great Whore!).
The section on "Accommodations" assures us that the price of a room is open for negotiation, and that in contrast to "Hotel," the Mexican "Motel," usually on the edge of town, is "a safe, out-of-town trysting place for local lovers," but ironically can offer you "your best bet for a quiet, convenient, inexpensive room." The authors add that
"We once stayed in a hotel that featured a giant tortoise that roamed through the corridors all night, shuffling and scratching its claws against the tiled floor. The door to our room was missing and the beast spent an hour or two under the bed, butting its head against one of the brass bed legs. This same hotel was arranged around an overgrown patio, with all rooms opening onto a balcony without railings. One faulty step and the unfortunate guest could plunge into statues and decaying lawn furniture several floors below."

"The Best of Mexico" offers not only "A Mercifully Brief Lesson in Geography and Climate" but detailed suggested itineraries, for example a 17-day journey through "Central Mexico: The Colonial Heartland," exploring San Miguel de Allende, Guanajuato, Patzcuaro, Michoacan, Taxco, and Zihuatenejo," and a 14-day excursion through the "The Indian Highlands: Oaxaca and Chiapas."

There is even a short section on "Guatemala and Belize," two countries that border Mexico to the south.

The useful "Appendix" offers a Fahrenheit-Centigrade conversion table as well as Weights and Measures to convert pounds or ounces to kilos or grams, or to convert quarts and gallons to liters, or to convert feet, and yards to centimeters and kilometers. A kilometer, for example, is .62 miles. If a road sign says 100 km/h that means the speed limit is 100 kilometers per hour, or its equivalent, 62 miles per hour.

There are ten pages of Spanish vocabulary, of useful words and phrases, arranged by topic, "Getting Around," "Hotels and Houses," "Food and Drink," "Post Office, Telegraph, Telephone, Bank," "Health." "Gas Stations, Car Parts, Terms" is unusually thorough, with around two-hundred listings for such things as fan belt ( banda de ventilador), windshield wiper ( limpia parabrisas or limpiadores), and useful terms such as "The tire is punctured. – Está ponchada la llanta," or "The tire has a slow leak. – La llanta está bajando poco a poco." "Nicknames from Proper Names" solves our curiosity about the name "Chuy," which is short for Jesús, or "Cuca," short for Refugia, or "Nacho," short for Ignacio.

The book concludes with a fine index, obviously developed by people who have made use of indexes.

Just for fun, let's look up something in the Index. How about "Movies"? I turn to page 522 to discover what I already know, that "Small town cines charge very little for admission," but I also discover something I now want to experience:

"If you're near a small town that has no theater and suddenly everyone's talking about going to the movies, you're in for a real treat: traveling movies. These 'theaters' (actually a portable screen) are erected in the open air by hilarious people (usually hungaros, gypsies) who roam the countryside in old trucks, showing their ancient movies to enthusiastic crowds of campesinos. This is the ultimate movie experience, don't miss it."

Likewise, The People's Guide to Mexico is the ultimate Mexican guide-book experience.

Don't miss it!

Available from Amazon Books: Paperback
Published or Updated on: July 27, 2007