After an all-Mexico breakfast of fresh-squeezed orange juice, honeydew, banana, raspberries and mango, we dusted off our faithful VW bug and pointed it toward Tapalpa.
(Tom McEwen of the Tampa Tribune used to begin columns with his morning menu. Then, I thought it goofy. Now, I think such small talk might calm a raging appetite, replace a second cup of coffee and ward off triglicerites and cholesterol.)
Tapalpa is a picturesque mountain town off Highway 54, high above the dry lakes between Guadalajara and Colima. It apparently has a city building code which mandates tile roofs, wooden doors, windows wider than they are tall and red stucco from the sidewalks halfway up the front walls. Fellow author Tony Burton (this guy knows something) marvels that Tapalpa, through the years, has maintained a picture-postcard appearance.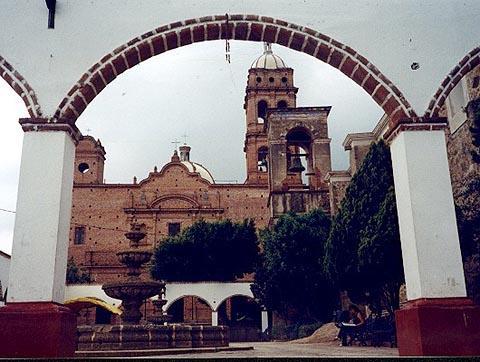 Speaking of picture postcards, artist-photographer Ricardo Alarcon offers a handsome poster of a worm-wounded, badly sagging, double wooden door he found in Tapalpa. It appears almost dead of old age. We look for it each time we visit but most of the doors we see have been refinished and realigned — or at least propped up in their proper place.
Alas, I have you looking for old gray doors in Tapalpa before we even get there.
The road to Tapalpa is a right turn off southbound 54, just after Amacueca. Don't miss it.
On our recent right turn, two men in business attire immediately flagged us down. They didn't look like banditos so we assumed they were selling something or maybe conducting a survey for MexConnect. One carried a big brown envelope about right for 8×11 documents.
Tapalpa? Sí.
In English better than our Spanish, one man asked if we would deliver the package to "el presidente municipal." He handed it through the window. A shipping form, No. 4031, with white, yellow and pink copies, was taped to the front. It was time for careful inspection. The envelope wasn't thick enough to contain stolen gems or hand grenades. It could have been loaded with a fat payoff or anthrax.
"No drugs," said the man doing most of the talking. He threw out a reassuring smile.
So, how come Flash Express, Anseimo Camacho 3542, Guadalajara, has a new delivery system based on volunteers? The man's English got worse but there was something about spark plugs and stalled car and the autobus wouldn't accept cargo without a passenger. The other man was vigorously nodding "yes, yes, yes" and twice pointed to the intersection. We reluctantly accepted the assignment.
Before looking for lunch, we looked for el presidente. On the downhill side of town is the bus station. Information was spotty but the sanitary facilities were clean enough and cost only two pesos. As usual, there was no toilet paper.
Up the hill was a taxi and driver. We asked about el presidente and he said two blocks that way, building on the right. His language skills sounded pure Brooklyn.
At the government office was a long line waiting to pay pesos to get papers stamped. Taxes? Marriage certificates? Property transfers? Maybe. We skipped 40 people and went to the main desk.
El presidente? That way. Out popped an administrative assistant, tall brunette, more than willing to accept the envelope and sign the receipt. That wasn't her first time. Mission accomplished.
Several in line acknowledged our departure. Their expressions said "How about that! El presidente has an old gringo caddy."
Tapalpa was undergoing a facelift. Streets were being re-cobblestoned. Painters were on the sidewalks. The merchants were getting clobbered. All the people must have been at the government office. There were few prospective customers. We found our favorite restaurant but never decided whether it was open or not. The doors were — but nobody answered our "hola" or "lonche" or "pesos," all action words in Ajijic.
So, we purchased little clay souvenir bowls that said Tapalpa, Jal. on the side, one containing peach preserves, the other soft candy (fattening, very fattening). Price was 20 pesos each. Sarah frowns on negotiation with street merchants who may not have investment accounts at Lloyd's.
The drive down the mountain is always spiced with stunning views of the valley but the best vantage points have become public dumps. Your eyes can feast if you hold your nose.
On this day, the dry lakes and irrigated farms were fabulous and the sky was sprinkled with colorful hang-gliders. Awesome. Inspiring. Red and blue and green kites, soaring like great hawks or eagles.
At one pull-off, our good fortune included a man leaning against the front of his truck, watching with binoculars. He might have been European. He turned out to be part of the show, the support chairman. He knew about para-gliding competition.
He asked if we had heard about Joerg Ewald's flight from Tapalpa to Jocotepec. Impossible. Right, Joerg didn't quite make it. He glided 40 kilometers but fell short by one thermal updraft and landed in a field of onions.
What a story! What a country!
Published or Updated on: June 3, 2003