Photo Gallery: Tenacatita: hidden jewel
The trouble with writing about a hidden gem of a place is that once the information is out the place will still be a gem but it will no longer be hidden.
The little village of Tenacatita is such a little known treasure. Soft white sand on a two mile beach, mild waves, laid-back atmosphere and friendly people make a combination hard to beat. This is not the big bay part of Tenacatita Bay that houses the expensive resort hotels of Los Angeles Locos, Blue Bay and Punta Serena but its small neighbor around the point.
Tenacatita is about 40 km north of Melaque-Barra de Navidad which is about 40 km north of Manzanillo on Mexico's west central coast. The village itself is not even on some maps. The closest the bus goes to it is on highway 200, 9 km from the beach. Cars can be rented in Manzanillo or Barra de Navidad or taxis from either place or the Manzanillo airport.
Traveling north from Manzanillo one passes the turn-offs for Melaque, Barra de Navidad, La Manzanilla and Los Angeles Locos before reaching the turnoff to Tenacatita. The small road passes through La Rosa and La Rebalcita on its way to the beach. Get any supplies you need ahead of time. La Rebalcita , 2 km from Tenacatita ,has a few shops but there is only one tiny shop in Tenacatita.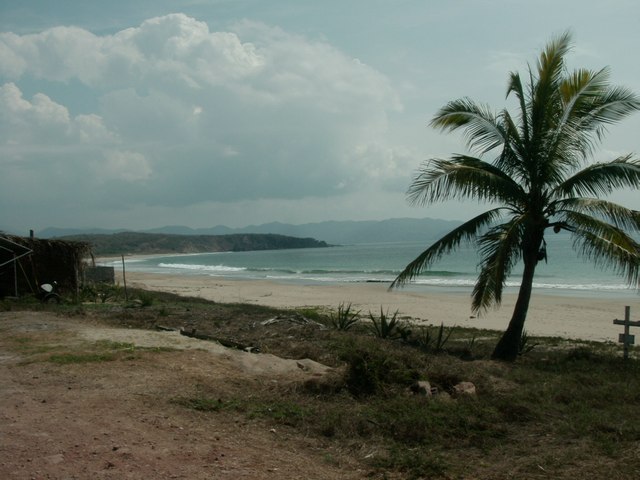 Rocky headlands stick up on one end of the beach and on the other end a promontory holds a mirador (viewpoint). Just over the promontory is an isthmus with a small sheltered beach semi-enclosed by two rocky arms. Snorkeling is excellent here with plentiful fish and rays. On the other side of the isthmus is a sandy beach facing the open ocean.
Eight or ten palapa restaurants line the main part of the beach. They vary in size but all provide similar tasty seafood dishes: shrimp and fish fixed in half a dozen different ways; garlic, breaded, in salsa, with mango-pineapple sauce, fish stuffed with shrimp or vegies, etc. etc. The restaurants open in mid-morning and begin closing in late afternoon when clientele declines. Times are flexible depending on the number of customers and when they run out of fish and shrimp.
Swimming is easy in Tenacatita as the waves are small and it gets deeper gradually. Little children run in and out of the water, teenagers chase each other and adults swim confidently in the deeper areas. The sand is soft and smooth and cream-colored.
Behind the restaurants is a lagoon with a waterway leading through the mangroves to another big bay where the resort Los Angeles Locos is located. Some big sailing vessels and huge motor launches were anchored in that bay in February. Boats go from the lagoon through the mangroves out to the big bay and back for a trip of about 1 1/2 hours. The boats hold up to ten people and cost 300 pesos per boat load split between whatever number of passengers there are. They will take just two people for 200 pesos.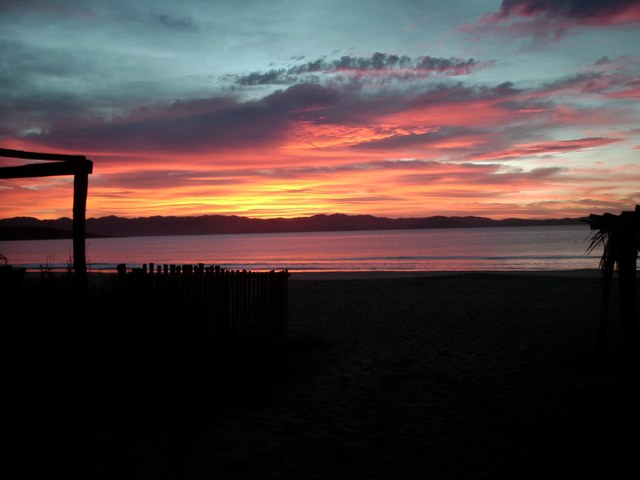 On the way the mangroves sometimes meet overhead for a tunnel effect and cormorants, egrets, kingfishers, night herons and more are found along the way. Situated at the big bay end of the waterway is the beach house where the television program, McHale's Navy, was filmed. This nature boat trip is booked through Fiesta Mexicana, one of the beach restaurants. Sport fishing trips can be arranged there also with a four hour trip for up to six people costing 1200 pesos.
Walking the beach from end to end needs to be done every day as does walking the one road to see if anything new has appeared. Along the road here are some small palapas where temporary renters have found a home.
There are three hotels in Tenacatita and a campground that also rents rooms. Largest of the hotels is Hotel Las Villitas. Big units have living-dining area, bedroom, bath and kitchen. The larger units rent for 850 pesos/night or 5600 pesos/week. These prices may vary depending on the day of the week, holidays etc. The hotel overlooks the beach and has a pool and tennis courts. tel: 315-355-5354 reaches their office in Barra de Navidad.
Hotel El Paraiso de Tenacatita is just across the road from the beach and has moderate sized rooms with two beds and bath. There is a swimming pool and a restaurant that is open from 8:00 a.m. to 9:00 p.m. A room for two people costs 300 pesos/night. tel: 315-355-5915, 355-5920, cell 01-314-338-9913.
The newest hotel is under construction about a block off the beach near the lagoon. Rooms are small with one bed and bathroom. They cost 200 pesos/night with fan and 250 pesos/night with a.c. with discounts for a week or longer.
Tenacatita RV, Tent and Trailer Park is centrally located on the beach road. There are eighteen grassy sites with full hookups for RVs. Showers rooms and toilets are large and very clean. Camping spots are 100 pesos/night for tents, 175 pesos/night for RVs with discounts for a month or longer stays. There are also three large rooms for rent with two beds, bath and balconies overlooking the bay. They rent for 300 pesos/night for two people. The owners, Oscar and Emma Ortega, are friendly and speak good English. [email protected], cell 333-115-5406.
There is another campground with no facilities on the snorkeling beach, up and over the mirador promontory. There are three cement pads there and other room to park for 30 pesos/night.
With a variety of activities, restaurants and hotels, little Tenacatita sounds like a busy resort area. It is very much the opposite as on the weekdays there may be only a couple of dozen people on the beach. Weekends are somewhat busier and holidays would be much busier but still the one street curls up and goes to bed early, resting up for another satisfying day in this hidden gem of Tenacatita.
Photo Strip #198 – Images from this article
Published or Updated on: January 1, 2005