Photo Gallery: Graffiti: the Estadio Azteca and Mexico City's new wave muralists
Art and sport seem rarely intertwined. There is the American cliché of the muscle-bound football jock bursting with idiotic energy, indulging his time off the field to torment the nerdy, isolated artist (who invariably exacts his revenge by growing up to become a Hollywood screenwriter and perpetuating the cliché in teen flicks — wherein the nerd heroically wins at the end of the day, even though we all know he never does).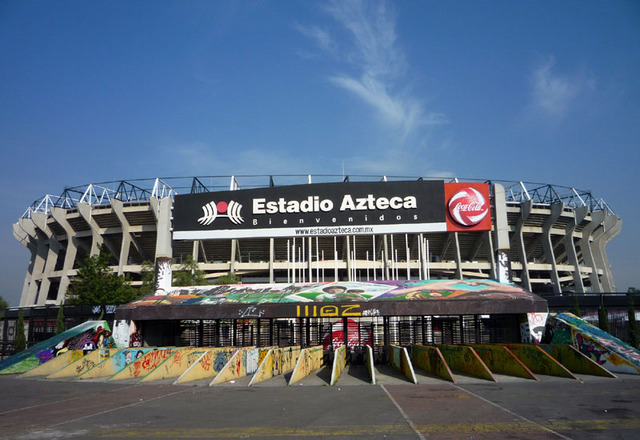 Soccer, the European version of football, may generate its own cliché of a more athletically-styled player, and a more intelligent, subtle form of play. Yet the sports brain (like the song) remains the same, and it is not a brain normally associated with an appreciation of culture. There are also those who feel that graffiti art does not count as "culture" anyway, so it is perhaps apt that Mexico City's largest sports stadium has allowed the "low art" of graffiti murals to adorn its many outer walls, entrance gates and car park enclosures.
Increasingly here in Mexico's capital, the graffiti mural is coming to represent what some local experts feel is a new movement in mural art in the great tradition of early 20th century Mexican muralists such as Diego Rivera and David Siqueiros. This may be a heady comparison, but it is hard to dispute that quality graffiti mural art helps to beautify the often grimy, tag-vandalized milieu that defines much of the metropolis.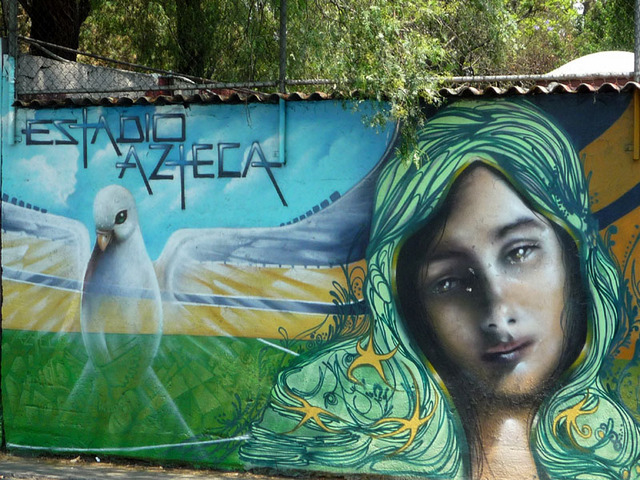 The undeniable power of street art is that it aids in reshaping the lifeless urban horror we have remorselessly constructed for ourselves in the dubious name of progress. So much of Mexico City is a limitless canvass of concrete awaiting artistic reform. As more street art emerges, the more interesting the city becomes to look at, the more vibrant it is to encounter, and the less ugly it seems as a result.
This can only be a good thing.
Recognizing this trend, local authorities have at times sanctioned public graffiti art days in which artists are invited to cover walls with their individual spray paint vision. The repainting of the boundary walls and other facilities surrounding Estadio Azteca (Aztec Stadium) has been the most prominent recent example.
The temple of soccer
Located in the southern district of Coloso de Santa Ursula, Estadio Azteca is the current home of Mexico's national football team and the Mexican team Club America. Opened in 1966 with a capacity for 105,000 people, it's the fourth largest stadium in the world. It was the primary venue for association football at the 1968 Summer Olympics and also hosted two FIFA World Cup final matches, in 1970 and 1986 (the only stadium in the world to have done so). It witnessed Diego Maradona's infamous and famous "Hand of God" goal and the "Goal of the Century" during the 1986 World Cup quarter final between Argentina and England; has been used as a music venue for Michael Jackson, U2 and Elton John, among others. Pope John Paul II came here in 1999.
Now, it is also one of the most contemporary graffiti art venues around.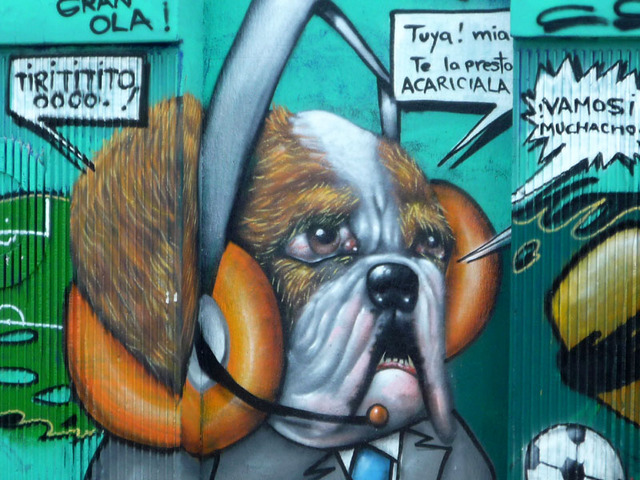 Actually, the outside stadium walls had already been decorated in legitimate graffiti mural art for some years, but a makeover was decided upon to inject some fresh artistic blood. The project began when local police and stadium heads organized a contest with the admission of sketches and art from applicants. Each qualifier scored a 10-meter long section of wall to paint. A sponsor donated a thousand liters of paint and 9,000 cans of spray paint.
Hundreds of grafiteros qualified.
The event took place on a Saturday, invariably a bad day for traffic. Artists stared at walls and shoved out thumbs, and spray paint kits lay scattered across the narrow road running the circumference of the stadium. Traffic cops handed over the street to the artists. Consequently a two-way, two-lane road became a one-way, one-lane honey trap. Hell descended on the hapless motorists caught there.
I should know: I was one of them.
As I sat in my car, bumper to bumper with hundreds of others headed in either direction, I comforted myself in the knowledge that at least I'd have a good hour to check out the art being created. The murals were excellent. While some depicted famous sporting heroes in the history of the stadium, other, more esoteric visions came into view, along with impressions of past performers such as Bono and Pope John Paul II. It actually worked out to around 45 minutes being stuck in traffic that afternoon, but I've returned to the Azteca many times since.
Not to see any football.
For the art.
Published or Updated on: August 27, 2009