A Mexico book by Jeanine Lee Kitchel
Where the Sky is Born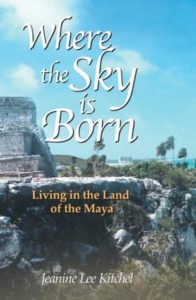 : Living in the Land of the Maya
by Jeanine Lee Kitchel
Enchanted Island Press, Hawaii, 2004
Paperback, 217 pages
Available from Amazon Books: Paperback
And also on Kindle from Amazon.com at $9.99
Here's another of those 'coming to Mexico to live'  books – but with a difference. It's not concerned with moving to an established center like Ajijic or San Miguel de Allende. Nor is it about people travelling the length and breadth of this country in search of adventure.
This is the story about Jeanine Lee Kitchel and her husband, Paul, who made their first trip to the Yucatan Peninsula in 1985 and fell in love instantly with the place. They had visited various parts of Mexico before that and were quite taken with the country. But the Yucatan beaches were of a different order. It seems that almost from the very start they determined that they would like to build a house and live there. On that initial trip they met a contractor who persuaded them to buy a beachfront lot south of Cancun, at that time a fairly new resort city.
The contractor's name was Alejandro and they met him under odd circumstances. While out hiking on a jungle road, it started to rain. A passing motorist — who turned out to be Alejandro — gave them a lift and loaned them an umbrella. Later, when they went to return the umbrella, they found their way to his house. It was a Mediterranean style home with curved walls, white trim, arched windows and bright purple and red bougainvillea growing up the sides. Ms. Kitchel fell instantly in love with the place. "Could I ever go back to my office job in San Francisco after seeing life being lived this languidly, this serenely, this fully?" she wondered.
They were invited to stay with Alejandro for a few nights, an offer which they readily accepted. I think perhaps Alejandro knew quite well what he was doing. Seems he had purchased some 50 acres of beachfront property in Playa del Carmen, which looks on my map to be about 30 kilometers south of Cancun, and he was looking for buyers. (This, by the way, is a book that really should include a map.) It was land that was totally undeveloped tropical jungle. At that time the town of Playa del Carmen had a population of some 500 persons.
Alejandro himself seemed like a reliable citizen. He was formerly an architect in San Francisco and had designed several homes there. And there was this magnificent home that he was living in on the beach. It didn't take much salesmanship on his part to get the pair to sign up for one of the lots. That was in April 1985.
Thus a dream was born — and for sheer determination to bring that dream to life, these two were hard to beat. But they needed that determination because it took a decade – until they could quit their jobs in San Francisco and start a new life in Puerto Morelos on the Quintana Roo coast.
It is essentially at this point that the real story begins, because a number of obstacles and events arose to prevent them from even starting to build their dream home. It is these which make up the bulk of the book. For instance, it took a year simply to finalize the deal — mainly because of the slowness of Mexican officialdom and the fact that Jeanine and Paul were foreigners trying to buy Mexican beachfront property, a move that was frowned upon at that time.
But perhaps the most dramatic obstacle was Hurricane Gilberto in 1988. It was a Category 5 storm that literally razed most of the properties — including Alejandro's magnificent house — and practically wiped out the town of Puerto Morelos.
Another problem was the Mexican Government's seizure of the land by eminent domain. The government decided they needed Alejandro's 50 acres and exercised their right to take it, for a sum that was worth considerably less than he paid for it. Fortunately, this being Mexico, he had a good friend in the Governor's office who pulled strings and Alejandro was given another similar plot in a better location four miles away.
A third obstacle came when Alejandro had a hard time finding investors for his land project and became embroiled in a financial crisis of his own.
But in the end, Jeanine and Paul did succeed in building their dream house and starting a new life in wonderful beachfront surroundings. They shipped a great amount of their worldly goods to the Yucatan, including — would you believe? — five thousand books.
Along the way they made many trips to Mexico and have many stories to tell about their travels. They also did a great deal of exploring of the Yucatan Peninsula and the Mayan ruins and artifacts that are to be found there. Jeanine herself seems to have become something of an authority on Mayan culture. And, as she describes it: "We met our neighbors, went fishing and snorkeling, read books, and enjoyed weekend trips to Merida or Valladolid."
It's quite a story and it's quite different from the usual account of gringos coming to Mexico to live.
In my humble O: Look for it. I think you'll like it.
Published or Updated on: December 1, 2004 by Alan Cogan © 2004