Photo Gallery: Anthony Wright pens his first Mexico novel: Infernal Drums
MexConnect contributor Anthony Wright has published his first novel with the Vancouver, Canada-based independent publishing house Moon Willow Press. The novel, called Infernal Drums is set in Mexico and is a heady mix of road tale, occult drama, and dark comedy. Anthony, an Australian, spent a number of years in Mexico City during the 1990s, and began writing for MexConnect at that time. Anthony then spent seven years in Australia before returning to Mexico in 2008. We spoke with Anthony about Infernal Drums.
How did you come to Mexico and how did the idea for the novel come about?
I first came to Mexico in early 1992, and it was very much a deliberate choice since it is obviously a long way from Australia. Not exactly a run over the border. My plans were to travel around the world for a year and return to Australia. I was determined to write in Mexico because I was interested in the Beats and the fact that William Burroughs wrote Junkie in Mexico City. I wanted to get going on my first novel and had some philosophical ideas regarding predestination and fate, but no plot to speak of, so got started on a sort of travelogue. I filled my first Moleskine.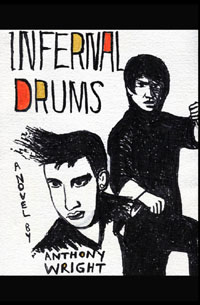 I visited old Beat haunts such as Burroughs' apartment building in Colonia Roma. I was bewitched by the madness of the city. I met a woman, too, but eventually resumed traveling and headed south. To cut a long story short, I was robbed in Guatemala City, lost all my writing, and ended up back in Mexico City — a simple statement that belies a bureaucratic saga which I won't go into… I later traveled on to Europe, and then to the Middle East, running out the year I had promised myself.
I was in Sweden when I decided to return to Mexico instead of Australia. I ended up marrying the woman I had met in Mexico City, and living and working there. We returned to Australia, but came back to Mexico City — with our two children. The ideas I had concerning predestination seemed fulfilled in my life. Mexico certainly was my destiny — for better or worse. I also wrote Infernal Drums and rewrote and rewrote it during the intervening years.
What can readers expect from Infernal Drums?
My novel will appeal to anyone who is interested in Mexico as a setting, even though it essentially concerns the struggles of the characters moving within its realm, foreigners fatalistically drawn to exile as a lifestyle — strangers in a strange land: I am interested in the idea of disappearance as a philosophy.
The novel is marked by a Beat sensibility and contains elements of comedy and religion. I am a big fan of the occult and supernatural genres and combined these within the framework of what is otherwise a road novel. The real road ends and the symbolic road begins in Mexico City.
Do you identify with any specific character?
The protagonist, Jonah Everman, is the principal narrator and there is probably some of the author coming through as it pertains to his interior thinking. Equally, the two other characters Jonah bonds with — Torsvan and Croves — are split from the same atom: it's an unholy trinity. They are all rebels in the Biblical sense of the word, and I identify with them as I identified with much of the foreign flotsam and jetsam I fell in with during my formative years in Mexico City. I was a part of that scene — if essentially apart from it, too, due to my newly-minted Mexican familial ties. Yet to some degree they are all "unreliable narrators" at the end of the day.
How faithful are the descriptions of Mexico?
They're as accurate as they're going to be for someone experiencing the culture at a tourist's remove and then developing a burgeoning sense of place from living within that culture for some time. The characters as expats revolve socially around themselves, isolated from large swathes of Mexican experience except in the context of dealing with taxi drivers, barmen and so on — including whatever patronizing or superficial levels of exchange they engage in during festivals, etc — so it's probably an accurate impression seen through the prism of the expat lifestyle. Honestly, how could it be otherwise? It would take a local 10 lifetimes to figure out Mexico, let alone a foreigner.
I see there's a blurb on the book by the novelist William Hjortsberg…
I had been in touch with 'Gatz' Hjortsberg on and off for several years and he kindly read the manuscript and was favorable towards it. I was profoundly impressed by the way he split genres in Falling Angel: the idea that you can roll a detective story into a tale of the occult. The supernatural is less of a "given" in Infernal Drums — verging more on a kind of absurd tomfoolery — but I've always felt you should be able to split as many genres as you like provided you can pull it off. Of course, you're lining yourself up for a hard time getting published if you do — but it's hard to get published under any circumstances.
* * * * *
Sometimes available from Amazon Books: Paperback
MexConnect is reader-supported. Purchases made via links on our site may, at no cost to you, earn us an affiliate commission.
Learn more.
ISBN: 978-0-9813924-3-1
Published or Updated on: May 18, 2011