Photo Gallery: Santa Clara del Cobre and Erongaricuaro, Michoacan
James Metcalf, Stephen and Maureen Rosenthal and Vasco de Quiroga have a lot in common. Each was a foreigner who came to Michoacan's hills and dales surrounding Lake Patzcuaro, married art with commerce, infused heritages from around the world with local custom, emphasized training of artisans, and raised the utility of ordinary objects to art forms — all the while caring for the fragile environment.
Let's start with a basic history lesson. Spanish lawyer Vasco de Quiroga was sent over to Michoacán in 1532 by the Church to clean up the mess that his predecessor, Nuño de Guzman left behind, and in doing so, he became the indigenous peoples' advocate, encouraging the villages and burgs surrounding the lake to develop unique products to trade with one another and the outside world. That sparked the 16th century building boom which assured Patzcuaro would reign as the capital of Tarascan culture. Vasco de Quiroga drew a lot of his ideas from the best-seller of the day, Thomas More's ' Utopia'.
James Metcalf, a modern-day visionary
In 1937, fearing war was imminent, James Metcalf's parents, who met working in a stained glass studio, took their New York-born 12-year old to Europe, where they made more than 14,000 Kodachromes of stained glass windows, while providing him with a close-up education of the 12th Century artisan's life, developing in him an appreciation for details as well as the product of collective organization to create great projects.
After the war, Metcalf hung out with the art and intellectual community in Majorca and France, meeting up with Robert Graves, who steered his interests toward ancient society, Greek mythology and poetry. The London School of Arts & Crafts was his next destination, where he became steeped in the mystical crafts of stained glass and metalworking, tempered by the spirits of William Morris and Ruskin.
The energy Metcalf took with him to Paris brought him success, working alongside Constantin Brâncusi, living the romantic and Bohemian life of an artist. And then he met French Dada artist Marcel Duchamp, who changed his life when he told him that an artist who doesn't change his life completely at the age of 40 will be content to copy himself for the rest of his life. It was time to move on.
And for James Metcalf, the year was 1966 and the place was Mexico. Before long he began negotiations with the Olympic Committee, who commissioned Metcalf and his new-found town of Santa Clara de Cobre to make the Olympic torch which now can be seen at the National Museum of Anthropology and History.
Santa Clara de Cobre, a place that's not on every map of Mexico, was 'back on the map'.
Santa Clara del Cobre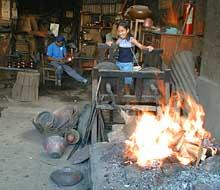 Nestled amid pine and oak forests above and beyond Patzcuaro, ten miles distant, along the banks of the Sisipucho River, back in times of yore the Purèpechas established the villages of Churucumeo, Cuirindicho, Andicua, Huitzila, Taboreca and Itziparátzico, plying a metallurgical industry as sophisticated as the Greeks of Homer's day. Burial grounds have revealed copper objects such as axes, masks, and pincers.
Life continued there until 1520, when word of the approaching Spaniards reached the area, scattering the locals. One monk, Fray Martin de Jesus, accompanying the Spanish, founded the town in 1521, calling it Santa Clara de Acuero. In 1553 the burg became known as Santa Clara de los Cobres, but three hundred years later, in 1858, its name was changed from Villa de Portugal to Santa Clara de Portugal, and then in 1932, Villa Escalante, after a revolutionary figure. Even though it remains identified as Villa Escalante on most maps, the locals still call it Santa Clara de Cobre.
In 1540 a large forge was built to exploit the copper ore, which incidentally didn't come from the neighborhood but from the nearest copper mines, miles away in the Tierra Caliente. The smelting of ore takes three times as much charcoal as ore, so it's more economical to transport the ore from the mines to the source of charcoal than the other way around. The nearest copper mines played out about forty-five years ago, and today most of the 10,000 tons of copper which comes into Santa Clara each week arrives in the form of recycled copper wire and cable from electric and telephone companies from here and abroad.
Using the smelting techniques they brought from Europe, the Spanish soon recognized that the native techniques were more efficient, and Vasco de Quiroga encouraged the locals to continue their work as they'd done in what are now quaintly referred to as pre-Hispanic times. And to this day, the bellows used in Santa Clara remain completely different from European bellows.
There might not have been much market in trading axes and pincers among villages, so Vasco de Quiroga's group, fomenting commerce in the region, urged the coppersmiths of Santa Clara to make cazos, or cauldrons, giving them the exclusive right on production. Not unlike the vat used by Macbeth's witches, these cazos can be seen all over Mexico, most frequently filled with the sizzling lard of chicharrones.
It wasn't long before Santa Clara became the most important copper smelting area in all of New Spain, meeting the swelling demand for cauldrons, stills, casks, church bells, and sending copper to the mint to be stamped into coins. Production peaked in the second half of the 19th century until a great fire destroyed the town, which remained impoverished during the reign of Porfirio Diaz. Again it burned in 1910, but by then the Spanish population had moved on, mostly to Patzcuaro and Morelia, leaving only the Indians.
The town sort of kept going, in the way that the small towns out in the middle of nowhere do, eking out undistinguished existences and ignored by the rest of the country. Mexico's artistic and intellectual elites paid no attention to Santa Clara. Even the famed Dr. Atl, in his 1921 classic work The Popular Arts of Mexico failed to acknowledge the very existence of Santa Clara's metalwork. Finally in 1946 a group of local artisans, out of concern for their town's grave situation, organized the first copper fair, which continues to this day, revitalizing the industry through production of decorative pieces such as jugs, vases and centerpieces. The copper fair, which became national in 1971, runs from August 11 to 22.
Setting up a studio in Santa Clara, James Metcalf and his wife Ana Pellicer brought new approaches to coppersmithing from both the technical and organizational fronts. The first House of the Artisan in Mexico, founded in 1972, emphasized the collective aspects of the ancient artisans' guilds, previously forbidden in the region. Giant public pieces were produced, from murals to bas-reliefs, which now adorn the Acapulco Convention Center and the Institute for Foreign Trade in Mexico City, bringing the craft to the rest of the world in images far greater than a single vase. Not all concepts were an easy sell. Metcalf's introduction of a flat thick edge instead of the traditional rolled edge met with as much resistance as the theories suggesting the earth was round.
Unlike other artisan towns, Santa Clara left women out of the creative and manufacturing process, relegating them to the usual roles of women's work. Pellicer, who designed the jewelry of Brobdingnagian proportions for the Statue of Liberty's 100th birthday, changed that when she introduced jewelry-making, a creative process that didn't require the upper-body strength demanded by hammering out large pieces. Today, women turn out everything from gossamer chains to luminescent red oxide pearls of copper, melding ancient universal designs and techniques into wearable art.
Technology as well as themes invented shortly after the discovery of fire has added new dimensions to the artisans' lot. Lathes, levelers, and even computers are now used in the creative process. The introduction of three-phase electricity into small towns meant that electric motors could enhance production possibilities. Designs ranging from the Tarascan tweezer, a traditional symbol of power in tribal societies, to shapes reflected in Colima and Chupicuaro pottery met up with repoussè over pitch and silver inlay. Èmail (pronounced AY-my-ee) brun, first described in On Divers Arts, The Treatise of Theophilus back in the 11th Century, involves linseed oil painted into engraved copper in a heat-controlled process, resulting in a gilded black finish. Corn, pumpkins, and even lizards grow out of copper designs, some of which resemble pottery.
Utilitarian objects meet up with decorative form and what might appear as purely ornamental becomes a Möbius strip. Santa Clara's interpretation of the Japanese rain chain, a series of pierced bells, connected by a chain, creates and channels a stream of water, replacing the ugly downspout, transforming an everyday utility object into a work of design and art.
"I don't believe in talent, and I'm very leery of originality," James Metcalf, February 24, 2000.
With government support, Metcalf and Pellicer founded a school of arts and crafts in 1976 in the town, undertaking instruction in new techniques, development of new tools, and cultural, technical and artistic studies. As the school grew, so too did the participation of the Mexican government, and the school became known as the Adolfo Best Maugard Center for Creative Technical and Industrial Training (CECATI No. 166), now teaching its third generation of students from the entire Republic of Mexico. The Santa Clara school remains the mother ship, nurturing branches in Dolores Hidalgo, Oaxaca, and two in Chiapas.
Metcalf drove us up the winding gravel road to the school in his four-wheel drive pickup, through some two hundred acres on which 160,000 pine trees have been planted during the past decade. Expecting little more than the ordinary federal public school that dots the Mexican countryside, I was more than just a little amazed to find a campus of buildings set in a rose garden. Students and maestros worked among different workshops; some housing huge machines, others are studios designed for stained glass, for lost wax work, for jewelry-making, blacksmiths' forges, and even a studio focusing upon making artisans' tools in a curriculum focusing upon far more than simply pounding out copper. A library and a children's nursery completed the scenario. But Metcalf saved the best for last — the computer lab. Not only row after row of state-of-the art computers, but DSL lines too!
What are computers doing in an arts and craft school? The link to distance learning is obvious, but computers play a direct role in the school's method of teaching a basic system developed by Maugard, who served as Art Director under Jose Vasconcelos, the Minister of Education who revolutionized the spirit of learning beyond the three Rs back in the 1920s. Maugard first recognized the seven motifs, the symbols which appear in design throughout the world: the spiral, the circle, the half-circle, the "s," and wave, the zigzag, and the straight line. Designs from each of these seven can be computer-generated, transferred to acetates and then on to copper with a photoengraved system. AutoCAD and PhotoShop and Intel will play just as big a role in the artisan's life today as the machines of a century ago.
In this town, the census claims some ten thousand souls (although my best guess would place the count at least twice as high). More than three hundred traditional family tallers (workshops) ply the craft, turning out everything from souvenir-quality to high art. A one-way street leads toward Ario de Rosales. Turn left sometime after passing the old church on the right, and the next block will lead past the town square to the one-way main street, Av. Morelos, where a left turn leads to the heart of Santa Clara's cultural and shopping district.
The corner of Av. Morelos and Av. Pino Suarez marks the Museo Nacional de Cobre (National Copper Museum), an easy one-stop overview of coppersmithing as well as a display of award-winning pieces. Pino Suarez is where the best shopping can be found. From the Galleria Tiamuri (Pino Suarez No. 110, tel and fax (434) 3-03-21), which offers up the finest designs of Ana Pellicer and the school in jewelry and decorative objects. Continue on to Casa Felicitas (Pino Suarez No. 88, tel (434) 304-43, fax (434) 300-43), in which the best displays are found, to Taller El Porton (Pino Suarez No. 69, Tel and fax (434)303-05), where you find the most merchandise at the best prices. El Porton, owned by Juan José Paz Ornejas and Rosa Ibet Glez. Cenedjas, has been in the same family for over a hundred years. At the back of both Casa Felicitas and El Porton are working talleres where the visitor can watch artisans coax a disk of copper into a work of art.
Following Av. Morelos toward Patzcuaro a few blocks down, at Ave. Morelos Ote. 368 is Galeria Arte y Diseño en Cobre y Plata (Tel and fax (434)-301-89) of Maestro Ignacio Punzo Angel, one of the prize-winning elite. Because the tools of the trade are not commercially made, he makes his own to fit the intended design — not unlike those who build their own computers to create a tool superior to commercial manufacture.
Santa Clara de Cobre used to be one of those towns where the journey exceeded the delight of the destination, but now it's the hottest spot in the annals of Michoacán artesanía.
Erongaricuaro — The Place Where Dreams Come True
Perhaps you've seen the Gauguin chair in the Neiman Marcus catalog. Or the chairs at Disney's Animal Kingdom African restaurant, the Hard Rock Hotel bar in Las Vegas, or a café in Grand Cayman. Or the Monopoly table and chairs licensed by Hasbro. The Dancing Gecko, a Tucson firm, highlights some of the most popular benches, armoires, barstools and tables which have been among the touts of Stanley Korshak, Kings and Queens in New Orleans, and Architectural Digest. Each of those came from a tiny village on the far side of Lake Patzcuaro — Erongarícuaro.
When Stephen and Maureen Rosenthal set off on a six-month post-college adventure in Mexico almost thirty years ago, they never dreamed it would take them to Erongarícuaro, an end of the road venue at the time, not noted for much of anything, save a monastery and a tale about Andre Breton and his coterie's sojourn during World War II. Stephen was going to write screenplays, and Maureen was going to make tapestries. A single chair and a trek back to Steve's hometown of Tucson changed those plans.
Someone wanted to pay a lot of money for that chair. And Rosenthal knew where more could be found. And after a time, he knew how to make a better chair. By 1981, Rosenthal had spent nearly a decade working among the carpentry shops of Cuanajo, a small town buried in the hills between Morelia and Patzcuaro, processing orders for Dos Cabezas, an elegant shop in Phoenix. His efforts caught the eye of Cuahtemoc Cardenas, then Michoacán's state governor, who asked him to organize a government-sponsored rural workshop along with twenty paid Michoacán artisans to teach carpentry. Redesigning traditional furniture, changing and tweaking old Spanish designs, early emphasis was placed upon collective craftsmanship and training.
But there's more to the story than simply inventing a better chair. And that's where discussions of the fusion of art and commerce began. Fine-tuning the product, locating distribution channels, and developing production efficiencies marked the long road between furniture that's still nestled inside a pine tree and that displayed in a showroom floor of an interior decorator. The road from Cuanajo to High Point, North Carolina, and around the world is a long one which can't be measured in miles. Five years after the rural workshop was born, a Mexican corporation was formed to obtain financing for even more commercial success. Within three years, changes too prolix to explain easily and in a politic manner here created a stumbling block.
Let's flashback to Vasco de Quiroga, who introduced steel to the lake region. This meant that steel tools created a huge leap in an artisan's ability to produce. Trees in the area's abundant forests could be felled more quickly, hewn into lumber, and furniture production caught on in Michoacán like no other state in all of Mexico. Even what's known as "Santa Fe Style" has its main influence in Michoacán furniture, the most prized, traded northward through Zacatecas and beyond, imitating European designs. A century and more later, Mexico became the waystation for Oriental porcelains, embroidered silks, and furniture destined for Europe. Galleons brimming with merchandise from the Far East docked at the Acapulco and ports along Mexico's Pacific Coast before the overland journey to the eastern seaboard. Curiously enough, Patzcuaro was once the customs office. And some of those imports just sort of managed to fall off the truck along the way.
The notion of lacquer and Japanning, which never really caught on in Spain, became a viable and popular means of stabilizing and decorating wooden furniture. While the Chinese influence didn't bring lacquer to Mexico, it did introduce new designs and applications. Resin-based lacquers, from sumac, which the Chinese used, weren't available, because sumac doesn't grow in Mexico. But Michoacán, one of the three states in Mexico which does feature lacquer (the other two are Chiapas and Guerrero), uses maque, a lacquer made from bug juice. And so the furniture made possible by the introduction of steel tools brought over from Spain, influenced by European designs, and enhanced by the Oriental styles of lacquer, synthesized.
Meanwhile, back on the far side of the lake in Erongaricuaro, Maureen's background in art history came to the fore as Steve created a design workshop, piercing and carving frames. What began as a government project became private enterprise as the years advanced. Before long, there were four companies in operation, each addressing an important phase: marketing, design, production, and teaching.
mfa/eronga, inc. is an allied U.S.-based marketing and distribution company which channels the product to an exclusive, dedicated national distributor who understands the needs of residential and commercial markets.
Teaching remains a major focus, conducted as a non-profit activity. Artisans participate in regular classes, visiting museums, parks and other places which might be beyond the ken of the workaday craftsman constrained by time, money, and the need to produce. Some of Rosenthal's designs have already fallen into the public domain, misidentified as "traditional Tarascan." The sun chair, its beams rising from the backrest, is a Rosenthal design, using borrowed and universal symbols, and it has been copied and interpreted so much that it has become part of the landscape.
Rosenthal led us through the workshops, beginning with the raw lumber, alder wood imported from the U.S. and Canada, and explaining the use of medium density fiberboard (MDF), an ecologically correct compound of ground wood which doesn't split or warp and is more stable than wood. Built on the premises, the chair, table, armoire, or frame is carved, sanded, and buffed before it's moved across the street to a second workshop where the painting process takes places in yet another series of work stations. Each piece proceeds through a number of sketches, paint, lacquer, paint, sanding, buffing, and re-lacquering in more stages than the average Rolls Royce's paint job as lacquer and design becomes one with the underlying wood in a lyrical process.
Whether it's filling those Neiman Marcus orders or supplying eight customized bar stools, each with a stylized fish, mfa/eronga enjoys the beauty of remaining small and flexible. Unique designs ranging from one customer's order for a cabinet featuring the faces of his best friends or another's memorialization of a bullmastiff on a chair are affordable. One customer has requested a trompe l'oeil of a messy kitchen cabinet.
Yet this is no assembly-line factory. In private workspaces, each artisan worked at a comfortable pace, concentrating upon detail in a very personal way, as if each piece would bear his or her name.
In a way, each piece does, because the 150 men and women working in each step of the process from the first sketch to delivery of the final product are not simply paid workers with health care benefits and a credit union. They're part of a cooperative guild, UNEAMICH, shareholders in mfa/eronga, inc.
Juxtaposing traditional techniques with modern materials, beckoning the roots of everyone's heritage, mfa/eronga, inc. has breathed new life into Erongarícuaro, enfranchising the region's people as the largest employer in the area.
Standard-issue guidebooks scarcely mention Erongarícuaro, if at all, duly noting the Franciscan Monastery of the Virgin of the Assumption, an architectural complex begun sometime in the 16th-century, which grew into perhaps one of Mexico's homeliest religious edifices, no doubt assembled by a committee. Reined in by tradition, the town is one of those bucolic oases of tranquility, the kind that outsiders call "quaint." To its denizens, the beauty of the countryside and red tile roofs hunkering down over marvelous lakeside vistas can mean that places like Erongarícuaro, 13 miles from the town of Patzcuaro, are someone's decaying rural Iowa town, a place to leave for better opportunities elsewhere. It's a lot like Jerome, Arizona. mfa/eronga, inc. has revived, slowly but steadily, the town's economy and spirit like no foreigner has since the days of Vasco de Quiroga.
mfa/eronga, inc.'s product is available only through high-end interior designers, but its sales room in Erongarícuaro offers up a fine selection of its wares at 40% less. Take the first right turn as you enter the town at Av. Urueta Carillo S/N. Tel and fax (52) 434-400-17 and 434-402-07.
The Rosenthals need no longer worry about those screenplays and tapestries. The tapestry of the lives and art they've created on that western edge of the lake are the screenplay.
This quartet of foreigners left more impact upon the direction of Michoacán arts and crafts than anyone else during the past five hundred years, unifying heritages, creating a stream of commerce, and reinvigorating local economies. Recognizing that the artisan is a vital natural resource, the state of Michoacán just this year enacted the new Ley de Fomento Artesanal (Law for the Promotion of the Craft Industry), broader in scope than any other state's legislation, raising the artisan's lot and putting its imprimatur upon Vasco de Quiroga's dream.
Related Articles by jennifer rose:
Published or Updated on: May 1, 2000