Jose Maria Alejos Madrigal: Generations of ceramic creativity in San Jose de Gracia, Michoacan
José María Alejos Madrigal cut delicately through the wet clay, removing a thick slice between the two ribs of a lamp with the distinctive, bulging ridges of a cactus. His wife, Cecilia, sat a few feet away, pressing bits of clay into a round mold to imprint them with tiny indentations, then placed them on a rather impatient-looking clay pig with a slit in its back for coins. Their son, Leonardo, busily planted florets on his piglet before placing the piece in the sun.
They worked steadily through the afternoon in their workshop in San José de Gracia, a village in western Michoacán famous for its "pineapple" pottery. José's and Cecilia's grandchildren played with tiny clay pitchers and cups around the oven where the family makes tortillas. Two of the grandchildren joyfully slapped mud pies together behind the brick oven that crouched like a dozing dinosaur beneath a corrugated tin roof; José and Cecilia would later awaken the horno to fire their pieces. A smaller square kiln sat to the side; wood lay stacked nearby, and pottery shards called tepalcates waited to take their place above the next batch of pottery to turn back the escaping heat.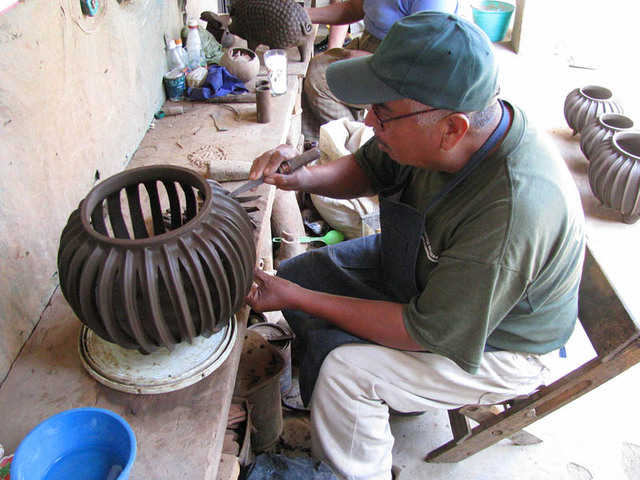 I had met José María, Cecilia, and their youngest boy, José María Serrano, in late 2005 at the Día de los Muertos crafts fair in Pátzcuaro. I was touched then by the generous time and friendship they showed me while explaining their craft. I saw them again the following spring at the Domingo de Ramos crafts fair in Uruapan, and I was delighted by the opportunity to cultivate friendships in this wondrous and exotic place. I hoped then I would have the chance to visit the workshop where their imaginations extended themselves into visible realities.
Now here I was, in their workshop, my own nomadic speculations seeking another discovery; I had already been here once, a couple of weeks earlier. Alejos Madrigal's workshop, a sort of petri dish that caught the family's fleeting bits of wistful speculations and nurtured them into tangible forms, sat percolating behind the deceitfully simple facade of a white house with beige stucco. Fleur-de-lis covered the metal doors that opened into a brief passageway leading to a spacious yard filled with trees and geraniums. The air of simplicity floating over the workshop only enhanced the power of the family's inventiveness.
"This is my workshop," the fifty-eight-year-old artisan had said with a laugh, referring to the bench of thick timber etched with grooves and scratches and thin veneers of clay, a visual record of past creations. Rippling molds lay beneath the bench that rested on clumsy bricks. "I learned from my parents. It's been passed down from generation to generation." A picture of his parents who initiated the family legacy sat in a darkened room, a solitary candle illuminating their faces as they looked out over an inventory of finished pots and vases.
"I learned from my aunt, when I was ten years old," said Cecilia, explaining that the clay pieces produced in San José in earlier decades were simple plain objects, without any of the dashing flourishes adorning them today; the energetic decor engulfing the pieces – tiny scallops, dancing flowers, glittery diamonds – are recent additions to the pottery of San José de Gracia. The tiny pointed pico fino tick marks, each tediously applied by hand, were an earlier addition. José María and his wife Cecilia came up with many of the new ideas to apply to their pottery (some came from José's mother, he readily points out). The new motifs have erupted into a luxuriant garden springing from the artisans' ingenuity; new forms of life spontaneously evolve, with spiky leaves unfurling from seashells; energetic scallops rushing like frustrated lightning from pineapples; calla lilies and sunflowers materializing from candelabras.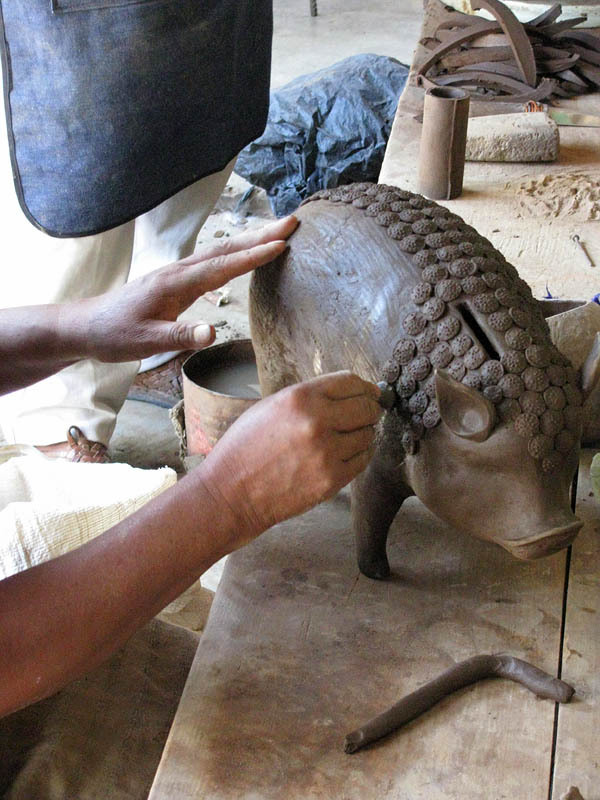 On this first visit, José María was working on some tapas – lids for clay jars that would go on clay lampshades fashioned into the shapes of stylized caracoles – conch shells – with rows of three tiny teeth swirling around them like the twisting figures of conchs. The lids themselves were covered with leaves and espigas, short stalks with clusters of floral buds, and the jars they covered were for an order from Guadalajara. The very idea of leaves and espigas erupting from a seashell unmasked the presence of an elaborate imagination even in business matters, which of course is why he got the order in the first place.
He likes everything about the craft, but he especially relishes preparing pieces for concursos. Although he enjoys the competition, there's a stronger lure to the contests. While the daily creation of pottery puts food on the table, the competitions give him the chance to be more creative and explore more deeply his own prosaic wanderings.
He and his wife rolled away one of tarps covering the clay lampshades and other pieces drying on the ground; the clay lay on the earth struggling against the damp solitude that still infected its passageways. The dry air seemed to creep closer, leaching the wetness from its skin, the pieces moving precipitously closer to liberation. How long would they wait?
"It depends on the climate," José María said. "If it's cloudy, it takes longer, if it rains it takes longer. If it's sunny, more or less three days."
He held up a pitcher covered with a substance resembling the eager icing draped over a cake. "Next, we're going to cover them with pasta blanca (white paste, or slip)." The pitchers would be fired in the rustic kiln, then painted with a glaze in tenacious shades of green, gold, an occasional delinquent blue, or even the color of coffee, mixed with a substance that would give it all a brilliant shine. Then the pieces would be fired a second time.
On my second visit, José María, Cecilia, and thirty-one-year-old Leonardo moved briskly, meticulously through their tasks, like ants preparing for winter. Cecilia, with tight braids relaxing over her blue shirt, sat on a tired wooden folding chair. She tucked her head down, her energetic face and voracious eyes squinting intensely at the lamp as she rolled bits of clay into tiny balls and placed them on the ridges of a cactus lamp. A brown plaid apron lay across her lap. While the piggy banks were scheduled for an appearance at the Day of the Dead crafts fair in Pátzcuaro, a sense of urgency went into the four cactus lamps.
"It's due next week," said José María, placing delinquent slices of clay into a bag for recycling into other projects. "It's for a show in Mexico City. We have to put the tubes for the candleholders, then let it dry, paint it with slip, then fire it, then glaze it, then fire it again."
Suddenly the children joined hands and ran across the yard, Moises, four, with a white rosary dangling about his neck, Sandra, seven, in a lilac shirt, and nine-year-old Erica, laughing gleefully in the sunshine, bare feet slapping on concrete, racing past the damp jeans hanging on a clothesline, then returning to the oven to down tiny pitchers of water. Moises donned a frightening green mask and charged about to the amusement of the two girls. Erica, with the words "Dee Dee" on her shirt over the image of a rabbit, stood on a chair as though making a speech while the two younger children struggled to listen amid their rapturous laughter.
José María cut a hollow tube of clay in half, set the two halves aside, then rolled out a long ribbon of clay. He moistened the end of one half tube, draped the sliver around the end and, using a piece of cloth, smoothed it into a small lip to create a cradle for a candle. Cutting out an area in the bottom of a lamp, he placed the candleholder inside.
He stopped for a moment and then, with a warm smile spreading across his face, handed me a reed fan.
"This is my family," he said, a trickle of laughter spilling from Cecilia and Leonardo as I looked at the group of pigs in mariachi garb on one side of the fan. Each had the name of a family member over its head.
"That's me!" declared José María as he pointed to the singing pig. Cecilia erupted now with a sizzling, breathy, volcanic laughter that filled the workshop with a joyous warmth and spoke volumes about the family's love of life.
"There's Cecilia!" José María said, pointing to another pig holding an instrument. "She's accompanying me."
Published or Updated on: October 1, 2008