Bamboo, banana and bird of paradise
Three beautiful options for your tropical garden in Mexico are bamboo, banana and bird of paradise.
Banana (Musa)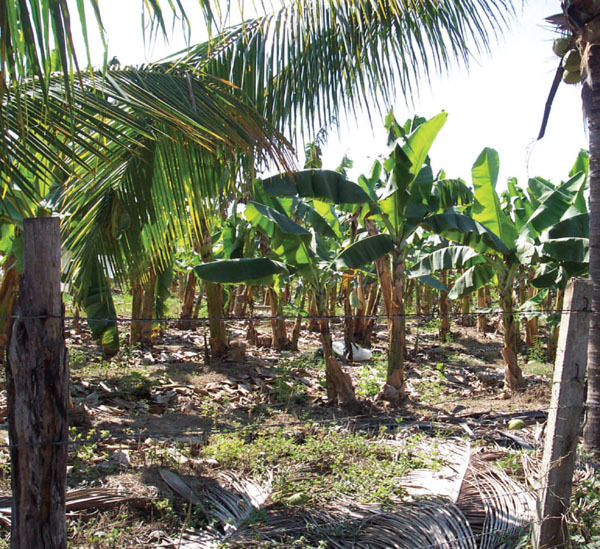 Family: Musaceae
Use: Banana is a tree-like plant (actually a herb), closely related to plantains. It produces edible fruit that grows in clusters. There are many fruits to each tier, which is called a hand. Bananas are the staple starch in some tropical populations. Bananas are eaten raw, cooked, fried or dried.
Flowers: These are orange-yellow in color, formed on long drooping stalks. The tender inner flowers are used in cooking, primarily in Asia.
Cultivation: Banana is a fast-growing perennial that can reach tree height in a single growing season. Its cold-hardy varieties make handsome ornamentals in cooler climates. Full sun is needed for best growth, and the plants should be sheltered from excessive wind. They need a great deal of water and fertilizer as well as deep mulch. Prune ornamentals for looks after any cold season. Bananas can be grown as houseplants or in containers outside.
Propagation: Seedless varieties are propagated asexually from offshoots. The plants seem to move, or "walk," over time as the lateral rhizome formation dictates. Unwanted offshoots should be pruned.
Bird of Paradise (Strelitzia reginae)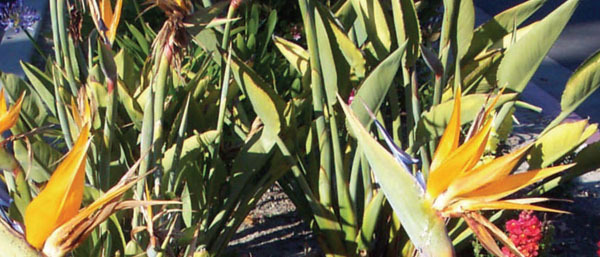 Family: Musaceae
Alternate Names: Crane Flower, Crane's Bill
Use: The large and showy flowers are commercially grown as a staple of the cut flower business. The plant works well in formal arrangements, as a bedding component, and as a prominent feature of open tropical garden spaces. Bird of paradise is often planted near pools and water features, since it produces very little litter.
Flowers: Large and exotic, the orange, blue and purple flowers resemble tropical birds, hence the name. The plant flowers continuously throughout the year, with one orange flower emerging each day from the green or purple boat-shaped 9 to11 inch bracts.
Cultivation: This plant does well in moist, tropical gardens, but also is quite drought resistant. It needs full sun. Bird of paradise can be grown under glass in cool climates, and is grown in frost-free climates world-wide. It will grow well in good garden soil, but in containers, it requires an enriched mixture of loam, peat, and, sand. Part shade produces more attractive leaves, but fewer flowers. This plant will grow to 5 feet in height.
Propagation: The flowers' bird-like appearance attracts birds, which helps with the spread of pollen. This plant can be propagated by seed, or by division of rooted suckers.
Note: The scientific name was given in honor of the wife of King George III, Queen Charlotte of Mecklenburg-Strelitz.
Bamboo (Arundinaria)
Family: Gramineae
Use: Bamboo is widely used throughout the world, primarily as building materials, food and food preparation utensils, musical instruments, fishing poles and in handicrafts. Its use was recorded as long ago as 1000 B.C. in India. It is commonly planted as an ornamental. There are about 1,000 species, including green, black, and yellow forms. Some, especially the golden bamboo, can be invasive in landscape uses.
Flowers: Once every several decades, all the bamboo plants in an area will flower at the same time, producing many flowered spikes. In between these displays, there are no flowers at all.
Cultivation: Bamboo can grow to 60 feet in height and 4 inches in diameter, and is often raised and managed in plantations as a renewable resource. It needs fertile, moist soil in cool places, and forms large clumps. The fastest-growing types are found in Asia. Many types of bamboo are resistant to disease and to insects, and can be easily grown without intensive labor.
Propagation: Bamboo is propagated by offshoots for some types, and cuttings of various types may be taken from mature plants.
Published or Updated on: February 1, 2008 
Contact