Ancient American Goddess images by Juan Compo, in paintings, murals, wall hangings, posters and fabrics, are now in private collections in the USA, Canada and Mexico.
Juan Compo is the name chosen by a fifth generation Canadian artist who built his Mexican studio in Ajijic on Lake Chapala in 1991.
Viewers of a like-mind are invited to enjoy a sampling of Compo's artwork by clicking on the thumbnail images to the right.
COMPO & HIS WORK
Compo's work was once rejected by a Gallery committee because "It's just religious stuff."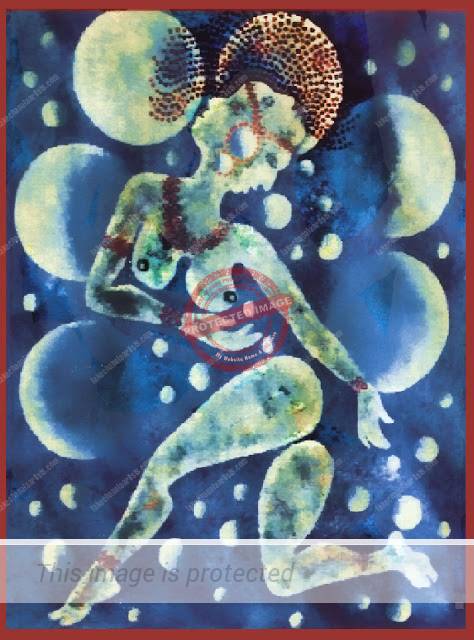 Okay.
Well, he was inspired by Caroline Six Ravens, a fabric artist who — after working with him at their Goddess Workshop in Ajijic, Jalisco, Mexico, and exhibiting in Puerto Vallarta and Taos, N.M.– tragically died of cancer in l996 . Caroline had brought awareness of the Goddess into Compo's life. Her influence lives. Her spirit moves him.
"However imaginary they may be, religious images matter." Barbara Walker
Compo's Goddess imagery brings into focus a fresh symbolism for the 21st Century. A worldview different from established Western beliefs. Compelling discourse on the subject of planetary survival has convinced this artist that the wisdom of prehistoric tribes deserves our attention. Matriarchy and The Goddess of the Ancient Americas are the subjects chosen for visual interpretation.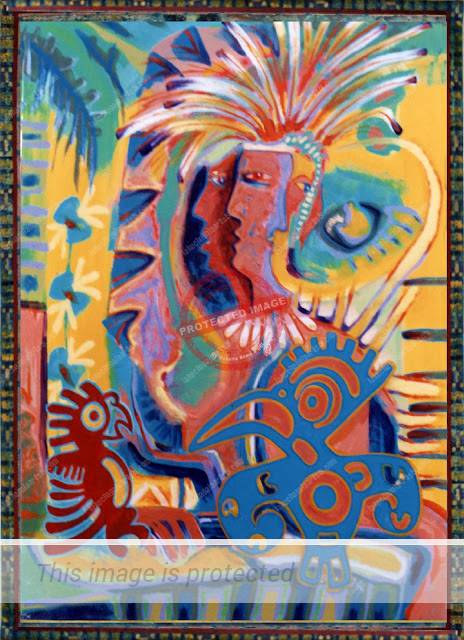 Over one hundred images on canvas, paper, wood and ceramic have been created since 1991 in Compo's studios. State of the art reproduction technology attracted the artist whose ambition is to raise awareness of The Ancient American Goddess among all inhabitants of both American continents, North and South.
Compo, a descendant of pioneer white settlers in Delaware and Upper Canada began to draw, paint and make things around the time that he was learning to hold a crayon without eating it. Now in his seventh decade, his curiosity and patience is undiminished. The hand is still steady, the eye is ever alert. The future is tantalizing.
Electronic communication of visual data might easily persuade Compo that the imagery he is creating will settle into the collective unconscious much sooner than he anticipated when he started on this path. Back in 1991, he foretold that his Goddess images might achieve ordinary acceptance in 200 years.
This 5-minute YouTube video is a good introduction to his project:

Published or Updated on: August 1, 2008, 2020