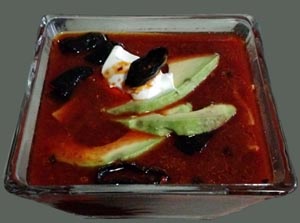 This is our most frequently requested soup recipe, quite often sought out by readers wanting to duplicate what they've just eaten in a Mexican restaurant. Although there are many variations, the following version, from the TV Azteca cooking show El Sazon de Mario, is my favorite. The addition of cheese, avocado, and chicharron or chicken make this dish a filling meal in itself. I like to serve it following ensalada de nopales , (or alternate recipe) a nopal and tomato salad flavored with chiles, cilantro and olive oil.
Ingredients:
1 quart chicken broth
2 tomatoes, roasted and peeled
2 large cloves garlic, peeled
1 small white onion, peeled and chopped
2 guajillo chiles, seeded and deveined, soaked in hot water until soft
4 epazote leaves
1 tablespoon corn oil, plus enough to fry the tortillas
4 corn tortillas
crumbled queso fresco or mild feta cheese
sliced avocado
Mexican crema or crême fraiche
Chicharron (pork rinds) or shredded cooked chicken
Strips or rings of guajillo chile
In a large saucepan, bring the chicken broth to a simmer. Meanwhile, place the tomatoes, garlic, onion, chiles and epazote in the blender with just enough broth to allow the blades to turn, and puree.
In a separate saucepan, heat 1 tablespoon corn oil, add the puree and cook over medium heat for 15 minutes. Add the simmering broth, cook another 15 minutes; add salt to taste.
Cut the tortillas into Frito-size strips, fry in hot oil until crispy, and drain well.
Serve the soup with the tortilla strips in the broth and pass the cheese, avocado, crema, chile strips and chicharron or chicken separately, to be added by each diner.
Serves 4.
Published or Updated on: January 1, 2006