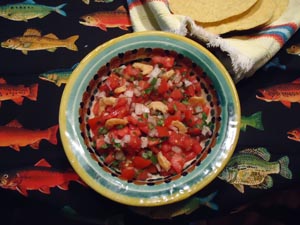 Fresh Mexican salsa and dried shrimp appetizer: Pico de gallo con camaron seco
A lively accompaniment to margaritas or cold beer, this fresh Mexican salsa and dried shrimp appetizer needs to be made as close as possible to serving time. The soaking is crucial here, so that the dried shrimp doesn't overwhelm the other ingredients. Tasting the individual components is, to me, crucial to a good pico de gallo. Please don't think about throwing everything into a blender or processor. Just chop. It's good for you.
Ingredients
3 ounces dried shrimp
1 pound tomatoes, chopped
1 medium white onion, chopped
1 fresh jalapeno chile, finely chopped
2 tablespoons finely chopped cilantro
Lime juice to taste
Salt to taste
Rinse the dried shrimp, soak them in cold water for 20 minutes, rinse again and soak for another 20 minutes. Remove heads and tails, peel and chop shrimp.
Combine shrimp with remaining ingredients and serve with totopos or tostadas. Makes 6 appetizer servings.
Link to source article
For sauces, soups and snacks: Using Mexican dried shrimp
Published or Updated on: May 18, 2013