I just returned yesterday from a two-week trip through central and southern Mexico. A girlfriend and I decided to drive, rather than fly and, although I prefer driving on the autopistas (toll roads), she prefers taking the back roads. We compromised. When I drove, I chose; when Lyn drove, she chose.
I have a '93 Ford Explorer. Thanks to the Firestone recall, I have brand new tires and my auto mechanic declared the Explorer fit to sally forth. Loaded down with a cooler of goodies and suitcases, we stopped to fill the tank on the way out of town. "Ready Betsy?" I asked my car. When she didn't respond, I answered for her. "Let's go." Unfortunately, Betsy wouldn't start.
Lyn's been in Mexico sixteen years, and I've been here five. By now, we have both developed a healthy way of dealing with little emergencies by smiling, shrugging our shoulders and waiting for someone to help. The customer at the next pump said "I know the electrical mechanic in San Antonio. I'll drop by and have him come see you. The mechanic arrived ten minutes later, jumpstarted my car and we followed him to his shop, where he declared my battery not only dead, but too small for my car. After purchasing a new battery, we were once again on our way.
The plan was to take three days heading south to Oaxaca. Lyn had been there several times, but it was my first visit. I had made arrangements via the Internet to go to an intensive Spanish language school for a week and for us to live with a Mexican family. We had planned to arrive early afternoon, but my compass was off and I inadvertently headed us down the wrong road, landing us eventually in one of my favorite Mexican towns — Taxco. We stayed the night there and spent the next morning wandering around and shopping.
By then, we weren't in a position to get directly to Oaxaca, so we headed to the coast, arriving just east of Puerto Escondido. In our handy, but outdated, Pacific Mexico Handbook, we read about Pinotepa Nacional. The market there was my first introduction to the really indigenous world of the Mixtec people. Men wear white loose cotton shirts, topped by woven palm-leaf hats. Many of the older women still wear the traditional sarong-like wrap-around skirts with horizontal stripes and go topless, with a simple white shawl draped over their shoulders — a concession, I would guess, to the mestizo customs.
After eating a lonche (sandwich on a bread roll) in the market and watching the people for a couple of hours, Lyn chose the road less traveled. I'm glad she drove. Highway 125, the mountain road she chose to head north to Oaxaca, would challenge even the most-experienced driver. Dodging potholes and topes (bumps in the road designed to slow down traffic, they are often referred to as sleeping policemen) provided the lesser of the challenges. Roosters and hens, sheep, goats, pigs, dogs, cows and children wandered aimlessly across the road. Fortunately, there was very little traffic to worry about and the road was paved.
The 5,000 foot climb took us about seven hours through some of Mexico's most breathtaking countryside. A profusion of purple, pink, white, yellow and blue wild flowers hugged the road and blended into the densely green mountainsides. The way the locals looked at us, I had the feeling we were the first women from the U.S. or Canada to have been there. Women gathered at the crystal-clear streams to wash their laundry and catch up on the local news. Young children helped their fathers gather wood for the approaching winter season. Burros and bicycles carried the kindling back to the villages. Women returned from the villages, carrying their purchases in baskets balanced amazingly atop their heads. Time stood still in these mountains.
We arrived at our host Mexican family's home in Oaxaca about 8 p.m., tired and hungry. Odila is a 45-year old widow who is raising two teenagers. She fed us some wonderful Algerian stew. Her deceased husband was from Algeria. Lyn and I had separate bedrooms upstairs and shared a bath with each other. The rooms were simple, but clean, with tables and chairs for studying or playing cards and dice.
The next morning she drove with us to our school, Los Amigos, located close to the Zocalo in the center of Oaxaca. It's a small, friendly and personal school with excellent teachers. Lyn and I were together in a class of four for the first hour and a half, then after a break, we had a new teacher and our class size diminished to three.
The price per night at Odila's included breakfast and a main meal about 3 p.m. I strongly recommend this as a way of improving language skills, getting a taste of real Mexican life and keeping expenses down.
In the afternoons, we discovered Oaxaca, it's markets, museums, churches, ruins and handicrafts. Their Mercado de Abastos puts Guadalajara's to shame. It's mammoth and filled with many Indian dialects; our Spanish was often of little use. It would be impossible to cover the entire market in one day, but we managed to do some damage to our pocketbooks. One forty-foot stretch was covered with vendors selling live roosters and chickens. Odila explained to us that they were used for making mole. Yuck.
That day we met a man selling the famous Oaxacan rugs who told us another woman from Ajijic was learning weaving from his aunt. "Who?" I asked. He replied, "Carolina…I can't remember her last name."
"It's Carolyn George! I know her. She's a weaver in Ajijic." He invited us to his house in the nearby village of Teotitlan Del Valle. The next day we drove out there and hooked up with Carolyn who gave us a great tour of the area, explained how the wools were dyed and introduced us to some of the weavers. The looms are enormous. I purchased two rugs. They're perfect accents in my home and will last several lifetimes.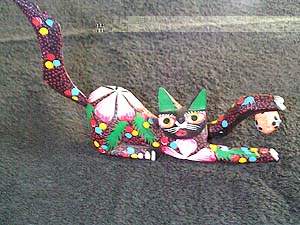 The next day we headed to the town of Arrazola. It's an amazing town where most of the inhabitants work in their homes carving and painting whimsical dragons, gargoyles, armadillos, giraffes, rabbits and everything in between. The men saw and carve the wooden shapes and the women paint them using bright, often neon colors in a style similar to pointillism.
Two young boys offered to be our guides and they took us from house to house, where each family has its own unique style. I'd seen these products in many of the Guadalajara markets, but had never been interested until I saw the work involved. Lyn had been to the town before and said, "They must be making a lot of money, because their streets are now beautiful combinations of brick and cobblestone where they had been almost impassable dirt roads the last time I was here."
We also met up with other Norte Americanos for lunch one day. A couple either write or have written for Mexconnect. Since I'd heard so many wonderful things about Oaxaca and its climate, I was checking it out as a possible place to live. We asked tons of questions from our new friends and later scheduled a couple of visits to new homes for sale with a realtor. I've come to the conclusion that living in Oaxaca won't be any less expensive than living in Ajijic.
The trip home introduced me to Pueblo, Querétero and Tequisquiápan. Now, Querétero is a place I could live. I've run over my word limit, so more on those cities later.
Slightly more than 2000 miles and two weeks later, I've discovered that this country that hosts us is quite spectacular. From mountains to deserts, from beaches to open plains. Driving is a great way to see Mexico, its people and its treasures. Driving is safe if you drive carefully, don't drive at night and make sure you stay in hotels that have secure parking for the night. If two old broads like us can do it, anyone can!
Published or Updated on: November 1, 2001