I recently returned from three weeks in North America's highest and oldest capital— La Ciudad de México, La Capital, el Distrito Federal, or simply " De Efe" for short—researching Moon's new Mexico City Handbook, and I fell in love. Maybe I always fall in love with cities I write about, but It's difficult not to be impressed with a metropolis that contains two UNESCO World Heritage sites along with the best bar and café scene I've found outside New York.
But it's the little discoveries that are addictive. A small café in continuous operation for seven decades, a used bookshop specializing in 19th-century engravings, street corner vendors selling blue-corn huaraches, a colonial-era plazuela seemingly lost to all but local inhabitants of the tercera edad ("third age," senior citizens)—all conspire to pull you under the city's spell.
As on previous visits I was reminded how well the sprawling, sinking city works, how it reaches well beyond mere survival. I hurtled across town by underground Metro and glided slowly around the Centro Histórico in a bicitaxi (pedicab). Scarfed down steaming, chile-and-cheese tamales for 35 cents while standing outside a US$250-a-night hotel. Caught a classic Pedro Infantes film at a local cineclub, and strolled through the Alameda and Bosques de Chapultepec, two of Latin America's most beautiful urban parks. Disappeared down the shaded waterways of Xochimilco aboard a brightly painted trajinera (Mexican-style gondola). Sized up Aztec pyramids and Catholic cathedrals, punk rockers and charro serenaders, poverty-stricken slums and walled villas, and pronounced them all part of the phantasmagoric heart of mexicanidad or "Mexicanness."
Of the six hotels I stayed in, one of the best overall values was the Centro Histórico's Hotel Catedral, Donceles 95 (behind the Catedral Metropolitana), which was recommended to me by New York short story writer David Lida. The Catedral had sparkling rooms, surprisingly personalized service (considering the US$27 per single price), an excellent coffeeshop, and a travel agency—a necessity since I was moving in and out of the city to Tepozotlán, etc., and an anomaly in this price range. The Catedral was the only hotel of the six besides the Meliá México Reforma (formerly the Crowne Plaza) where I was able to use my laptop to send email from the room phone, plus it was the only hotel that permitted free local calls. Of the four larger, more expensive places I stayed (including the Hotel de Cortés, Fiesta Americana, and Hotel Misión de la Zona Rosa), I thought the Meliá had the best service and rooms.
While researching places to stay, I lamented the fact that hotels remain concentrated in the Reforma-Zona Rosa-Centro Histórico area, and along busy boulevards radiating out from the center. Colonia Condesa, the most happening neighborhood in the city these days, is ripe for someone to come in and build a few hotels or B&Bs in any price category. There is nowhere to stay in this area other than the noisy Hotel Roosevelt on Insurgentes Sur. Coyoacán and San Angel could also use some convenient accommodations — I searched high and low and there appear to be none available within 10 blocks of either colonia other than three nondescript places near the Metro Tasqueña station (Hotel Montreal and Hotel Finisterre, both US$40-50, and Hotel Cibeles, US$12-20).
Like 99.9% of all the other taxi riders in the city, I used street taxis frequently. If you choose the taxi rather than letting the driver choose you, and check the driver's tarjetón (city-issued ID card) to make sure the face matches the photo before hopping in, it seems pretty unlikely you'll be risking robbery. Although many sources recommend radio taxis, I found that most were unmetered and charged about double the average meter rate. An exception, and the best radio taxi deal I was able to find, is Taxi Mex, which offers metered taxis at a surcharge of 10 pesos over the meter reading. I did use radio taxis after 9 p.m., since crime stats show that most taxi robberies occur well after that hour. I found that most restaurants, bars, and cafes were happy to call a radio taxi for me when I was ready to call it a night.
As a book lover I was impressed with the long string of used bookshops along Calle Donceles in the Centro Histórico. Of the dozen or so on this street, my three favorites were Librería Hermanos de Hoja, El Mercader de Libros, El Laberinto. In other shopping research, I concluded that the "new" Mercado de San Juan was overrated, and not nearly as good as La Ciudadela for artesanías, although perhaps it will improve with time.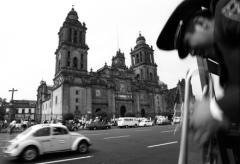 A pleasant surprise, not far from Plaza de San Juan in the Centro, is that the small barrio chino (Chinatown) along Calle Dolores is undergoing a tasteful renovation. Capitalinos (as Mexico City residents call themselves) have suddenly become re-interested in the café chino, a small diner-like eatery which, despite what the name suggests, specializes in inexpensive Mexican meals, pan dulce (Mexican pastries), and hot chocolate; typically the only Chinese dish on the menu is chop suey, served with rice. The city's most popular café chino, Colonia Roma's Bisquets Obregón, recently opened a branch in the Centro Histórico on Av. Madero.
The most memorable meals I sampled during my three-week stay turned out to be cantina fare, which is far better than its English "pub grub" equivalent. Drop into Salón Corona, a family cantina at Calle Bolívar 24, and in business since 1928, for a tarro (large mug) of draft Corona—light, dark, or mixed (campechana)—for US$1. The caldo de camarón (shrimp stew), a house favorite, comes in a glass and is excellent. Another classic, the 1933-vintage Cantina La Única de Guerrero, Guerrero 258 at Luna, preserves a culinary legacy that many other city cantinas aspire to. "La Única" is popular with Mexico City writers and intellectuals, who sing sad waltzes to live salterio (Mexican zither) accompaniment in the evening. Another Col. Guerrero cantina, Salón Cantina La Victoria, Calle Magnolia 3 at Eje Lázaro Cádenas, rotates Mexican regional specialties each day. None of the three will break the budget, and all of them welcome women as well as men.
Entertainment highlight of the three weeks was seeing musical satirist Astrid Hadad perform at the upstairs teatro at La Bodega in the Condesa. She was a sheer delight with her amusing, politically sharp, yet respectful takeoffs on Mexico's rancheras, boleros, and rumbas. Hadad performs at La Bodega frequently; you can check the weekly Tiempo Libre for this and other entertainment scheduling.
Many casual visitors to Mexico arrive in the capital by plane and make an immediate beeline for the nearest exit, heading to the coastal resorts, colonial cities, or, basically, anywhere else. It's their loss. As huge and environmentally challenged as it is, Mexico City is a fascinating and vibrant cauldron of culture, history, and humanity, and anyone with a taste for cities should ignore the American media hysteria and check it out for themselves.
Published or Updated on: February 1, 2000