Todos Santos is a place people disappear to. Something about the layout — the way the single two-lane highway through town can take in casual visitors at one end and dispense with them at the other end without revealing too much — keeps the profile relatively low, especially considering Cabo San Lucas is only an hour and 15 minutes away.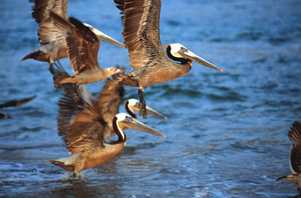 Beneath the town's sleepy surface, behind the century-old brick and adobe facades, lives a small, year-round colony of artists, writers, surfers, and organic farmers who have found Todos Santos the ideal place to follow their independent pursuits. The palm-filled arroyo along the north side of town makes a convenient natural barrier behind which to hide from the world, as very few visitors ever cross to el otro lado (the other side), as townspeople sometimes refer to the area.
When you watch the sunlight arc back and forth between the Sierra de La Laguna and the palms for a few days, you begin to understand why artists come here and rave about the light. Many thrive on the lack of distractions, as there are no nightclubs in town, and not a single hotel, condo, or resort on or near the beach for 40 miles in either direction. A relatively even climate is another obvious attraction. Todos Santos typically measures around 10 to 20 degrees cooler than Cabo San Lucas, La Paz, or San José del Cabo in the summertime, and is warmer in the winter. Anything and everything will grow here, so even amateur gardeners suddenly discover they have green thumbs.
History
Jesuit padres established a farm community and visiting mission called Todos Santos here in 1724 to supply the mission community at La Paz with fruits, vegetables, wine, and sugarcane. By 1731 Todos Santos was producing 200 burro-loads of panocha—raw brown sugar—annually, along with figs, pomegranates, citrus, and grapes. Two years later, Padre Sigismundo Taraval founded Misión Santa Rosa de las Palmas at the upper end of the arroyo about two km inland from the Pacific. By the mid-1700s, Todos Santos had outgrown La Paz. Renamed Nuestra Señora del Pilar de Todos Santos in 1749, the town remained an important mission settlement until secularization in 1840.
Anglo whalers visiting Todos Santos in 1849 praised the town as 'an oasis' with 'friendly and intelligent people.' In the post-mission era, Todos Santos thrived as Baja's sugarcane capital, supporting eight sugar mills by the late 1800s. Sugar prices dropped precipitously following WW II, and all but one mill closed when the most abundant freshwater spring dried up in 1950. The remaining mill closed in 1965, though smaller household operations continued into the early 1970s. The town faded into near obscurity. Around 1981 the spring came back to life, and the arroyo once again began producing a large variety and quantity of fruits and vegetables. Tourists began arriving when Mexico 19 – the road between San Pedro and Cabo San Lucas – was paved in the mid 1980s, thus linking Todos Santos with La Paz.
Architecture
Mexico's Instituto Nacional de Antropología e Historia (INAH) recently designated part of Todos Santos a national historic district. The most historic buildings—a mixture of one- and two-story affairs, all with courtyards—can be seen along the streets nearest the plaza. Most are constructed of fired Mexican brick laid in double or sometimes triple courses topped by flat parapet roofs. Large windows and doors bounded by pilastres and molded lintels in the classic Andalusian style predominate in this area. The large building housing Café Santa Fé on Calle Centenario, facing the small, modern plaza, is the most substantial adobe structure in town. In the newer eastern half of Todos Santos are many small residences built of adobe brick or mud plastered over woven palo de arco (trumpetbush), often roofed with palm leaves. Brick ruins of several of the old sugar mills can be seen around town.
Beaches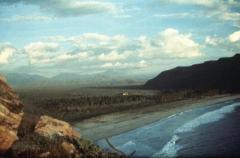 The undertow and shore break here are usually too heavy for swimming, except during the summer when there are occasional long periods of relative calm, but it's a great spot for watching the sunset any time of year. Playa La Cachora is a good sunset-watching and strolling beach; follow Calle Topete across the arroyo, and immediately on the other side, turn left on a sand road leading west to the beach.
About two km south of town via Mexico 19, a signed, unpaved access road suitable for most vehicles leads 2.4 km to Punta Lobos, a rocky point at the south end of a sandy cove. The point is named for a resident colony of sea lions. The surf here is usually okay for swimming but take a good look at the currents before leaping in. Local fishermen use this cove as a launching point for a a small fleet of pangas (small fiberglass fishing boats). The pangas usually bring the catch in after 3 p.m., when you can sometimes buy fresh fish directly from the pangeros. The ruins of an old stone-walled cannery lie at the side of the access road toward the beach; north along the beach stands a lighthouse.
News
The Café Santa Fé, tel. (114) 5-0340, is expanding its popular restaurant so that there's now an entrance on Juárez as well as on the plaza. Ezio and Paula Colombo, the cafe owners, plan to replace their arts & crafts gallery next door with a Oaxacan restaurant.
The Todos Santos Inn, tel./fax (114) 5-0040, has added two air-conditioned suites. By the end of 1999 the inn will feature a wine bar specializing in Baja vintages.
Visitors seeking private rentals can contact the Centro de Mensajes/Todos Santos Message Center, tel. (114) 50003, fax 50288, 

[email protected]

 or Su Casa, tel. (114) 50219, fax 50246, [email protected].
Published or Updated on: January 1, 2000