A Mexico book by Patrick Oster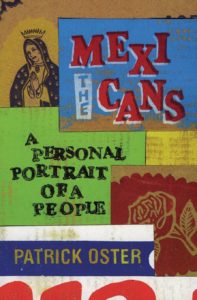 Author Oster practised law in Chicago before taking up journalism in 1973. In 1984 he became the Mexico City bureau chief for the Knight-Ridder news chain. On that assignment, he started putting together the portraits that make up this excellent account of a timeless and yet changing Mexico.
His approach is to focus on twenty varied individuals and use them as a reason to discuss the larger issues they represent. For example, he writes about Miguel Tostado who can't find work in his village and who becomes an illegal immigrant, working in Dallas. Thus he is able to send back $50 a month to his wife and baby daughter. He crosses the border successfully the first three times but runs into a terrible problem on his fourth trip when he is sealed into a railcar with 18 others. They all suffocate and die except Miguel.
Oster uses this one individual to look at the larger issue of illegals crossing into the U.S. and the estimated 1 billion dollars they send to Mexico every year. His research also shows that the majority of these men usually do not want to stay in the U.S.
Through the story of Dr. Enrique López Hernández, a dedicated young medico who runs a clinic in a Mexico City slum, he covers the much larger issue of national health care in Mexico. Dr. Hernández is himself so poor that his 'black bag' is a woman's plastic clutch purse. I love one of his quotes. "We don't need more specialists here. We are dying of diarrhea."
And through the story of Adalberto Rosas López, mayor of Ciudad Obregon, we get a wonderful look at the endlessly cunning and devious ways in which the PRI has managed to win election after election and stay in power in Mexico for six decades.
Other Mexicans who are portrayed here are Gerardo, a rich, rather arrogant young restaurateur who fully enjoys the good life in Mexico City, as well as Adelaida, a housemaid who spends six hours a day travelling to and from her minimum wage job and spends half her pay on transportation. We also meet Jose, a tragafuego, or fire-breather, who has spent eight years on street corners doing his act every few minutes for about twelve hours each day to earn a few pesos from passing drivers.
We encounter a gay teacher, and a feminist, and a news reporter who has disturbing things to say about how the government controls the press. And we even meet that rarity of rarities in Mexico – an honest cop! (This one really is honest, too.)
Oster does excellent research. He's as bold at venturing into dangerous out-of-the-way places as he is diligent in delving into arcane government data on economics and employment and foreign relations. For instance, he walks into street gang territory in a Mexico City slum to interview gang members. Even though that encounter is used as a springboard for a discussion about crime in the city, the gang members emerge as surprisingly likeable – even sensible – given the conditions they live under. And he visits remote areas, well off the tourist track, to create several of his other portraits
His interviews with a family of garbage pickers lead to an interesting examination of ecological issues in Mexico. I found that to be a story that simply has to be read to be believed.
Another interesting and rather offbeat subject here is Felicia Mercado a blonde beauty queen and soap opera star who has won many beauty contests but knows she can never win the main one – Senorita México. You have to be dark-skinned to do that, even though Mexican men worship blondes. The government likes to perpetuate the myth that Indians are admired and important, even though they are more often persecuted by that same government and now make up only ten percent of the population.
Oster has much to say about the Mexican family. Yes, we all say Mexicans have a strong family life – but there's a dark side, too. And Mexican men obviously have to do a lot of changing to do to become more accepting of feminists and homosexuals.
There are many negatives in Oster's portrayal but it's hard to dispute the truth of what he's saying. He gives us enough examples of government repression and of the corruption that is so endemic here.
On the brighter side, however, he writes as follows about a popular comedian, Hector Suárez, who delights in poking fun at Mexican customs and foibles:
"The picture is not all grim, however," he said as we finished up our colloquium. "Changes are afoot. Since the government of President Díaz Ordaz massacred student protesters just before the 1968 Olympics, Mexico has been a different country. The differences have been slow to surface. But they are there. The government is letting the press print more critical things. Opposition politicians have emerged and are increasingly vocal. But political leaders will not be the ones to change Mexico. We must begin in the home."
Suárez, evidently, has done that for himself. He has got his own alcoholism under control and in a land of machos, he has become what he calls "a hundred percent feminist." He considers his wife his best friend. He gives his two teenage kids regular lectures about how to be good citizens and sensitive human beings.
"My son and daughter know what the truth is," he said. "They know things aren't perfect. But they know that things can get better. They know we can go forward as a nation."
Verdict: A first-class description of a slowly-changing country.
THE MEXICANS – A Personal Portrait of a People
By Patrick Oster
Harper & Row paperback. 1989.
Available from Amazon Books: Paperback
MexConnect is reader-supported. Purchases made via links on our site may, at no cost to you, earn us an affiliate commission.
Learn more.
Published or Updated on: December 1, 1999