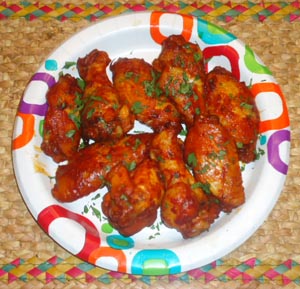 If pork can take on these enticing flavors, why not chicken wings? Grill these chicken wings in chile-pineapple marinade or bake them, and make plenty, because they will disappear fast. Achiote paste is widely available in Mexico at larger supermarkets and some market stalls, and in the US at Hispanic grocery stores and online.
Ingredients
3 pounds chicken wings, tips removed, cut in half at the joint
¾ cup pineapple juice
¼ cup vegetable oil
1 chipotle chile in adobo plus 2 teaspoons of adobo sauce from the can
2 ancho chiles, soaked in hot water until soft
2 guajillo chiles, soaked in hot water until soft
3 garic cloves, chopped
1 teaspoon ground cumin
1 tablespoon achiote paste
2 teaspoons salt, or to taste
½ cup chicken stock
Place the wings in a large bowl. Place all other ingredients in a blender or food processor and puree until smooth.
Pour the blended ingredients over the wings and stir to coat all of them. Cover and marinate, refrigerated, for at least 2 hours and even overnight.
Preheat the oven to 375 degrees F. Place wings on racks on baking sheets. Bake the wings for 1 hour, or until no longer pink in the middle, turning at the halfway point. They may also be grilled. Garnish with chopped cilantro if desired. Makes about 44 wingettes.
Link to source article
Mexican ways with wings: The food craze that took flight
Published or Updated on: November 27, 2014