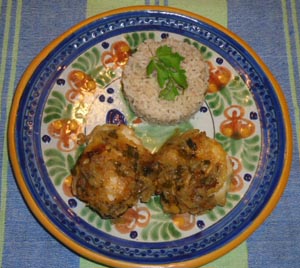 This recipe for Mexican chicken with caramelized onions and nutmeg, adapted from Marge Poole's 1,000 Mexican Recipes, is an unusual and delicious example of how one spice can lend character to a simple dish — in this case baked chicken — with just a few ingredients, a lot of flavor, and a simple preparation. I have this book on my Kindle, and like to browse through it for inspiration when the what's-for-dinner dilemma arises.
When I recalled our very early, oven-less days in Mexico, it occurred to me that this could easily be adapted to braising instead of baking. The recipe in the book calls for dried thyme, but I prefer using fresh.
Ingredients
2 tablespoons vegetable oil
8 bone-in chicken thighs or legs
Salt to taste
2 large onions, sliced into thin crescents
1 teaspoon grated nutmeg
1 teaspoon dried thyme, or 3 tablespoons fresh thyme leaves
3 tablespoons chopped cilantro leaves
½ teaspoon freshly ground black pepper
½ cup chicken broth
Preheat the oven to 325°F.
Heat the oil in a large skillet and brown the chicken on both sides, seasoning it with salt to taste. Remove and place the chicken in a casserole or baking dish.
Add the onions to the pan, cooking over low heat until they are golden brown and caramelized. Add the nutmeg, thyme, cilantro and pepper. Stir in the broth and bring to a boil.
Pour the contents of the skillet over the chicken, cover and bake until the meat is cooked through and tender. Makes 4 generous servings.
Link to source article
A guide to using spices in Mexican cooking
Published or Updated on: October 28, 2014