Photo gallery: Tianguis: itinerant traders in a traveling Mexican market (Photos by Daniel Wheeler)
Traveling vendors were a common sight back in Mississippi when I was growing up. We had tinkers who wandered the roads during the summertime. We could always hear them coming by the clanging of pots and pans strapped to their backs. We would run to the kitchen to bring out the enamel saucepans that had holes in them. The pan might last until the next summer and if it didn't, we would buy another when the tinker man came again.
Since I lived in the country and everybody raised their own vegetables, we didn't have traveling produce men. However, when I visited my older brothers in the cities, it was exciting to hear the vegetable and fruit man calling out his wares as his one-horse drawn cart rambled through the streets.
Door to door salespeople
Many years have passed, but in this mountain village we still have traveling venders. They come in pickups now, not horse-drawn carts. They use microphones hooked to ear-piercing speakers on top of the truck to hawk their snake oils and powders that cure everything from varicose veins to lumbago. The problem is the vender holds the mike so close to his mouth, it sounds as if he is gargling it. If you can't see what he is selling, you might mistake riñón for camaró' o limón (kidney for shrimp or lime).
Trucks filled with pots, pans, pillows and mattresses roll along Talpa's cobblestone streets. You might see a man walking along with his shoulders stacked high with throw rugs. Another may have small tables or even bird cages with singing birds on his back. Wait long enough and it may come along.
All in one place
In Talpa, we don't have to wait. We have tianguis or street markets. Every two weeks, venders come from Guadalajara with their trucks loaded with fresh vegetables and fruit, herbs, ornate plants, cell phones, hair dryers and CD players. We can buy a galvanized milk can or rubber boots to wear in the milking lot. There are clay bean pots, stone metates for grinding the spices for savory salsas and machetes to clear the path through the woods.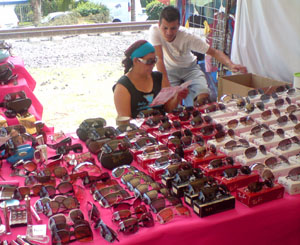 The vendors set up their tables early. I usually see them unloading by seven o'clock when I'm returning from my walk. The street that goes alongside the park down by the river has been designated as the Saturday street market area. There is plenty of room for parking and it's on level ground.
We could find many of these items in the mom and pop stores around town, but at the tianguis, we can shop for most everything in one place just like Sam's and Wal-Mart. Besides, it has become a small-town social event.
At nine o'clock, we'll chat with friends and ranchers whom we saw two weeks ago. At ten o'clock, we'll run into people we haven't seen for a long time. At eleven o'clock, we'll meet new folks from the next village over who have come to town on a bus.
I invite you to come with me this morning. I've already made my shopping list. In a shopping bag, I have packed my watch that stopped running last week, the blender that I dropped yesterday morning, a piece of fabric I want to take to the dressmaker and a new red blouse I bought on my last trip to the coast.
Services, socializing and much, much more
Memo, the watch fixer, is close to the front of the line of venders. He has a shop in town, but he always sets up his stand in the street on tianguis day. We greet each other and I ask after his children. He tells me to leave my watch while I do the shopping.
We pass the fisherman's truck, and several fruit and vegetable stands that we will visit on our way back up the street. The cassette stand is blaring mariachi music; the lingerie stand has some mighty sexy underwear on display and the potted plant man has huge bougainvillea plants for the equivalent of $3.00. He has brought in scarlet, pink and purple ones this week. I like purple in my garden. Perhaps you'll pick the pink.
Further down the street, Chela and Raul are dicing mango, papaya, pineapple and watermelon. You can buy a 15 ounce cup of a mixture of your choice for $1.00. Chela offers to squeeze fresh lime juice over it and sprinkle with hot chili powder and salt, if you like.
We stroll on down past the shoes, socks and handbags. The next table is loaded with herbs and spices and next to that is my blender man. He has run an electric cable from a friend's house behind his stand so he can check out the appliances. He works on blenders, hair dryers, irons and sewing machines.
Mounds of brightly colored yarns, threads, stamped cloths ready to be embroidered; needles, zippers and scissors cover the next table. I pick out a spool of thread to match the fabric in my bag and you spot some funny iron-on patches to cover the hole in your kid's britches.
Two stalls down the way is the cosmetic stall. You can hardly get near it for all the teenage girls, but she carries a lipstick I like. I look for a color to go with my new red blouse.
My favorite produce man is Roberto. His helpers are still unloading his truck parked behind his stand. Cauliflower, broccoli, mushrooms, bean sprouts, tomatoes, onions, peppers and lettuce pile up before him. You pick out snow peas, strawberries, bananas and pineapple. Roberto weighs our purchases on an old scale, and he calls out the total as he goes, "Quince, treinta, treinta y dos, cuarenta." We have bought enough fruit and vegetables to last us almost two weeks for about $9.00.
We check out the fisherman's truck. It all looks and smells fresh. I ask him where he comes from and he tells me, "Nayarit. These were caught yesterday and I've had them on ice all night." I choose a big red snapper for $3.50 and you offer to fix your favorite shrimp recipe for lunch. One kilo in the shell, a bit on the large size for what he calls medium, costs less than eight dollars. That's enough to serve four easily.
We continue on our route, stopping at the chicken man's store, buying chicken and fresh country eggs. We stop by the meat market with the red banner flying out front that indicates there was a fresh kill this morning. Pork ribs, chops, ground round and beef for a stew rounds out our shopping. We've spent less than $50 dollars on our shopping spree, but I still haven't found the birote man. When I do, I'll give you directions.
Photographs © Daniel Wheeler, 2009
Published or Updated on: June 11, 2009