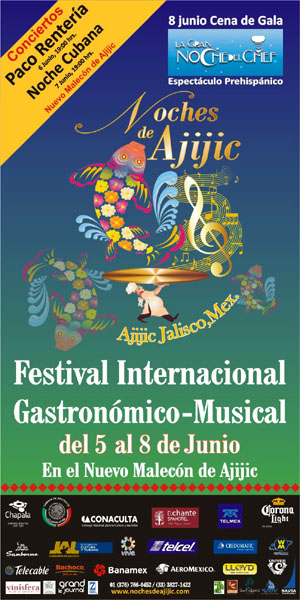 Set on the shore of Lake Chapala, the town of Ajijic has become a center of art and culture. The Noches de Ajijic International Festival of Gastronomy and Music highlights some of the region's best.
Seven host restaurants offer special menus prepared for the occasion by outstanding guest chefs. Other festival activities will draw residents and visitors to a full array of artistic expressions.
Free activities scheduled every day on the Ajijic Malecón along with gallery walks through the village, live entertainment including two big concerts at the waterfront and a spectacular grand finale wrapped around the theme of ancient Mexico scheduled in Chapala.
Friday, June 5
The festival opens June 5, with the inauguration of the Caminata Cultural gallery walk starting at the Malecón, 11 a.m. A grand opening ceremony follows at 12:30. Live entertainment at the open-air Agora amphitheater begins at noon, continuing on and off throughout the day.
Don Fulano Tequila sponsors a free tasting at 1 p.m. at the Agora. Free performances by local entertainers will continue from 2 to 4 p.m., with a ballet folklorico show scheduled for at 5:30 p.m.
Saturday, June 6
Activities on Saturday and Sunday begin at noon. Wine tasting will be offered at the Agora at 1 p.m. Live performers will appear at the same spot from 2 to 4 p.m., followed by a ballet folklorico group, 5 p.m.
Sunday, June 7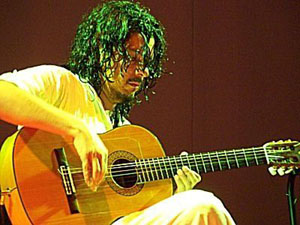 On Saturday night at 7 p.m., famed flamenco guitarist Paco Rentería will take the stage at the main concert venue located at the west end of the Malecón. Noted for his unique Free Play style that blends gypsy flamenco, Afrikaans, oriental and progressive jazz sounds and rhythms, Rentería's compositions have been featured in sound tracks films such as Desperado and The Legend of Zorro. Admission to the performance is set at 150 pesos per person.
Sunday's headline concert, same time and place, will be a lively Salsa show starring Los 3 D'Café and Cuban night with a Cuban-style dance troupe. The admission fee is 150 pesos per person.
Monday, June 8
Host restaurants and guest chefs
Talented visiting chefs are collaborating with local restaurants to create special menus, and reservations are recommended.
El Jardin de Ninette, Calle Constitucion 57, Cel. (045) 331-4104064
Guest chef: Julio César Sánchez Mares, from the Escuela Culinaria Internacional, presents world cuisine.
La Propela, at El Bar Co., Carretera Oriente 33, Tel. 766-0452
Guest chef: Luis Jimenez de Santiago of Guadalajara's Talento Restaurant, will create fusion cuisine.
La Tasca, Calle Donato Guerra 22-A at the waterfront, Tel. 766-5369
Guest Chef: Cuauhtemoc Castillo creates Mexican fusion cuisine.
La Taverna dei Quattro Mori, Carretera Poniente at Plaza la Huerta, Tel. 766-2848
Guest chefs: Ivana Lucchesi and Dante Gressi, from Pisa, Italy, specialize in regional fare.
Los Telares, Calle Morelos 6, Tel. 766-0428
Guest chef: Hans Gruber of Switzerland, executive chef at Hotel Velas Vallarta, presents an array of Latin American cuisine.
La Gasconade, Calle Ramon Corona 2A, Cel. (045) 331-340-8046
Guest Chef: Ricardo Garcia Jasso creates the exotic flavors of Morroco and the Middle East.
Number Four, Calle Donato Guerra 4, Tel. 766-1360
Guest chef: Greg Couillard, the "bad boy" chef from Toronto's Spice Room, showcases his sophisticated Asian fusion platters.
Check on-line postings for more details and last-minute program changes.
Published or Updated on: June 5, 2009