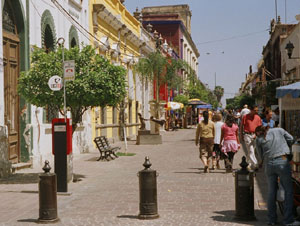 Once upon a time, long, long ago, the village of Tlaquepaque just outside Guadalajara was where Guadalajara's upper crust built their summer homes, places where they could escape the congestion of what was then considered to be a very busy city.
Today, Tlaquepaque seems like a natural extension of the city of Guadalajara and, although no longer a place where the locals go for a quick getaway, it is still a beautiful and relatively tranquil place to explore.
Over the years it attracted a number of Jalisco and Mexico's more talented artists, and developed a reputation for the quality and diversity of its wares.
A number of old summer homes have been converted into shops which house a variety of crafts from throughout Mexico and restaurants serving fine international cuisine.
Avenida Independencia, a street closed to all but pedestrian traffic, is a good place to begin your serendipity. Here you will find silver from Taxco, rugs from Oaxaca, copper from Michoacan, hand blown glass, hand painted tiles, huichol clothing from Nayarit and pottery from the states of Guanajuato and Jalisco.
Prices for these items range from just a few pesos for a souvenir key ring to several thousand dollars for original art work. Sergio Bustamante is from Tlaquepaque. He began by working in paper machŽ and soon became an artist with an international reputation. If you can't afford an original, there are a number of stores offering replicas for a fraction of the cost.
Another interesting experience is the glass blowers. At La Rosa de Cristal you can watch boys as young as 12 wandering around the workshop carrying balls of molten glass on long metal poles, blowing, twirling, shaping, firing, and, finally, cutting off a vase, wine glass or pitcher. In the gift shop you can purchase even more items including jewelry boxes and small, delicate figurines.
While the prices of these items seem to be a bit higher here than in their place of origin, they are much better bargains than what one would pay in the U.S. or Canada.
When lunch time rolls around, you will find a variety of restaurants to choose from.
Try the café de olla, a typical Mexican style coffee drink made with cinnamon and raw sugar, after your meal or with your dessert. It will help your food digest and prepare you for the second half of your day in Tlaquepaque.
There are two well known ceramics shops which should not be missed. The first is El Palomar. Located on the way into Tlaquepaque, it offers a wide variety of dishes, mugs, decorative pieces and more. The other is Ken Edwards. Although they both offer hand painted, lead-free ceramics, there is a definite difference in styles and you should consider visiting both before making any large purchases. Also, be aware that both shops have a "seconds" area. These pieces always have flaws but some are so unnoticeable that you'll wonder how they ended up there.
By the end of the day, when the sun is beginning to set, wander over to El Parian, find a table, order a margarita and enjoy the mariachi music. For just a few pesos you can have some of Jalisco's finest mariachi musicians play you a song to accompany the day's joys and triumphs.
Published or Updated on: January 1, 2006