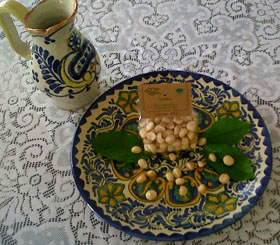 The taste of fresh trout is a good foil for the richness of this Mexican macadamia sauce. The recipe, which uses macadamias as both a sauce ingredient and a garnish, is adapted from the University of Michoacan's regional recipe collection.
Ingredients
4 thick strips of bacon (about ¼ pound) chopped
½ cup coarsely chopped macadamia nuts
2 tablespoon butter
2 tablespoon olive oil
4 skinless trout filets, seasoned with salt and pepper
2 cloves garlic, finely chopped
2 green onions, white and light green parts only, chopped
¾ cup dry white wine
½ cup finely ground macadamia nuts
½ cup heavy cream or Mexican crema (do not substitute sour cream)
1 tablespoon chopped parsley
Place the chopped bacon in a sauté pan and cook until it begins to crisp. Add the chopped macadamias and continue cooking until the bacon is crisp and the chopped nuts golden brown. Remove the bacon and nuts from the pan, drain well on paper towels and set aside.
Wipe out the pan, add half of the butter and half of the olive oil. Sauté the trout filets until golden brown on both sides and cooked through. Remove to a platter and keep warm.
Add the remaining butter and olive oil to the pan. Saute the garlic and onion until soft. Add the wine and cook until slightly reduced. Add the ground nuts, cream and parsley, and simmer for 2 minutes.
Place the fish on plates, spoon the sauce over the fish and garnish with the bacon and chopped nuts. Makes 4 servings.
Link to source articles
Dining on trout in Mexico's mountains
Mexican macadamia nuts: culinary gold
Published or Updated on: September 6, 2010