Ask any Mexican to name his or her favorite fruit, and chances are the answer will be el mango. From very early spring until late summer, mangos are everywhere: stacked into symmetrical montones ("mountains") in the markets, sold in the street on sticks, with the flesh cut to resemble flower petals, or in large glass jars in a spicy vinaigrette. Additionally, mangos are also used in cooking, especially in la nueva cocina, Mexican nouvelle cuisine. In the months from October to February, when fresh mangos are largely unavailable, they are well represented by a huge variety of prepared juices and drink mixes, gelatin, candy, fruit leather, sauces and pickles, both bottled and canned.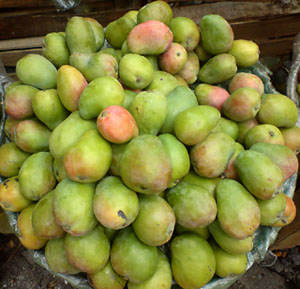 But such was not always the case. Mangos, like another Mexican favorite, rice, are indigenous to Asia, especially India, where they have been so basic a part of the diet for 4,000 years that the Sanskrit word for mango, am, means "provisions." From India, the fruit spread throughout the Far East, and was first brought to Mexico in 1775 by the Spanish galleons that regularly crossed back and forth from the Philippines to Acapulco. A century later, they were introduced to the Gulf coast area from the British Antilles through the port of Veracruz, an area that is famous for the mango variety most prized by Mexicans, the manila. The word mango is an adaptation of the Tamil name for the fruit, mang-kay.
The mango (Mangifera indica), of which there are over 1,000 varieties worldwide, accounts for 36% of the world's tropical fruit consumption and has been called the "king of fruit", a name reflected by the majestic appearance of the tree. Growing to an average of 60 feet tall at maturity, this tropical evergreen — a relative of the cashew, pistachio and several kinds of plums — has a rounded canopy of glossy, sweet smelling leaves, which turn from pale pink to dark green as the tree matures. Small, pale yellow to pink flowers hang in clusters from a common stem. A drive through Mexico's tropical regions, with mile after mile of stately, symmetrical mango orchards is a joy at any time, especially when the young fruit hang from their stems like tree ornaments. Mango trees, which are started from seedlings grown from the fruit's pits, bear edible fruit in 4-7 years and continue producing for about 45 years, after which time production declines. Older orchards can be revived through a carefully followed program of pruning and fertilizing.
Sinaloa, Nayarit, Jalisco, Michoacan, Veracruz and Chiapas are Mexico's most important mango growing and exporting states. Mexico has been the biggest exporter of mangos worldwide for several years, being only slightly edged out by China some years. (India is the world's largest producer of the fruit, but consumes a great deal of it nationally.) The most widely grown varieties in Mexico are the manila, a small, flat, green-to-yellow mango with a point called a beak at one end; the criollo or petacon, a large, sweet, round, reddish-orange version of the fruit; the Tommy Atkins and the Kent, very large, highly perfumed fruit, sometimes growing nearly to the size of small melons. These last two are called "Floridas" by Mexican mango growers, after the US state where they were first developed.
All mangos are referred to botanically as drupes, or "stone fruit", like peaches and olives. These fruits are characterized by a fleshy area surrounding the pit and a firm, smooth outside skin. Look for mangos that smell fruity at the stem end, yield to gentle pressure and have smooth, taut skin. Unless being used green for pickles, mangos can be ripened at room temperature. Ripening can be hastened by placing the mangos in a paper bag with an apple, which will release the ripening agent ethylene gas. Once ripe, mangos should be used immediately but can be kept up to two days in the refrigerator.
Mangos are a good purchase nutritionally, having significant amounts of vitamins A and C, potassium, digestive enzymes, anti-oxidants and fiber, yet they only contain 66 calories apiece. Medicinally, they have been used as anti-viral, anti-parasitic, anti-tussive and antiseptic agents. In cooking, they can be used in desserts, beverages, salsas and salads.
Following are some mango recipes, including a sweet-and-sour mango sauce used in nouvelle Mexican cooking. Right now is the perfect time to try some mango recipes, with both the early and late season varieties available both north and south of the border.
Salsa Agridulce de Mango: Mango Sweet and Sour Sauce
At Los Danzantes restaurant in Oaxaca, mango sweet and sour sauce is served with fried coconut shrimp, but it is also good with any batter fried fish or as a dipping sauce with fried or oven baked chicken wings.
Ingredients:
1 cup sugar
1 ½ cups rice vinegar
1 large garlic clove, peeled and crushed in a garlic press
2 teaspoons sauce from chipotle chiles in adobo (canned chipotles)
2 tablespoons Asian fish sauce
½ large, sweet mango, such as Tommy Atkins or Kent variety
cornstarch and water mixture to thicken if necessary
Combine all ingredients except the cornstarch and water mixture in a small sauce pan, bring to a boil and then lower the heat and reduce by 1/3.
If a thicker sauce is desired, stir in just enough cornstarch and water mixture to thicken to desired consistency. Makes 1 ½ cups sauce.
Pollo en Salsa de Mango: Chicken in Mango Sauce
An inspiration from Mexico's nueva cocina chefs, this is fast and easy, yet elegant enough for a dinner party. Sauce may be made in advance and refrigerated, then added when chicken is cooked. Serve with white rice or cilantro rice.
Ingredients:
2 tablespoons olive oil (not extra virgin)
6 skinless, boneless chicken breast halves
2 cloves garlic, finely chopped
2 green onions or scallions, cut into thin slices
¼ cup rice vinegar
½ cup sugar
¾ cup orange juice
1 ½ cups cubed mango
1 tablespoon chopped cilantro
salt and pepper to taste
Heat olive oil in a large skillet. Sauté chicken breast halves 4 minutes on each side. Remove and set aside, covered.
In the same pan, in the remaining olive oil, sauté the garlic and green onion until the onion begins to soften. Add the vinegar and sugar, stirring to combine. Add the orange juice and continue to cook until the sauce is slightly reduced and the sugar completely dissolved. Stir in the mango cubes and chopped cilantro and continue to cook, stirring, another 1-2 minutes. Add salt and pepper to taste.
Return the chicken to the pan and heat through. Serve immediately. Serves 6.
Bebida de Mango y Limon: Mango-Lime Cooler
This is a refreshing summer drink, with or without a shot of light rum if desired.
Ingredients:
1 large, sweet mango, such as Tommy Atkins or Kent varieties
juice of 2 limes
2 cups club soda
Peel and cube the mango and puree in blender.
Mix mango puree with remaining ingredients. Serve immediately over ice. Serves 2.
Mousse de Mango: Mango Mousse
1 kilo mangos, or enough to make 2 cups puree
1 cup boiling water
2 envelopes unflavored gelatin
½ cup sugar
1 cup heavy cream, whipped
Peel, cube and puree mangos. Pour boiling water into a shallow bowl and empty packets of gelatin into water to dissolve. Break up any clumps of gelatin. Add sugar and stir to dissolve.
In a large bowl, combine mango puree and gelatin mixture. Fold in whipped cream. Pour mixture into a bundt or gelatin mold, or into individual molds, and refrigerate until set. Unmold and serve immediately. Serves 6.
Published or Updated on: January 1, 2004