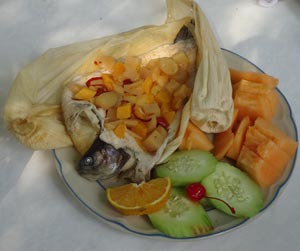 Fresh tropical fruit goes nicely with the clean taste of trout in this recipe for trout with Mexican tropical fruit salsa. Wrapping food in corn husks is a quintessentially Mexican treatment, but parchment paper could be used instead.
Ingredients
4 small trout, cleaned, scaled and split horizontally, or use 4 to 6 ounce trout filets
Juice of 1 lime
2 tablespoons olive oil
Salt to taste
1 cup diced fresh pineapple
1 cup diced fresh mango
¼ cup white grapes (optional)
½ cup diced red bell pepper
½ cup diced red onion
8 dried corn husks, soaked in warm water to soften
Open the trout like a book and rub the flesh (or filets) with lime juice.
Place each trout or filet on a double layer of cornhusks or a piece of buttered parchment paper. Drizzle olive oil over each, and season with salt to taste.
Combine the pineapple, mango, grapes if using, bell pepper and onion, and divide the mixture between the trout or filets, spreading evenly over the flesh. Wrap and seal the fish, folding the tips of the corn husks or paper and tucking them under. Place on a baking sheet and bake at 350° F until the fish flakes easily with a fork. Whole fish will take longer than filets. Makes 4 servings.
Link to source article
Dining on trout in Mexico's mountains
Published or Updated on: April 18, 2013