Travel articles always emphasize the good and minimize the bad. After reading so much about so many different paradises all over the world, one begins to wonder where the authors find all those wonderful words to describe the mundane and tarnished glories of all those Gardens of Eden. So it was, and has been for many years with the few articles we have seen on La Peña de Bernal, and Bernal "Pueblo Mágico." We didn't believe all we read, even though there wasn't much to read.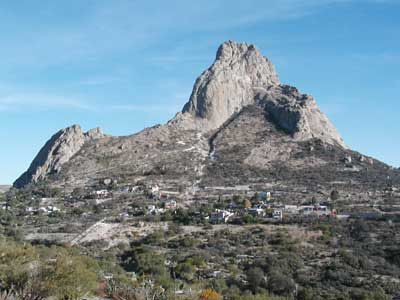 We have now been there, seen that, and we still don't believe all that we have read. Yet we found the trip well worth the time and the money. We three travelers, all just a bit skeptical, came away as converts to the fact that yes, Bernal merits a visit and even a return visit. But to live there permanently? Maybe.
A much younger Mexican couple and I loaded the Voyager and set out at 10:00 a.m. from Jérez, Zacatecas to Bernal, Querétaro on Sunday, September 17, 2006 the day after Mexico's Independence Day celebrations. We chose that day deliberately. We felt that the majority of tourists to Bernal would leave in the early afternoon, just before we would get there. So there should be no reservation problem. There wasn't.
As Bernal is unofficially reported to be a town of only 5,000 or so people, we were worried about hotels. On the 15th we made reservations by internet with the Parador Vernal and received confirmation on the 16th. So without a care in the world and loaded for bear we were in Aguascalientes, AGS for breakfast at Sanborn's (a really good restaurant) by 11:45 a.m. The highways from Zacatecas to Aguascalientes and on to Querétaro are all cuota and, while the speed limit is 110 km/hr (69 mph), nobody goes that slow. All are in excellent condition as well with perhaps about 10 to 15 km under construction. We arrived in Bernal about 4:30 that afternoon, after encountering our only traffic problem at the Querétaro, QTO toll booth where the traffic returning to México city was so heavy that they had to open an extra lane through the toll booth. The wait was only about 10 minutes.
From Querétaro to Bernal via State Highway QTO 4, the route to Bernal was well marked and well surfaced with the majestic Peña in view for the last few kilometers. Vehicle traffic to Bernal was light, but the outcoming traffic was an exodus from New Orleans before Katrina. The Parador Vernal was found at the entrance of Bernal about two kilometers (1-1/4 miles) from the city center. The town cemetery is on the right at the left turn to the entrance. It is well signposted and has plenty of parking.
The hotel itself is comfortable, modern in construction but architecturally colonial-compatible, built of quality materials, with large rooms furnished with a king-size (Mexican) bed. Bathrooms are attractive with plenty of hot water. The gardens are exquisite. A very imaginative use of cacti and succulents with careful preservation of native vegetation specimens shows plenty of forethought in the construction. The hotel is on the crest of a ridge with the gardens sloping down into the town that starts to climb up the foothills of the Peña. A wide open panorama of the city and the Peña is obtained from the terraces and porticos of the hotel and the glass-walled restaurant. Restaurant hours are from 8 a.m. to 6 p.m. but we didn't want to eat that early, so we asked for recommendations in the town and received the name of the Mesón de Roca. Off we went in the car after having been warned that parking was non-existent on the streets in Bernal. There were a lot of cars in town. There were many left-over tourists still wandering through the shops and the tianguis. We found no problem parking.
Our first impression was that the town is perhaps another San Miguel de Allende. Not so. We found the streets wider, and in the city center the streets are bricked rather than cobbled, also the sidewalks are much wider and more user friendly. As for shopping, yes, the quality of the woolens is superb. We were particularly impressed by the quality of both the wool and the workmanship, the high styling, the practicality of the sweaters, skirts, vests, jackets and other clothing items. The suede items could have come from Rome or London as to quality and style.
The porcelains, ceramics, sculptures, and the antique and reproduced items from the churches were all of top workmanship, which again was a reminder of San Miguel de Allende, although the prices here in Bernal seemed to be much more reasonable. While one or two of the side streets off the Zócalo were loaded with the typical junk items always available here in Mexico, the overall impression was of quality merchandise at reasonable prices.
We found the night just a bit chilly (Bernal is at 2000+ meters = 6,600 feet) and we were in shirt sleeves, so we wandered through the markets and bought woolen vests. More comfortable, we looked for the Mesón de Roca, found it and read the billboard menu. We would have gone in except they had entertainment – a keyboard and a tenor singing grand opera, all at a volume that was vibrating the stone building. We couldn't abide the volume from the street, let alone inside at a table. Wandering down through the markets, some local people recommended the Mesquite, which we got to just as they were taking in the sandwich board advertising the restaurant; thus notifying us that they were closing. No entertainment. Outdoor dining under a huge mesquite tree. Service fast, as waiters wanted to go home. Menu limited because the restaurant had run out of everything except fajitas de res, fajitas de pollo, and cecina (a pork flank steak) enchiladas. We were disappointed in the food. It had all been pre-prepared, warmed over (barely) and, while tasty and adequate, it was not worth the price. Even so, the bill – which included two tequilas and a coca cola – was less than $400 pesos = $37 usd. Not unreasonable, had the food been better.
During the meal, the floodlights on the Peña were illuminated. I bet a bottle of wine with José that the Peña would not be illuminated on Monday night. We then wandered some more around the Zócalo and the town, the architecture of which generates some wonder. Unlike San Miguel de Allende, which has so many magnificent templos (churches), Bernal has a few mediocre ones. Nevertheless, the buildings in the city center are magnificently constructed; huge, well built of stone, well appointed, and not small as so many of the SMA houses tend to be. One wonders why the city was built, what was its history. No evidence of mining is visible, no evidence that the city was on a silver route as was SMA; no real reason as to why the city was founded at this out-of-the-way location jumps to mind. None of the oriundos (natives) of the city that we met – and we didn't meet many, as most of the shopkeepers were from somewhere else – had any knowledge of the city history. Many of the shops and restaurants are open only Friday, Saturday, and Sunday. We ended up that night at the Piave on Calle Zaragosa, an Italian restaurant that had closed at an earlier hour but with a coffee shop that was still open. The owner had come to Mexico from northern Italy 30 years ago. His menu was as complete and as authentic Italian as any restaurant in San Francisco (…well maybe not). He had taught his Mexican partner everything he knew. José had a cappuccino that was of the type that made the cappuccino reputation and an apple strudel, while I had an espresso and a crème Brule for the first time in 30 years. Conchita, his wife, passed on everything but an American coffee and the better part of our desserts. The crème was to die for. The apple strudel was delicious but slightly undercooked. When I commented that apple strudel was to me a German dessert, the Italian replied that it had been imported into northern Italy so long ago that it was now considered Italian in origin. So ended our Sunday afternoon and evening.
Monday morning we enjoyed a very pleasant breakfast at the hotel consisting of mixed fruit, eggs to order, and lots of coffee all prepared by Margarita, the welcoming desk clerk. Afterward, we three walked about two miles through the town and then took off for the Freixenet Winery in Ezequiel Montes. We got there just in time for the noon tour. (Every hour on the hour). We spent an enjoyable 30 minutes through the crushing and juicing area, the 25 meter (82 foot) descent down a series of well-lighted broad and safe but terrifying stairs into that abyss of the excavated cavas where the bottled wines are first stored at a non-varying temperature, then up into the area where the bubbling wines pass through the tedious process of de-sedimentation.
While the entire process is exactly the same as is used for bottled champagne, international labeling laws require that the C designation cannot be used for wines bottled outside Champagne province in France. So here in the Mexico plant, the wine is labeled as espumoso and in the Spain plant as cava. In France, the French plant of the Spanish Freixenet firm is home free. The bottles are rotated by hand a quarter turn every day for the required number of days. Ten people are assigned to this work and, in a normal bottling of espumoso, can finish the work in three hours. Another thing I wasn't aware of is that the bottles start out horizontal and then are gradually rotated upright so that just before decanting the sediment, the bottles are vertical nose down, still being rotated around the longitudinal axis so that the sediments that gravitate to the nose do not coagulate and can be easily withdrawn.
Disappointment! No free wine tasting. Here they sold a cup of the espumoso brut so that the wine could be tested. It was a pretty good bubbly even when not chilled. The wines were not expensive. The jovenes (non-aged) were from $6.30 USD to $7.50 USD a bottle. The older wines about $9.00 USD to $12 USD a bottle, and the aged wines around $15 a bottle. I think the most expensive espumoso was around $28 a bottle, but those were not in my budget range.
From there we drove to Cadereyta to see the Vivero de Cactus (Cactus nursery) but found it closed on Mondays. We made this side trip because the cactus gardens at the Parador Vernal were so interesting with the different types of cacti buds just coming into bloom but showing brilliant possibilities of yellow, orange, and red.
With nothing more to do, we returned to Bernal to see what was happening. Not much. The tourists were gone. It was just a pleasant village with a wonderful, crisp, clean, contamination-free atmosphere. Conchita insisted on buying elotes quemados (burned corn on the cob) from an older woman seated in front of a grill on a suburban street corner. Grilled over charcoal, ears of corn in the husk were then denuded, grilled again and slathered with mayonnaise; hers was dusted with chili powder. She helped hers down with the aid of a coca cola. We men opted for mayonnaise rolled in queso rallado (grated cheese) and beer. Although I wasn't hungry, it sure went down easy. Meanwhile, my companions talked to the woman cooking the corn about many things such as the churches and buildings in Bernal, the religious holidays, why we were hearing rockets, what was life like in Bernal, and anything else that came to mind. Quemar los elotes (to toast, or burn the corn) took about 25 minutes in total.
We then drove around through some of the neighborhoods of Bernal where, in one with a marvelous view of La Peña, we found a 70 year-old woman from Germany up on a ladder building a tile roof for her own house. She had built everything except the plumbing and the electricity. It was a well-planned three bedroom-one bath, American ranch-style home with a beautiful integrated kitchen (naturally a woman would think of that room as the most important in the house). She spoke only German and Spanish, having come to Mexico City 37 years ago. Her husband died in Mexico and her daughter married into a Mexican family. She bought her lot in Bernal eight years ago, so she had no idea of current prices although a Mexican resident had earlier quoted us a price of $1,500 pesos ($138 USD) a square meter as being normal in the town. Don't quote me on this figure, as it is reported as received. We made no further investigations. We spent about 45 minutes with this delightful woman before continuing on our tour.
Monday afternoon we dined at the hotel where we had an excellent meal prepared to our order and served with a bottle of wine from the Freixenet Winery. While we began the meal at about 4 p.m., we were at the table well past the closing hour of 6 and finally broke up at about 8. There were no complaints from the workers or management, as we were the only guests in the hotel. The view from the glass-walled dining room of the restaurant with the Peña looming far above us led to a lot of conversation about the magic powers of the rock and the legends. I concluded there might be something to those stories because Sunday night I had such intense and powerful dreams – no, not nightmares – but really intense dreams that woke me up three different times. The same thing happened again later Monday night. I had not had such intense dreams for years. Nor did I have them on Tuesday night in Guanajuato where I slept the night through without interruption. My companions remain skeptical.
For those of us who cannot see the photograph, what is a peña? It is a rock. Just that, a rock. But the Peña de Bernal is the third largest rock in the world. First is Gibralter, second is Sugar Loaf in Rio de Janeiro, and the third is our very own Peña de Bernal. Why is it magical? Imagination? Magnetic powers? Voices from the Gods? The Mexican magazine Contenido for November of 2006 says on page 142: "The small village of Bernal, a little more than 50 kilometers from the city of Querétaro, is outstanding not only for its tourist attractions, but because many of its inhabitants live to be 100 years old, probably from inherited genes, in addition to the tranquil life style and their healthful eating habits." I told you my companions were skeptical. I, myself…?
I did win my bottle of wine. No floodlights on the Peña on Monday night. Tuesday morning when we left, Margarita confirmed that the illumination was only on weekends. This weekend tourist boom is more reminiscent of Pátzcuaro or Cuernavaca than San Miguel de Allende, although at Pátzcuaro the search for quality articles is, for me, much more difficult than at either San Miguel or Bernal. Is Bernal worth a second visit? We vote yes, it is. A third visit? Perhaps. So now on to Guanajuato.
Guanajuato
No, we didn't see the mummies. They are there and so are the hucksters – so many of them that they make the entrance to the city very unpleasant. They want you to see those mummies as well as any and all parts of the remarkable city, all at a price that quickly removes you from your money. They are worse than condominium artists, or used car salesmen. We arrived at about 11 a.m. after a leisurely trip from Bernal.
This was my fourth visit to Guanajuato and should you ask me to go back tomorrow, I would be happy to do so. It was the second trip for my companions. On their first, we had spent one night joining the callejoneadas. The callejoneadas are early evening walking tours through the city led by a group of musicians with everybody singing along as they walk. Many also drink wine or tequila or beer from special overpriced souvenir pottery bottles.
We overnighted as before at the same economical, two star hotel in the city center, the Sovacón de Mina, ([email protected]); a pleasant family-type, clean, quiet and comfortable hotel with a double bed ( matrimonial) and a twin (sencilla) in each room. It had clean but older bathrooms with copper basins that, if cleaned with a copper cleaner or aluminum foil, would be mellow, burnished copper beauties but were scratched and stained black with copper oxide. Ni modo (not important). We found it very comfortable and affordable at $500 pesos ($46 USD) for a double and $400 pesos ($36.83 USD) for a single. We had identical rooms, this time on the third floor which was a bit much for an old man after walking around the city all day. The hotel has a parking lot, which is a plus in Guanajuato, and a restaurant that is open from 8 a.m. to 10 p.m. We found a group of older men playing cards in that restaurant when we checked in at a bit before noon, and they were still there at 9:00 p.m. when I dropped in for a bowl of cream of mushroom soup before bedtime. Family type hotel indeed! I expected the cream of mushroom to be a Campbell open-the-can, add-water, type. It was not. It was robust, home made and delicious. Cheap too.
Guanajuato is built on the floor of a very narrow canyon but, though it started there, it moved up those canyon walls until it reached the top. But it didn't stop there. It also moved down underground and some of the streets are in tunnels, in and out of which one pops like a gopher. As you drive up the canyon into the city center, you see those stair-stepped buildings rising up like skyscrapers on both sides of you. You wonder how people can get cars up there between buildings; how those buildings keep from sliding down; what happens to the house below if the neighbor above accidentally drops a gas cylinder. In the hotel, I kept hearing a dog bark above me and kept thinking that we had a guest with a dog on the fourth floor. But there was no fourth floor. It was our next door neighbor – above not at the side.
Guanajuato has so many things to see and do and they all are well described in tourist folders, brochures, on the internet, and elsewhere. So well described that I will say no more except to mention the Casa de Valadez. It is a restaurant in the city center. We got there just at the peak rush hour. They did find us a table as far away from the piano player as we could get. The restaurant was noisy, crowded, and we would have left had it not received such good recommendations. Later, we were glad not to have left. We ordered a Thai salad to share among us three. When we asked the waiter whether it was big enough for three he said no. So we ordered an Italian salad as well. The waiter was wrong. Both salads were each enough for three so we left a lot of the Italian salad uneaten. There was no comparison. The Thai salad was superb, nothing left of that. José ordered a steak, I ordered a fish filet stuffed with creamed spinach, and Conchita nothing, as she was going to share. We all had a beer while waiting. The steak turned out to be good, but not outstanding. My fish filet, on the other hand, could not have been more delightful. It was perfectly cooked and placed topmost on a layered bed of creamed spinach, shredded beet, and shredded jicama as the base. Conchita, who is an excellent cook and can duplicate most recipes simply from sight, taste and smell, immediately took note of all the pertinent details. Her husband found the plate just a bit too bland for his Mexican tastes.
As the time passed pleasantly and the crowd thinned, the noise diminished and the piano player started playing golden oldies, we ordered coffee and dessert. The dessert was a cheesecake tserved with adornments of sheet chocolate, caramelized apple candy as served in a Chinese restaurant, and a solitary maraschino cherry. The only unpleasant thing about the whole restaurant experience with its excellent food, quick and careful service, and relaxing atmosphere was the price. $571 pesos ($52.58 USD). Not unreasonable by USA standards, but a bit high for Mexico.
Since we had walked from the hotel to the restaurant via the Alhóndiga, the city market, the University of Guanajuato, etc., and then walked back to the hotel, we were all a bit tired. A siesta was in order. Later, when José proposed a callejoneada, he had no takers so we all decided on a Mexican movie. The playbill gave the name of the theater but not its location. When we asked a resident, he said it was too far to walk – 60 feet was too far for two of us – and that we should take a taxi that would cost about $5 pesos. A taxi we took. Somehow the taxi driver misunderstood my friends directions [Hah! I'm not the only one who has trouble with his Spanish. My 45 year old native-Mexican friend couldn't get through either!] and delivered us far from the city center to the municipal auditorium at $50 pesos instead of $5. By the time we got back to the hotel, the 9:00 p.m. last showing of the movie was long over. José and Conchita retired to their room with Jose in very bad humor. I had that cream of mushroom topper-off mentioned above, read for an hour and then to bed. No dreams, no Peña de Bernal.
Looking back at this adventure, we just might have been victims of a Guanajuato native playing a bad joke on some tourist yokels. We should have caught that $5 pesos taxi fare. Where in Mexico can anyone catch a cab to anywhere for only $5 pesos?
This ended our trip, since the rest of the journey was a return to Aguascalientes, a mid-day meal at Sanborn's and on to Zacatecas and return home to Jérez where we arrived about 3:30 p.m. We were tired of course, but well pleased. Would we do it again? Sí, sí, sí, as say the Mexicans for emphasis.
Miscellaneous Costs for the Trip
Tolls: About $700 pesos=$64.46 US dollars* round trip from Jérez, Zacatecas to Querétaro. This includes the side trip to Guanajuato ($110 pesos [$10.12 USD] round trip). Toll receipts are notoriously hard to read because of lack of ink in the printers.
Gasoline: 2000 Chrysler mini Voyager, three persons and baggage, round trip, three fill-ups, roughly $1200 pesos = $110.50 USD. Total distance Jérez, Zacatecas to Bernal and return, including the side trip to Guanajuato 1,130 km = 706 miles.
Hotel Parador Vernal at Peña de Bernal: Two nights. One double with view of the Peña at $757 per night; one single interior at $563 per night. Total for lodging at hotel: $2640 = $243 USD. (Breakfasts included.)
Hotel Socavón de Mina at Guanajuato: One night. One double at $500 pesos; one single at $400 pesos. Total for lodging: $900 pesos = $82.87 USD.
* Dollar conversions figured at the 10.86 exchange rate we received on the 14th of September.
TOTAL travel costs: About $500 USD. And worth every dollar. Meal costs, purchases, and incidentals not totaled.
Published or Updated on: November 23, 2007