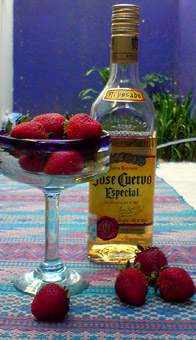 A drink and dessert in one, this is perfect for informal summer entertaining. It is attractive scooped into margarita glasses and garnished with sprigs of mint or paper thin slices of lime.
Ingredients
2 cups water
1 cup sugar
4 cups fresh strawberries
1/3 cup tequila
3 tablespoons orange liqueur
Combine water and sugar in a saucepan, stirring to dissolve sugar. Allow syrup to cool.
In a blender, puree the strawberries with the sugar syrup. Stir in the tequila and orange liqueur.
Freeze mixture in an ice cream maker, following manufacturer's directions.
Alternatively, freeze in a freezer tray, removing every 1½ hours to stir. After 3 hours, return to the freezer and cover the sorbet. Freeze overnight before serving. Makes 6 cups.
Link to Source Articles
Mexican frozen treats: Helados, nieves and paletas
Mexico's berries: a spring awakening of flavor
Published or Updated on: August 8, 2009