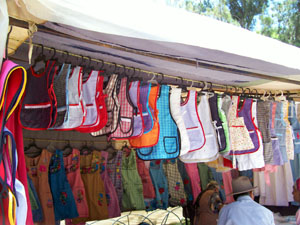 Bricks of rich Mexican chocolate are flavored with coconut from Pacific shores. Aromatic herbs are displayed in beautifully arranged baskets, their scent alone whetting the appetite. Sweet local honey is offered for tasting on slices of waxy, pale yellow yams. No, this is not a high-end gourmet emporium or a trendy organic supermarket. This is the market in Ocotlan, a Oaxaca town where the ingredients sold on market day present a dazzling array of color, flavor, aroma and texture, the four qualities Confucious called the elements of good food.
Located only 20 miles south of the city of Oaxaca, Ocotlán has a distinctly more rustic ambience. The people who bring their produce, animals, and culinary skills to the Friday market are, for the most part, country people, some local and some from as far away as the Pacific coast. Ocotlán, in the southernmost part of Oaxaca's Central Valley region, is unique among the area's markets in that products from the coast are more plentiful here.
There are several kinds of dried fish and shrimp, the latter being an essential ingredient in many Oaxacan regional dishes, especially beans. There is dried sea coral, sold as a treatment for epilepsy, along with flor de tila (linden flowers) to relieve anxiety and insomnia, and doradilla (rose of Jericho) to promote kidney function. Fresh, hot little tusta chiles, also from the coastal region, have a puesto (market stall or table) all to themselves. Looking like a small, triangular habanero, the tusta is much appreciated for use in hot sauces, and its vendors have no shortage of buyers.
The more common chile de agua, another local product, is arranged on flat baskets and carried through the market by ambulatory vendedoras. Often used to make chiles rellenos, its attractive, bright yellow-green skin hides an intense, biting heat. Other Oaxacan chiles for sale include the dried costeño amarillo which, as its name implies, comes from the coast and is essential to the preparation of mole amarillo, the yellow mole most commonly served with chicken or beef.
One of the items on our must-eat list is made with this mole. An empanada de amarillo, a specialty of Oaxaca's market towns, is bigger and tastier than almost any other empanada in Mexico, filled with shredded chicken in amarillo, with the added flavor of the anise-flavored hoja santa herb. Our list, put together by my husband and myself before leaving the city, is basically a bucket list of everything we want to eat at this market, because we've been to Ocotlán before and know what we like. The key here is timing, because if we don't pace ourselves, we'll simply run out of room.
The ride in a shared cab (just 20 pesos from Oaxaca city to Ocotlán) has been hot and dusty, and we head straight for an aguas stand to get some agua de chilacayote. The chilacayote, or bottle gourd, looking something like a round zucchini on steroids, is used to make a different and delicious drink that — while prepared in other regions — is typically oaxaqueño. The unrefined brown sugar called piloncillo, along with pineapple and cinnamon, turns this rather bland vegetable into a unique, refreshing cold drink.
Thirst quenched, it's time to for an empanada de amarillo. One of these is a meal in itself, but we share it in order to save room for later. We sit on a bench under the shade trees in the Zocalo, squeezing in next to several others and devouring our first course. Afterward, we "walk off" the empanada by wandering through sections of straw hats, hand tooled leather goods, traditional clothing and painted gourds.
Having been exposed to fine artesanía for many years in Mexico, I am still taken by the beauty of the humble items that belong to the "kitchen culture." There are hand-woven baskets, tortilla cloths with beautifully crocheted edging, ceramic bowls and bean pots, vinyl table coverings printed with bold fruit and flower designs, and carved wooden spoons and molinillos (chocolate beaters) all of whose forms and colors make these everyday objects a pleasure to use. I am especially taken by a display of aprons, those ubiquitous items of clothing worn by nearly every woman in every market town in Mexico. These range from toddler size to extra large, and I consider buying one for our two-year-old granddaughter, though I later decide on an embroidered blouse and skirt.
Farther toward the interior of the market, we start to smell the bread, aisles and aisles of it, in several different shapes and sizes. There are literally thousands of loaves of pan de yema, the egg bread traditionally dunked in Oaxacan hot chocolate, made with either milk or water. Another local beverage sold at the market, this one served cold, is the foamy tejate, made with ground, toasted corn, fermented cacao beans, mamey pits and rosita de cacao (cacao flowers). Then there are the coffee beans, both roasted and raw, providing yet another enticing aroma.
All this food is starting to make us hungry again, and it seems like time to get ready for the main event, the culinary highlight of the day, barbacoa de chivo, the tender, succulent, falling-off-the-bone goat meat that is a specialty of Oaxaca. We've had it in Puebla, Tlaxcala and Hidalgo — although in those regions barbacoa is more often made with sheep — and at a couple of celebrations in Oaxaca. We are aware that the barbacoa sold at the market is not likely to have been cooked in a fire pit, but it is finger-lickin' good nonetheless. (For a description of fire-pit cooking of goat, see Alvin Starkman's "BBQ poat in Oaxaca: The pomp, ceremony and tradition.")
The flavor is there, rich but not gamey, and so is the consommé produced by the juices dripping into a pan of water and aromatics placed under the meat as it cooks. (This broth is so popular in Mexico that both Knorr and Maggi now sell barbacoa flavored boullion cubes.)We devour bowls of steaming consommé, squeezing in a spritz of lime juice and adding the requisite chopped onion and cilantro, before tucking into the mound of meat that has been set before us.
Our shared table is filled with eager eaters, and the tablecloth is barely visible beneath the plates of meat, baskets of fresh tortillas, and bowls of red and green salsas and that accompany the barbacoa. We've ordered a quarter kilo, a little over a half pound of meat, making roll-your-own tacos with the large, soft corn tortillas, adding salsa and avocado sauce, and washing the whole thing down with cold Cokes, figuring that maybe the caffeine will help stave off a food coma.
After paying the tab and wishing our fellow diners provecho (a nice thing to say to nearby diners when leaving a restaurant, something like "enjoy your meal") we try to remember what we had in mind for dessert, but settle on buying some items to bring home, like the local honey and the addictive mango and chile candies.
Other people are lined up at the taxi stand, waiting to share a ride back to the city, many looking full and content. By the time we get back to Oaxaca, four out of the five passengers in our cab are asleep. The driver is wide awake, gracias a Dios.
Published or Updated on: September 23, 2011