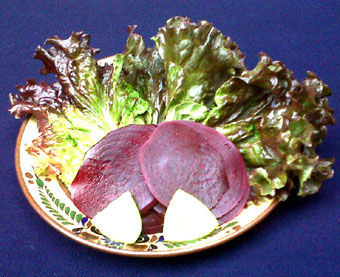 Often served for Noche Buena, his Mexican Christmas Eve salad is open to individual interpretation, with the only constants being the beets and the lettuce. Pineapple and bananas are frequently added in tropical climates, apples and jicama in cooler regions. The ingredients should be artfully arranged on a large platter and tossed after it has reached the table.
Here is a basic version from Central Mexico; feel free to create your own version.
Ingredients
1 head lettuce
1 pound small beets, cooked, peeled and thinly sliced
1 jicama, cut into matchsticks
4 oranges, peeled and sliced into rounds
4 apples, sliced into thin wedges
3 limes, 1 juiced and 2 cut into wedges
½ cup olive oil
¼ cup white wine vinegar (pear infused white balsamic is good here)
1 cup chopped dry roasted peanuts
Line a large platter with the lettuce, either torn or separated into leaves, as desired. Arrange the beets, jicama, oranges and apples on the lettuce. Sprinkle with the lime juice.
Bring the platter to the table, dress with a mixture of the olive oil and vinegar and toss lightly. Serve on salad dishes, topping each serving with a sprinkling of peanuts. Serves 8.
Link to source articles
Published or Updated on: December 12, 2009