Believe it or not, there is a village in Mexico with the unlikely name of Honey.
Honey. This hardly sounds like a Mexican word and certainly lacks any Nahuatl or Spanish roots. Yet, in the state of Puebla there is a small village named Honey. I admit that when I first heard of the village, I assumed it must have some connection with bees or beehives; after all, Mexico has been, for many years, one of the world's leading honey producers. But I was completely wrong. The truth is very different.
The village lies about 130 kilometers (80 miles) north of Mexico City, in the state of Puebla (on the border with Hidalgo). This area, best known to tourists today for its elaborate colonial religious buildings, has a rich history associated with mining. In the nineteenth century, dozens of tin-miners from Cornwall in England, experts in the drainage of deep mine shafts, were brought in to perform their miracles in the silver mines of the Real del Monte area, near Pachuca. Mining entrepreneurs accompanied them. They sought to make their fortune by a variety of canny investments, based on a knowledge of steam power, how to manufacture objects out of iron, and more than a modicum of luck.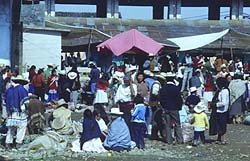 One of their number was Richard Honey, who emigrated from Cornwall to Pachuca in 1862, at the age of 23. Honey bought an iron-ore mine at Ixmiquilpan, and smelted the ore in Pachuca. He went on to build the first iron bridge in Mexico, spanning the River Tula at Taxquillo. Honey became incredibly successful and used his accumulating wealth to buy more iron-ore mines, at La Encarnación, near Zimapan, in the heart of the Mezquital Valley, 75 kilometers north-west of Pachuca. He also acquired several additional foundries, including one in Acapulco. This was the time of the great railroad or iron-horse building mania that swept North America and from his mines came the iron for railroads in the region, including a line that was never finished between Pachuca and the Gulf coast port of Tampico.
Honey married Emma Jane Phillips, another Cornish immigrant; they had four sons and five daughters and made their principal residence in Mexico City, where Honey co-founded the Jockey Club and the Reforma Athletic Club.
During his illustrious career, Honey became the president of three banks, an iron and steel company, two mining concerns, a paint manufacturer and a director of two railroads: the Mexican National Railroad and the Pachuca-Tampico Railroad. He also imported the first thoroughbred racehorses into Mexico and built up a stable of more than 60 horses. Honey earned a reputation for treating all his workers fairly, even generously, consistently paying them 25 centavos a day, well above the minimum 18 centavos required by law at the time. As a result of his imposing presence (his 6-foot frame towered over almost everyone), and his wealth, president Porfirio Díaz nicknamed Honey " Gran Bretaña" (Great Britain)!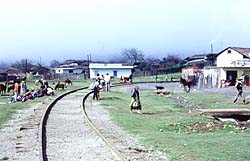 Sadly for his family, some ill-advised investments in the final years of President Díaz's extended time in office, and the chaos of the Mexican Revolution, resulted in heavy losses and Honey died virtually penniless in 1913.
His memory has lived on, however, as his name was given to a village (and municipality). The village sits astride a railroad built with iron from his mines. Richard Honey was once the president of that railroad. The unlikely-sounding village of Honey reminds us that this area once played a central role in the economy of nineteenth century Mexico.
The photos accompanying this article may date from 1983, but the village again made international news in May 2002, this time as the place where police recovered containers of the highly toxic chemical sodium cyanide, stolen only a few days earlier.
Visiting the village is relatively easy, though don't expect to find any tourist services. The road to Honey takes off northwards from federal highway 130 about mid-way between Tulancingo, in the state of Hidalgo, and Huauchinango, in the state of Puebla. Most of the few thousand inhabitants of Honey are of Otomi Indian descent. Try to visit on a Sunday, to witness the village's colorful weekly market.
For more about how Mexico's railroads helped forge a nation, see chapter 15 in the author's Mexican Kaleidoscope: myths, mysteries and mystique (Sombrero Books, 2016).
Copyright 2003 by Tony Burton. All rights reserved.
Published or Updated on: March 14, 2008 by Tony Burton © 2008